Written by Daniela Vorndran Monday, 14 March 2005 06:33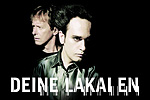 Deine Lakaien are an exceptional appearance in Germany's music landscape. Their music, which tastefully and self-assuredly balances between classic, folk, techno, rock, industrial, goth, wave and ambient soundscapes, does not follow any current trends and is not oriented on any commercial guidelines whatsoever.
Biography

(As published on
http://www.deine-lakaien.com
)
And yet, the charismatic vocalist Alexander Veljanov and the classically trained composer, pianist and drummer Ernst Horn together experience a huge success with their concept of ignoring the borders set by genres and cultures. Three years after their last release "White Lies", the duet is now ready to open a fascinating new chapter in their career, with their eighth studio album, "April Skies", which also celebrates the artists' start with Capitol. The story of Deine Lakaien began a good 20 years ago in the classifieds of a city magazine ("Vocalist wanted who enjoys experimenting").
The man who was responsible for the add was musical man of all trades Ernst Horn, who had studied classical music in Freiburg and Hamburg and was working in Munich as conductor and pianist. The man to react to the add was Alexander Veljanov, who was attending a film and theatre class in Germany's southern capital. They soon detected a kindred spirit as well as shared musical preferences and in 1985 founded Deine Lakaien. The name they took from a verse out of a song by Einstürzende Neubauten.
The first album appeared in 1986 and was distributed by themselves. Very slowly, it evolved into an insider's tip in the independent music scene. When in 1991 the duet teamed up with live musicians and presented its songs live on stage after the release of the second album, "Dark Star", Deine Lakaien turned into a cult band. The title song, "Reincarnation" and "Love Me To The End" were now filling the dancefloors of the alternative clubs. The third album, "Forest Enter Exit", which entered the German charts in 1993, marked the final breakthrough. Deine Lakaien were now known to the wide public and all of the following albums, be they live takes or studio albums, entered the German Media Control Charts: "Acoustic" (1995), "Winter Fish Testosterone" (1996), "Kasmodiah" (1999), "White Lies" (2002) and "White Lies - Live in Concert" (2003). The last two studio albums even entered the top 10.
In times where one musical vogue chases another and new bands catch the public attention for a few weeks only - if they ever make it that far - a band like Deine Lakaien that has been working over a long period of time is comfortably anachronistic. This music is not made for fast consumption: it takes various influences to create something quite new, and these things need time to ripen. What's more, the two extraordinary musicians both have various side projects on top. Alexander Veljanov, who moved to Berlin in 1986, has so far released two solo albums that show him to be a melancholy aesthete in the spirit of David Sylvian and Scott Walker. Ernst Horn founded two bands that occupy themselves with Medieval music, Qntal and Helium Vola. He also successfully composes music for theatre productions and radio plays. In other words, it isn't at all unusual if three years pass between one studio album by Deine Lakaien and the next. Alexander Veljanov confirms, "The long time span between our studio album is also due to the fact that we play a lot of live shows after each release. After our latest release, we even did several tours. And when we start working on a new album, a whole year can pass from gathering first ideas to the final takes."
For their first EMI/Capitol album, Alexander Veljanov and Ernst Horn have once more taken months of intense working: writing songs and lyrics, experimenting with rhythms and sounds. Whereas on their previous album they had only sparsely worked with guest musicians, "April Skies" came to life through the co-operation with the musicians of the "White Lies" tour: B. Deutung (cello), Ivee Leon (violin, vocals), Sharifa (violin, vocals) and Robert Wilcocks (guitars, keyboards). "Already on tour working with these musicians was such a positive experience that we decided we really wanted to work with them in the studio", explains Alexander. "'White Lies', our previous album, was very introverted, a kind of glancing around oneself in a phase of rest. "April Skies" is much more lively, offers more extremes, more up-beat and more power. There are also more influences to be found musically. The guitars are more dominant than they used to be and an increase on the use of strings and the backing vocals of the ladies also bring new colour into the game."
In fact, with their eighth studio album, Deine Lakaien have recorded their so far most ambitious and most varied work. Of course the twelve songs on the album offer all those elements which the band stands for and which has made them as big as they are with their many followers carving romance and comfort: Veljanov's dark and sensual vocals, Horn's sixth sense for melodious hymns and creative beats that are way out of the ordinary, plus the unmistakable bittersweet atmosphere. But that is not all: many unusual aspects are tucked into the album, such as the strange and threatening violin sound that opens the first single "Over And Done" or the convincing amalgamation of minimal music with melodious electro-pop in "Secret Hideaway".
"Midnight Sun" with its powerful guitar riffs crosses the boundaries of the rock genre while "Heart Made To Be Mine" with its demonic machine sounds has a disturbing effect. "Through The Hall", driven by powerful beats, and the glamorously seductive electro-dance song "When You Lose" can easily stand up to early club classics such as "Dark Star". However, Deine Lakaien also display acoustic reserve on "April Skies". "Slowly Comes My Night" is a cinemascope ode to the power of time while the classical love song "Vivre", sung in French, and the intense last song of the album, "Dialectic", are touchingly beautiful songs that once more prove one distinct feature of Deine Lakaien: melancholia as a positive element of life or, as Alexander Veljanov puts it: "Melancholia is the healthy sister of depression."
Deine Lakaien have managed to create an excellent audio trip with their latest collection of songs - at times dark and oppressive, at other times absorbed and atmospheric, then again vivid and infectious, and always unmistakable. Every single songs sparkles with dynamic turns and detailed arrangements of artfully combined instruments. If you are searching for a fitting metaphor, "April Skies" is like a river full of meanders, shallows, rapids, peaceful stretches and impressive waterfalls in which the light refracts. Once you have been caught, the music will not let you go. No doubt, Deine Lakaien have once again set a high standard with "April Skies". The bands numerous fans will be overjoyed and there is no doubt either that their tour, due in the spring of this year, will once again turn into a triumph.
January 2005
Line-up

Alexander Veljano – vocals
Ernst Horn – composer, pianist, drummer
Photos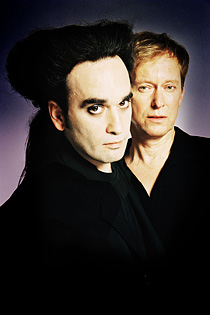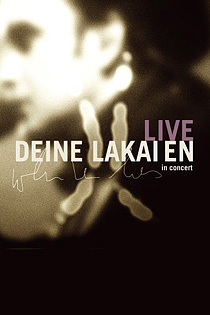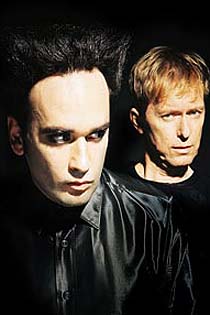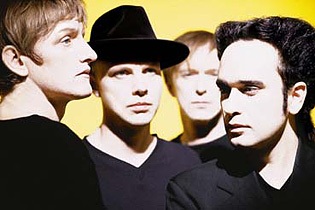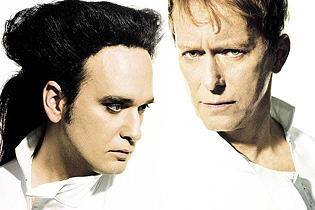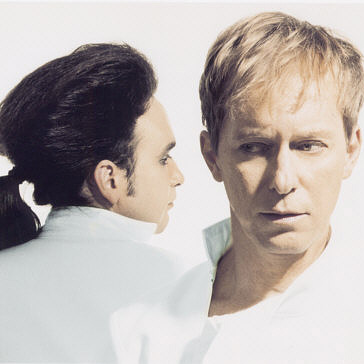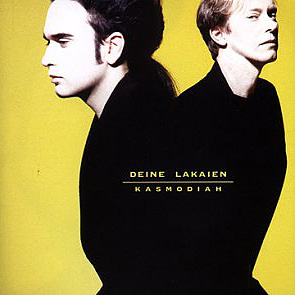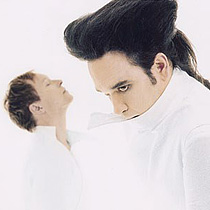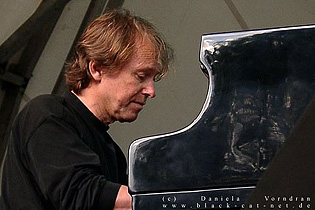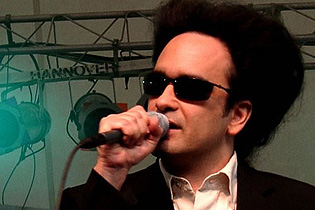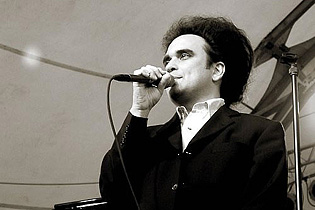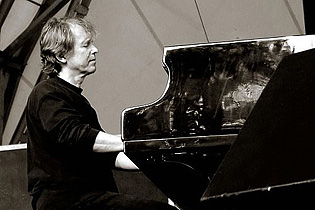 Please remember that the pics might be protected by copyright!
Discography
2005 APRIL SKIES CD
2005 OVER AND DONE MCD
2003 LIVE IN CONCERT DVD
2003 LIVE IN CONCERT 2CD/4LP
2003 1987 ('THE EARLY TAPES') CD
2002 WHERE YOU ARE / IN THE CHAINS OF - CD #1 MCD
2002 WHERE YOU ARE / IN THE CHAINS OF - CD #2 MCD
2002 WHITE LIES CD/2LP
2001 GENERATORS MCD
1999 KASMODIAH CD/LP/MD
1999 INTO MY ARMS CD
1999 RETURN CD
1996 FIRST DECADE VHS
1996 WINTER FISH TESTOSTERONE CD/LP
1995 ACOUSTIC CD
1995 FOREST ENTER EXIT 'LIVE' VHS
1994 MINDMACHINE E.P. / VHS CD
1993 FOREST ENTER EXIT CD/LP/MC
1992 DARK STAR LIVE CD
1991 2nd STAR CD/LP
1991 DARK STAR CD/LP
1986 'FIRST ALBUM (SAME) CD/LP
Tourdates


Tour dates can be found through this link:
http://www.deine-lakaien.com
Section: Tourdates
Website

http://www.deine-lakaien.com/
Contact address


General info

Webform on section "contact"
Band members

Alexander Veljanov - webform on section "contact"
Ernst Horn - webform on section "contact"
(tour)management

FKP Scorpio Konzertproduktionen GmbH
Rellinger Str. 64a
20257 Hamburg
Germany
Telefon: +49 - 40 - 853 88 888
Fax: +49 - 40 853 88 999
Website:
http://www.fkpscorpio.com
Email: This e-mail address is being protected from spambots. You need JavaScript enabled to view it
R
ecord company

Capitol Music / EMI
EMI Music Germany GmbH & Co. KG
Im MediaPark 8a
50670 Köln
Germany
Website:
http://www.capitolmusic.de
Email: This e-mail address is being protected from spambots. You need JavaScript enabled to view it