Written by Kira Appelt Tuesday, 08 March 2011 13:23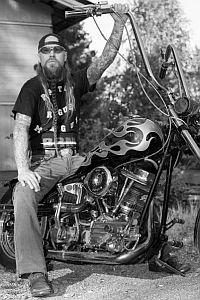 Interview with

Domino De la Rouge (Guitar) of Baton Rouge Morgue

The upcoming and very hot Finnish Rockers from BATON ROUGE MORGUE have a reputation of being the most energetic live act in the rock scene with a flamboyant attitude, which leaves nobody cold... And they're young, fast and loud. They just wanna play true Rock'n'Roll and want to bring it out of Finland into the world.


Reflections of Darkness (RoD): You're in search for a label. You played abroad, you're voted for the best band in south Finland, you headlined some big shows, your music is timeless, so what the heck makes it so difficult to find a label?
Domino De La Rogue (DdlR) :This is a very good question and I think we, BRM, are a very good example of how fucked up the music industry is today. A band with enormous potential for world wide success is caught up in the machinery that nowadays doesn't even chew anymore. Back in the day good bands got picked up by a label. Today, bands with the best connections get picked up. That means that the quality is suffering. There is also an overflow with bands and the few really good ones drown in this pool of shit. We have come to the conclusion that the music industry people haven't seen us yet, they don't know that we exist. One thing that is the same still today is that its all about money, for the record company and anybody else involved except for the artist. I tell you the truth, we don't care shit about the money, they can milk us dry and use us and spit us out if they want to, we just want to be heard and seen, to get out there. Give us one shot at glory and we take it, we know we have what it takes, we will walk the extra mile other bands don't.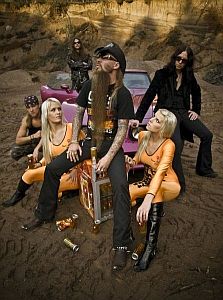 RoD: Why do you take the step to Europe now?
DdlR: BRM is formed in southern Finland in 2005 and we have noticed the last 5 years that the music scene in Finland is very jaded and we don't play black, death or modern technical metal with just growling and screaming and all that is now popular in Finland so we don't fit in. When we 2010 headlined shows in Croatia, Italy and Australia we noticed that the people there generally liked our music and us as a band, almost fanatically so we feel any other country but Finland is better for us. There is a general illusion in other countries that the Heavy Metal music scene in Finland is very good, but this is not true, it's totally shit these days, no good bands coming out of Finland, over exposure, too many crap bands, it has almost lost its magic... there's no danger in metal anymore and we definitely gonna fix that!

RoD: What should the heavy metal fans expect from you in the future?
DdlR: In April we are going to America to play some shows in Los Angeles, Las Vegas and San Diego and at the end of may we will record a new CD. We have been working on the new material for over a year now and this summer we will finally release a new album. Heavy Metal fans can expect good music but also a band that have a say. We are 5 individuals that is mentally and otherwise totally outside societies borders and dedicated to what we do, we don't lead a normal life and then write songs, we live and breath this band you know, we are not buss drivers or school teachers playing in a metal band. We are also a very visual band and we admit that it is a very important part of the band. We sound like we look and we look like we sound, that is something that is missing from music today.

RoD: Are there some gigs in Germany planned or already confirmed?
DdlR: As far as I know there is no confirmed gigs in Germany, at least our management has not informed us of any but we would love to come to Germany and play!

RoD: Baton Rouge is the capital of Louisiana. Does the band name have any connection to the city or what does it mean for you?
DdlR: The band name has nothing to do with that city in Louisiana even though its spelled almost the same way, but the band name is a secret, so unfortunately I can't help you with this one, sorry.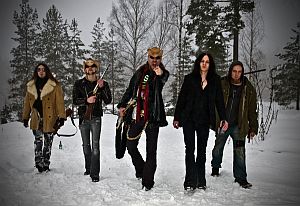 RoD: You look like a bunch of whiskey drinking guys, so why are you sponsored by energy drinks and not Jack Daniels?
DdlR: Another very good question, yes we love Jack Daniels and I think its about time we contact them about a sponsorship! Yes we also are sponsored by Lamborghini energy drink and it works really well, they wanted a kick ass band to help them promote their product and we are like a race car, we go fast and over the top with everything we do… we should actually get a deal with a drag racing team. I know you have some very good drivers there in Germany....

RoD: You consider your shows being "flamboyant". What is it that makes your live gigs so special?
DdlR: The reaction of the people. You see, we go out there and we are just ourselves and this may sound boring and common but its not since we are not boring and common individuals. This can sound very arrogant but its the truth, we are loaded with energy, ready to explode and the audience can sense this and that its honest pure energy/anger/adrenalin. Even somebody that does not like our music would say after the show that these guys are very serious and passionate about what they do. We actually live it, we really fucking breath what we do and its shines through. So its a combination of us being onstage doing what we do and then the way the crowd receive it and can get something out of it. We are actually like an drag racing car, when the lights go green we go flat out and even if we don't cross the finish line first it was still exciting. Like I said before, Heavy Metal should be dangerous and exciting!

RoD: Who had the idea to this Quentin Tarantino inspired music video to the 'Hellride' song?
DdlR: We, the band had the idea but we were fortunate to work with a very talented person who stared the whole atmosphere in this direction, so we worked together with the director/filmer Robin Beckman on this one. Like I said before, we want to sound like we look and in this video it worked out well, keeping in mind that this is an extremely low budget video but 'Hellride' as a song is very violent so the video had to match it. One thing is sure, it will continue but I cant tell you when, cause honestly, I don't know, but the video in itself is already written so we just need the music to match it.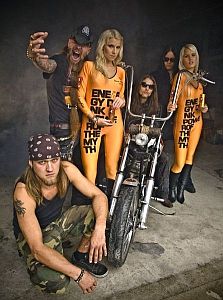 RoD: I was listening a few times to your latest album "high end of the season" and I recognized that you have a huge variety of music styles. 'Hellride' sounds a bit like dirty Motörhead, the vocals in 'Build to burn' is almost doom. What are your influences?
DdlR: Yes its true, it's a mix of a lot of things, maybe even a little bit too much and we gonna have this in mind when we record the next album but as long as it sounds like BATON ROGUE MORGUE its fine by us. Every member in this band has grown up on different music styles. Lee Angel grew up on Led Zeppelin and Metallica, Karda on Machine Head and Slipknot, Timothy on 80s glam/sleaze metal and our Italian guitar player Gasoline like guitar oriented modern metal stuff like Children of Bodom also. My two most favourite guitar players of all times are Chris Holmes from W.A.S.P. and Mick Mars from Mötley Crue.

RoD: In what kind of music genre would you say you would fit in best?
DdlR: We have been asked this question so many times before but still I don't know what to tell you, like you said, it's a combination of so many things. Like the legendary Malcom Dome from Metal Hammer said, it's 80s Heavy Metal with a modern sound and look.

RoD: If you got a message, a statement or something you want to say about the band, life or whatever and nobody asked for it-here we go no you have the possibility for it!
DdlR: I'm a very positive person but since I was 5 years old I have invested my life in music and the last 15 years in playing in a band and the last 5 years has gotten me really pissed of and angry at the way the music industry is committing suicide. Its feels like the thing that you love and live for is working against you and I have so much to say here and it will only get people angry (unless they are not already from the previous answers) so I will just leave this one alone. Stay true to what you do!!

At the end we want to thank BATON ROUGE MORGUE and especially Domino de la Rogue for this interview.

http://www.batonroguemorgue.com/