Written by Ricarda Menn Wednesday, 18 July 2012 12:42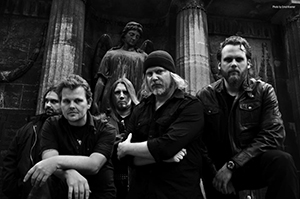 Interview with

Sebastian (Guitar) of Morgoth

Shortly after the release of MORGOTH's double live record 'Cursed To Live', Sebastian (guitar) took some time in order to talk about the DVD, their reappearance in general as well as upcoming plans and past shows.


Reflections of Darkness (RoD): Why exactly did you chose the performance at the Way Of Darkness Festival to be recorded for your DVD?
Sebastian: Basically, everything fit together very well on that day – the show was good as well as the light, sound and the audience. As we did not want to record a show with daylight, the choice was made quite quickly then.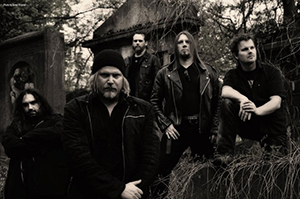 RoD: How content are you with the result?
Sebastian: We are very content and the reviews we are getting prove this. We guided and coordinated the whole process from cutting to the cover, of course, there are bits which could have been done better, but I'd say the package covers all the bases.

RoD: Of all your festival appearances, are there any good or maybe bad shows you would like to point out?
Sebastian: We were having fun during all concerts. I generally prefer to play with a light show, since those illuminate the dark ambience quite well. The gig at the Party.San Open Air was quite special for me, but the others were great as well.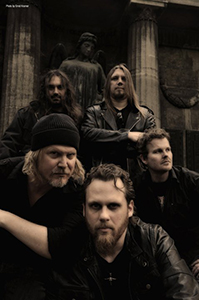 RoD: How did you expect your return to be? Did you have any surprises (positive or negative) and in retrospective, are there things you would do differently?
Sebastian: We were definitely surprised in a positive way. During the preparations, you never know how the reactions are going to turn out. Yet, the fans were enthusiastic from the very beginning onwards and supported us extensively. This is something very special for us, which we really appreciate and are happy about.

RoD: How does it feel to be back with the other members after so many years?
Sebastian: Well, it's not the entire band, since only Harry, Marc and I have remained from the old days. I had some musical project with Marc in Berlin, but I did not share the stage with Harry for lots of years, so it's of course a very special feeling.

RoD: How did your fans react concerning your return?
Sebastian: Until now, the reactions were entirely positive. At least I did not come across any negative comments. Mostly, people were very happy to see us again and in small chats with people I found out that there's still fire burning for us.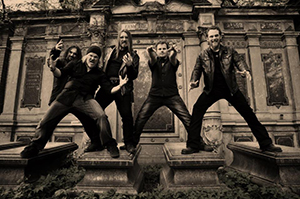 RoD: Are there any plans for further touring and eventually a new album?
Sebastian: Until now, nothing is set in stone. For this year, we still have some festival shows coming up and then we will have celebrated our 'Cursed' anniversary for almost two years. In 2013, we will retreat from the stage, which does not mean that we will not perform at all. Yet, we do not intend to book any shows at all, for now. Time will tell if we will have the enthusiasm, resources and creativity for creating something new.

RoD: How do you think about the music business and the developments right now – considering music downloads and the new media?
Sebastian: I think most of it is quite good – I am for instance on spotify as well, downloading songs and carrying about 500 of them around on my Ipod. Imagine all this would be in vinyl… ;) It is only important, that the artists are granted their rights, so that a song is equally worth, whether it is a download, included on a CD or on vinyl. I guess that's what most people did not get yet. Sven Regener put it quite well and I am totally with him: