Written by Ray Dunkle Monday, 27 June 2011 08:52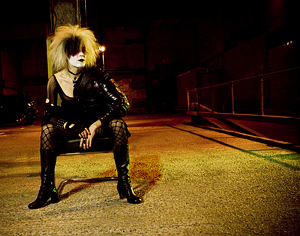 Interview with

Mignon (vocalist)

MIGNON has recently released a new album 'Kiss Of Death', I have had an opportunity to ask her several questions about it, about her experiences, thoughts, inspirations and plans for near future.


Reflections of Darkness (RoD): Can you tell us about the history of the band and your influences?
Mignon: I started out being part of the electro clash scene, but in my music there was a metal twist from the start. Now I found amazing live musicians to join me, and I very much enjoy playing with a full-live band to take my music to the next level. I guess I am influenced by what I enjoy listening to, which is metal, Rock'n'Roll, surf and black metal.

RoD: Your previous album was self-released. Now that you were under the aegis of a record company what were the differences and the challenges you've had to deal with? What would you advice regarding the self-release to the musicians out there?
Mignon: Different challenges of course. It's a lot to take on when you release your own music. If you wanna do it right you have to start your own little empire. It's easier to share the load of work between a team of people in any case.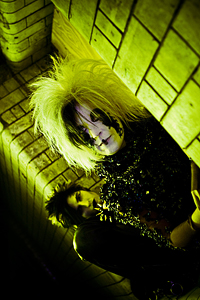 RoD: One of the differences with the previous album is that the 'Kiss Of Death' sounds surer in terms of sound and more confident, was this intentional or is it a consequence of natural growth as your career unfolds?
Mignon: It is a natural growth; there was some time between writing the first album and 'Kiss Of Death'. And I feel way more confident as a musician now as I did then.

RoD: You are self-described as a horror-rock band. The horror-rock is an essential part of the image of the band or is this just a temporary concept?
Mignon: I always loved playing around with Horror Imagery, scary things are fun!

RoD: The image of a band plays an essential role to the course of a band. Do you think that there's a danger for a band to be trapped inside the image they've created or of the artists inside their personas?
Mignon: Everyone should have the freedom of reinventing themselves. No one should feel stuck in who you are and what you do. If you are unhappy with something… change it!

RoD: Can you speak us about the themes that inspired you when you wrote the lyrics of the songs?
Mignon: This album is very personal and it is inspired by my life and my observations of society.

RoD: You share many connections with PEACHES. What is the musical relationship and collaboration like?
Mignon: It is super fun collaborating with PEACHES we are long-term friends and share the love for rebellion and to defy conventions.

RoD: You've also opened the concerts for ROB ZOMBIE. I guess that the audience was different from the one you've been used to play for. What did it feel like and what was it like?
Mignon: The ROB ZOMBIE audience was perfect for me, people loved the show and I loved the audience. It felt like home, accepted and embraced.

RoD: You are one of the most distinguished voices from the Punk scene of Berlin. Can you tell me what the scene is like there? What have you taken from that scene with you in terms of creating your own voice?
Mignon: Good thing about Berlin is that there are so many scenes, that you don't have to fit in anywhere, you can create your own. There is room to invent yourself without following any trends.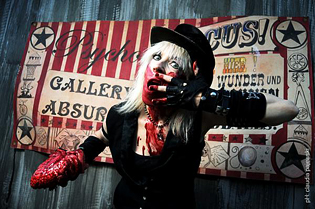 RoD: I've seen some photos from your live performances and it gave me an impression that you were inspired by the movie 'Dead Snow'. Can you tell me what role movies play in your presentation? Would you like to participate in creating a soundtrack for a film and what kind of film would that be?
Mignon: I don't know the movie 'Dead Snow' but I will check it out. I am a big Horror-Movie fan and have a huge collection of cult classics and weird B-Movies. So I would love to do a soundtrack for a Horror-Movie with a bit of a David Lynch twist.

RoD: What are the plans of the band for the near future? Do you consider the possibility of releasing a live DVD? Have you already ideas for your next album?
Mignon: As for the near future I wanna play live as much as possible! Hopefully also more support shows. So if you wanna know when we'll be hitting your town subscribe to the newsletter and write to This e-mail address is being protected from spambots. You need JavaScript enabled to view it . I am collecting video material from shows already and there will be a live-DVD at some point, but for the moment I am having fun doing music-videos for YouTube. Next will be the release of the video for the song 'Kiss of Death'. I already released 2 videos from this album 'Hot Love' and 'Scream' you can find them on here: http://www.youtube.com/mignonmusic. I have loads of new ideas for my next album and I am very much looking forward to working on these tracks.

RoD: Some final words for your fans and the puritan enemies of the band alike?!
Mignon: Find your own truth and enjoy life as much as you can!

RoD: Thank you very much for this interview!