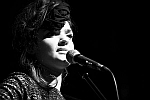 Interview with
Susanna Berivan

SUSANNA BERIVAN is a young and very talented singer from Berlin who made music with her mom as she was a child. Aside from her solo project she is background singer of
LAING
and has another own project called
THE TINCAN SALLYS
. Recently, I had the chance for a short email interview with Susanna.
Reflections of Darkness (RoD)
: When are you born?
Susanna
:
At early September of 1985 at Berlin Kreuzberg. I'm a real "Berliner Göre".
RoD
: How long do you make music?
Susanna
:
It is difficult to say. My mother and I did music at home since I was a child. But I never took musical lessons. A little bit recorders, another bit guitar lessons in school. As I was 14 years old, I recognized that my guitar is too precious to stand at my room's corner and collecting dust. I started to make something new from things I remembered from the guitar lessons and some melodies I learned by rode. After that I took some singing lessons. By the way: I had a child-band, too. We were 10 years old and the band was called KEEP COOL. Our main attribute was that nobody can play his own instrument. It was great! We wrote songs anyhow and our parents had to listen to it and had to applaud. I noticed with 17 years that I really need music and the singing. I had a bad flu and could not speak for two or three days. As it was over I started offhanded to buzz and sing small melodies. Not really romantic, but I knew abruptly that I missed it so much!
RoD
: Are you still nervous when you play live?
Susanna
:
At the beginning I was excessive shy to sing for people. My hands were out of control so that I could not hold my guitar. Pure Adrenalin! But I knew that it is the thing I want to do and so I had to reckon that I will be at the centre of attention when I sing. I started a shock therapy: With 18 I played at the Berlin subway. It helps. After that the accepted story: Thousands of little concerts in thousands little bars. And at times a little bit bigger concerts at better places.
RoD
: Which projects did you have before you started the solo project?
Susanna
:
Oh, I have still other projects: LAING (
http://www.myspace.com/mulaingsik
) for example, where I sing background. Or there is my Trash-Swing-Duo THE TINCAN SALLYS (
http://www.myspace.com/thetincansallys
). The last one was originally a concept for street music. There are some other Swing bands... occupying oneself is not a problem. At the past I played theatre, too. The group was called S.K.E.T., but it took to much of my music-time.
RoD
: Which bands/ music styles / people affected you at most?
Susanna
:
Oh, so terrific people like Billie Holiday, Jimi Hendrix and everything around them... Lots of Blues und Swing… Rock'n'Roll and Soul… Aretha Franklin... yes... but when I really have to start now, I wouldn't be finished tomorrow...
RoD
: How would you advise you own music style?
Susanna
:
The people ask that consistently and in effect I don't have any idea how I could describe my style and also no necessity. But - to say anything - I accustomed to answer "BluesChansonRockandRollJazzPunk". Unfortunately the people have the same anticipation like before (included me), but I did say anything.
RoD
: How do your fans describe your music?
Susanna
:
Hm… I hear consistently analogies to musicians. Some of them are okay, some of them never. But I think it's not important...
RoD
: What are your musical schemes for the future?
Susanna
:
For now and the early future: Make phat album! And fort he further future: Make many phat albums. And play, play, play...
{jos_sb_discuss:21}