Written by Silvia Deurwaarder Wednesday, 16 February 2005 02:08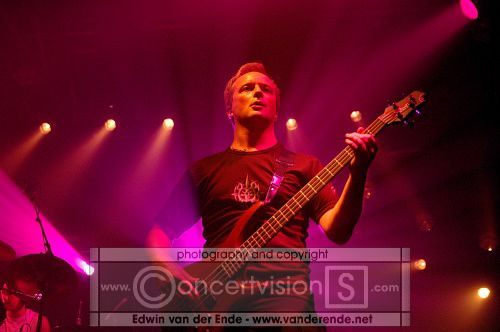 Interview with:

Manuel Munoz
Vincent Danhier
Foued Moukid




There are moments you'll never forget… one of those was the first gig I saw from the French band The Old Dead Tree. Finally, almost a year after their first record "The nameless disease" which was released in 2003, I had the chance to see them. It was an impressive show and very emotional. Before the show I had the chance to talk with singer and guitarist player Manuel, bass player Vincent and the new drummer Foued. It's was a funny interview, cause I was a bit chaotic, but the guys were very polite and nice. They gave me the chance to understand them better and to learn a bit more about them.

This night drummer Foued will have his first entrance with the band on the stage in La Loco (Paris, France). The previous drummer left the band for personal reasons; to have more time for his family. The band needed a lot of time to find the right person.
Manuel explains: "We needed six months to find the right person." When I ask him what a good drummer is, he started to laugh and says that he's good friends with Foued.

Foued: "The new environment is a motivation to play with more energy. I like their sound and it was strange for me because I had to learn different drum techniques (He played in extreme metal bands – SD) and I also had to learn to groove the bass, but the atmosphere is good and it's important that I know them. The relationship in the band is very strong and friendly, more than I had in the other bands I played for."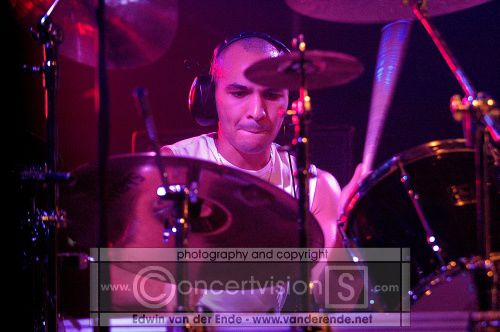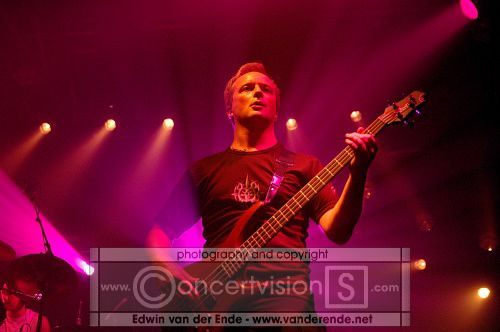 It's a year ago after the breakthrough 'The Nameless Disease', a concept album dedicated to their first drummer and good friend Frédéric Guillemot, who committed suicide in 1999. To deal with that the band wrote their first album. When I listen to that album, most of the time I get a sad feeling about it. I was wondering if the band felt like this too:

Manuel:
"We're not very negative. We don't want to make something 'cool'. For us is it a dark album but in the end there's hope. Many gothic people seem to be fascinated by death and dark things or think that committing suicide is 'cool.' That's something we definitely don't think, that's not our opinion! For us the record was a way to deal with the death of our drummer. I wrote the lyrics to deal with the pain and people recognize those feelings. Sometimes it's hard to play those songs, because the more you play the song, the more it looses it's sense for me, not the last song of the record because we never play that live. Sometimes it's difficult for me to play those songs, but in the end it's just a record, that's the way it is."
Vincent:
"I feel that too and that's the strenght from all of us. Some songs are very sentimental."

It took a long time to make the debut album since their beginning in 1997.
Manuel: "We work very close together and we have the concept that everbody is satisfied. When someone doesn't like a riff we don't use it, because it has to be confortable for every member. Well let's say that there are enough bands that don't like a riff but want to be cool. It's difficult to do it all together, because everyone has his own taste, but we have the same main goal: make something we're really happy about. We never have a fight and we don't make compromises. That's why make a lot of different songs from all kinds of music. "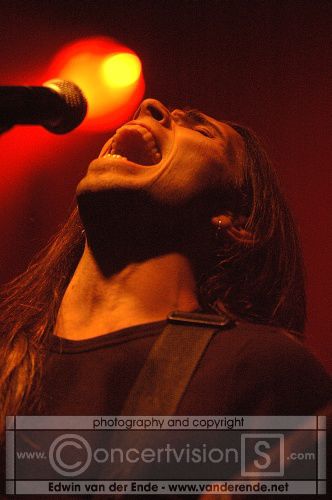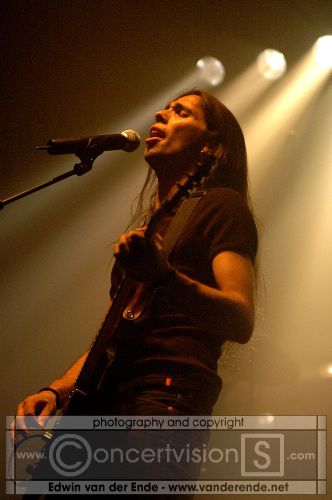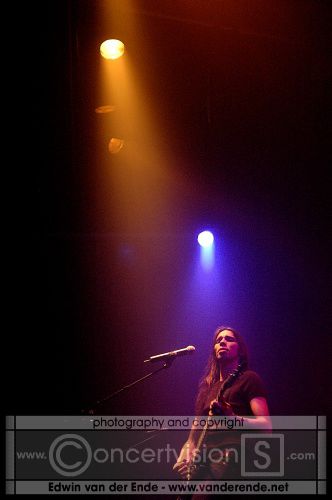 Future

At the moment the band is very busy with making a new record. They have some ideas, but no idea how it will end up.
Manuel: "I am not a very good writer and at the moment I still have nothing. We're not changing the vocals on the new record and I think you can't call the sound happy on the new cd, but it isn't dark either. The first record had a dark feeling and I understand when people call that a negative feeling, but it isn't that dark. You can't expect a happy sound from us. So there aren't many changes."

Vincent: "I think as far as I can say that the music is straighter and direct, catchier." Manuel interrupts him: "Sometimes there's a lot violence in the song that's real. We never had that before. We discussed it a lot during the process. We are going to the studio in March, that's a bit late but we needed time to find a new drummer. Now we have five months left to finish the record!"

We're sitting around a small table on a couch. Manuel is sitting on the right and I have to listen carefully, because his voice is soft and downstairs there is a soundcheck. The inspiration for the new record came from his personal life, Manuel explains: "The inspiration for the lyrics is just me and that makes it difficult to write lyrics."
Vincent on the left site of the table adds: "It really touches us personally!"
Manuel continues with his answer: "A lot of people will read it so I feel pressure. Also I feel the pressure because people are curious how it will progress. Also there's little legal pressure from the label like 'When is the next record finished?' We're satisfied with them because we also have a lot of freedom from the label that we can record what we want."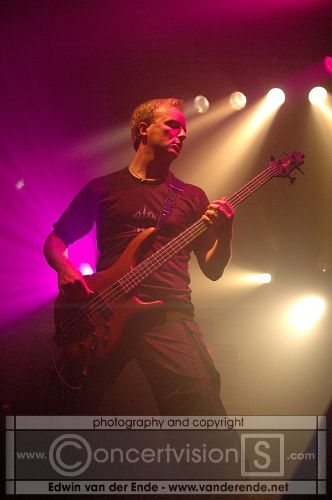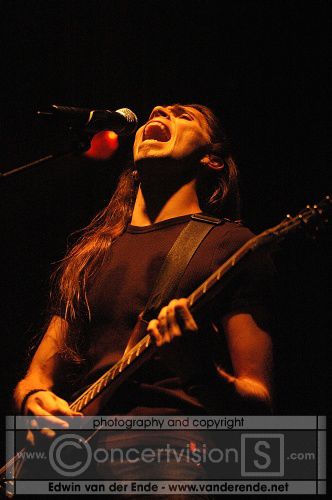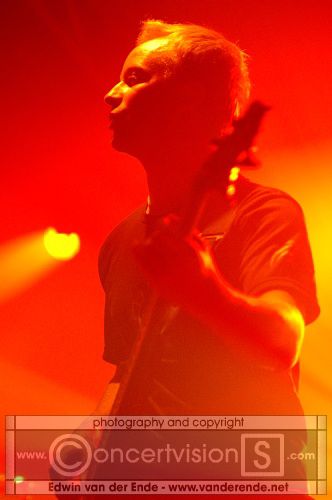 French metal scene

Manuel: "It's quite hard to come from France, because the country has a very bad image outside France. They think that all French bands are bad, because we started late. But now we have some more professional bands like SCARVE and PENUMBRA. We prove that we can do it and well you have to put a lot of money in the band to sound very good, so it makes a good impression. Never be late on stage and bring a good backline. We're very lucky because we're well-known and we had the change to support KATATONIA. During that tour we learned a lot. We're more a group now, but well we know each other for a long time".

The band had to prove a lot to the international metal scene and the band admits that they still can't live of it.
Manuel is very honest and open about that: "It's a game and we have to deal with that. It's hard to fight for it all the time. It's a lot of work, because I became a father in May. We have a lot of people with us to help, but it is a big organisation". He laughs, but quickly he's serious again.


We talk a bit more about the emotional feelings but suddenly they have to leave, because they have to play. It was a great concert and very impressive.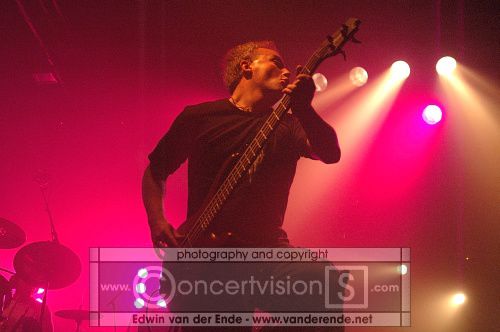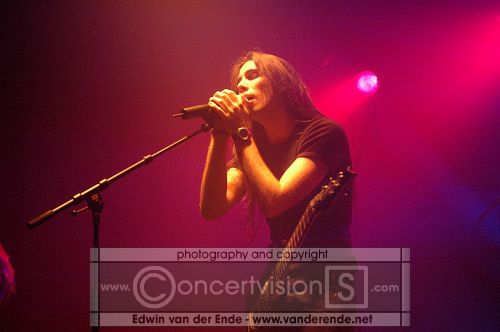 We'd like to thank the band, the crew and tourmanager Julien Pagnon.