Details

Parent Category: News
Published on Saturday, 23 February 2013 14:25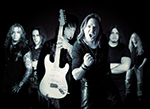 International metallers RAVEN LORD have announced the addition of current POWER QUEST drummer RICH SMITH to the group's ranks. The chance to challenge himself in a different field with RAVEN LORD was an opportunity he did not want to miss. Rich will finish the two shows for POWER QUEST's farewell tour by the end of May. Commented Smith: "...I'm delighted to of been offered the throne to drum for RAVEN LORD. I can't wait to get in the rehearsal room with these guys and hit the road to play some kick ass shows I'd like to thank all the guys in the band and the management for this opportunity..."


EX-drummer LARRY PATERSON on his leave: "...It is meant as no disrespect to any of you at all – and I wish great success for everybody. To cut a long story short, things are pretty tough right now as I have another band , a book and a documentary to make. All of this is running on a very tight schedule which WILL definitely get in the way of Raven Lord..."

Singer and bandleader CSABA ZVEKAN commented "I'm saddened to see Larry go from RAVEN LORD but if dates are clashing there is not much any of us can do. The good thing is me and LARRY PATERSON will continue working on another band project called EXORCISM which is expected to be released in 2014. Well, you know what they say ; the show must go on! And with Summer shows in the pipeline we had to act fast and find another drummer as a permanent solution. RICH SMITH is highly motivated to be the next Lord drummer and with POWER QUEST calling it the quits it was obvious that he was available for grabs. We took the opportunity and welcome RICH SMITH to RAVEN LORD."

The complete RAVEN LORD lineup is
Csaba Zvekan (Killing Machine) – Vocals
Joe Stump (Holy Hell, Reign of Terror) – Lead Guitar
Jamie Mallender (Tony Martin Band) – Bass
Rich Smith (Power Quest) – Drums
George Karafotis (Vermillion Days) – Guitar
Alessandro Duo (Voodoo Highway) – Keyboards

RAVEN LORD recently got confirmed for the R-MINE METALFEST 2013 in Tongeren, Belgium followed by some shows in the Netherlands and Spain. The summer show dates shape up as follows.

15. June Palma de Mallorca, SPAIN, T.B.A.
22. June R-MINE METALFEST 2013, Tongeren, BELGIUM
28. June P3, Purmerend, NETHERLANDS
29. June The Mix, Uithoorn, NETHERLANDS
more shows to be announced very soon.

RAVEN LORD recently released their debut album, "Descent To The Underworld" worldwide via Mausoleum Records. The CD was mixed by acclaimed Swedish producer Fredrik Nordström (AT THE GATES, ARCH ENEMY, NIGHTRAGE, IN FLAMES, DREAM EVIL, OPETH) and was mastered by U.S. mastering engineer Maor Appelbaum (SEPULTURA, HALFORD, YNGWIE MALMSTEEN, ANGRA, DOKKEN). The cover artwork was created by Brazilian artist Caio Caldas of CadiesArt, who has previously worked with DORO, PAUL DI'ANNO, SEVEN KINGDOMS, DOMINANZ and VIOLET SUN among others.


Source: Press Release



Event Calendar
Search Event Tickets