Written by Daniela Vorndran Thursday, 17 July 2008 21:00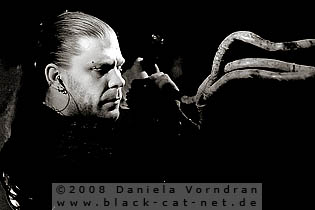 A few days ago we reported about
sabotage of the band's concert scheduled in Klodzko/Poland
for 12th July. Here is the statement of Adrian Hates, head of the band:
It's difficult to write about what happened in Poland yesterday. I've been searching for the right words because you have to point out first and foremost that yesterday's actions were only the results of ideological excrecences of a few people and do not represent the way of thought of a whole country.
First of all, I would like to emphasize how sorry we are that we couldn't play for you yesterday. We were all really looking forward to the gig …


Yes, it might be that our work and my messages are not always easy to understand, and I surely wouldn't claim I make it easy for listeners or readers but from all I've written up to now, one thing should be very clear:


We are neither black magicians nor satanists. We don't glorify or support such ideas – not in the least. I hope this has been made clear once and for all!


I have a very critical view of the world and I am often shocked about the things happening in the world. But eventually the religious fanatics who cut the electricity for last night's concert at Klodzko, ruining a whole festival, have only strengthened my sceptical attitude towards human intelligence. In my mind, they have only demonstrated their intolerance and inability to live in a modern world and to communicate in it.


I do respect individual faith and religion. That's something I have always asserted. Still, I think that the foundation for human beings living together is respect – and that it only works if this respect is mutual.


Actions like these do not intimidate us or chase us away, on the contrary. We will come to Poland again to play our music to our loyal fans, and in the end, one thing must be clear: Things can be solved only if you open your mouth and speak. Talk with us, and you will see how much tolerance and equality mean to us.

To say it with the words of Prof. Dr. Hans Joachim Meyer, president of the Central Committee of German Catholics, ZdK, on
http://www.zdk.de/
:


"As christians we are asked to bring the morals and ethics of our faith into the world, to show solidarity with the people living in our time. We are a part of society and we identify with it. We also keep a critical distance. This distance shows our christian freedom and our knowledge about a reality that surpasses our earthly existence. We will try to look for a way to master the call for solidarity by starting a dialogue in our midst and with all people who share our belief in the inalienability of human dignity."


… and now we are asking ourselves – justifiably, I'd say – where this solidarity and dignity went! I must have also missed the dialogue, and as we all know, talking is really the only way to bridge a critical distance …


Cordial greetings to all people with a deeper insight, whatever faith or religious or spiritual belief they might have. In the end, not only your words will show your true colours but first of all, your deeds will do.

Yours, Adrian.

Upcoming Tour Dates:
20.Jul.2008 D Köln AmphiFestival
13.Sep.2008 P Lisboa Tuatara
27.Sep.2008 UK Sheffield Corporation
28.Sep.2008 UK London Dingwalls
02.Oct.2008 D Kassel Nachthallen
http://www.dark-area-festival.de/
05.Oct.2008 AUS Sydney The Gaelic - Under The Blue Moon Festival
09.Oct.2008 AUS Brisbane The Step Inn
10.Oct.2008 AUS Melbourne Roxanne Parlour
11.Oct.2008 AUS Perth Gilkisons
25.Dec.2008 D Chemnitz Stadthalle
http://www.darkstorm-festival.de/
26.Dec.2008 D Berlin Postbahnhof
27.Dec.2008 D Düsseldorf Stahlwerk
28.Dec.2008 D Ludwigsburg Rockfabrik
http://www.rockfabrik-ludwigsburg.de/
29.Dec.2008 D Augsburg Rockfabrik
Source: Newsletter /
http://www.diaryofdreams.de/