Written by Daniela Vorndran Wednesday, 25 January 2012 13:01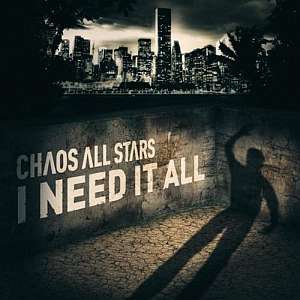 Swedish electro/EBM/alternative act Chaos All Stars release the CD "I Need It All" in February along with a video and live-gigs to follow!

During 2011 Chaos All Stars have rapidly taken step by step, released several videos, remixes, a digital never-ending coveralbum and a split-record with Ninedee. In short Chaos All Stars have been very productive. Now this Swedish electro/EBM/alternative music act open 2012 with the release of their first CD, entitled "I Need It All".


The CD is scheduled for release in mid-February 2012 and will contain a total of 13 tracks, 7 original tracks along with one cover and 5 remixes. – The CD introduces the sound and concept of Chaos All Stars, says OlkK, producer and founder of the band. The track list contains the long awaited original version of Volcano (the first remix was actually released in September 2011), a popular live song from Chaos All Stars, along with the new and dystopic ballad "Defenses", the dance floor oriented "We Are The Sinners" and many more.

Along with the title track "I Need It All" also comes an intimate video featuring strange cenobite-like creatures and a journey through time. On the CD the All Stars come forward and this time Kari Berg presents herself with her wide variety of voices, from moody melodic styles to opera. The popular track "Forget Them", that was part of the "Face the beat" compilation which got more than 20 000 downloads, is back in a new version.

The remix part of the CD include contributions from a wide variety of bands and producers, all giving their unique treatment to the Chaos All Stars sound. From the danceable tunes of Psy'Aviah and Ninedee, to heavy EBM from Ad Inferna, groovy basslines from Indepentent State and orchestral mayhem from the industrial act Morlocks. -We have also chosen to let several great bands give us their visions in remixing the tracks, pushing the limits, says Nik.

To celebrate this new release Chaos All Stars are going on the roads again. The first gig 2012 will be in Malmö, Sweden, where Chaos All Stars is supporting legendary Front 242. Later are club gigs and in this summer some festivals. Already booked is Lumous Gothic Festival in July, the biggest event in the scene in Finland.

Source: Press Release / www.chaosallstars.com