Written by Daniela Vorndran Saturday, 14 April 2012 14:06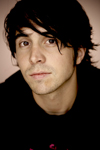 Leben oder nicht - to live or not to

One soul amongst millions and it's singing german. On a steady quest for a guide to life, feel and think. That's Martin Kilger as we know him. He naturally sees what everybody sees and takes it. He bends the things or himself once in a while to describe the unchanging from a different point of view. It'll seem that even life shows itself in unchanging pictures if you look twice. But Martin Kilger takes his time to describe what people feel… steady movements and the change of a still named life. Not only does the ballads wear his unmistakable hand writing and sensible voice but they touch your deepest spots and you can't resist though you don't want to.


Martin Kilger says it right away: "Jetzt sollten wir uns entscheiden, ob wir leben oder nicht. - We have to decide now. to live or not to."

Martin Kilger is an all-rounder and does things his own way. Singer, songwriter, keyboarder, sound engineer, director and producer, graduated from the Kölner Kunsthochschule für Medien. His way to a music career was chosen early at the age of 17, when he won the first place on a famous german singing competition and showed his skills as a keyboarder onstage next to stars like Nina Hagen and Söhne Mannheims later on. As a director, Martin filmed clips and documentaries for artists like Xavier Naidoo, Brothers Keepers and Groove Guerilla, which were nominated for the "Echo" and the "Viva Comet".

The ballad "Leicht - light" was a catchy song and the first one on his 2007 released album. Martin Kilger was trading under the name of Sound:scaper and a newcomer back then. However his song stayed 3 months in the airplaycharts, following extensive concerts with Söhne Mannheims and Joe Cocker, on which he persuaded the audience and won their sympathies.

Now Martin is back with his new album with the fitting name "Leben oder nicht - to live or not to". And it's clear - on this fourth studio album he discusses every question in life in a detailed and musical way. Martin moved from his home in the german south to the rough city of Hamburg and worked together with Sandi Strmljan (producer of Udo Lindenberg, Chris Norman and many more) to refresh his way of songwriting. They recorded 12 new songs for "Leben oder nicht - to live or not to". Outstanding in their way of expressing Martins sensitive soul with memorable texts that gives deep expressions of his character and their different styles reflecting his musical personality. After all his way leads to comparison with other german artists. But Martin Kilger stays only one thing - himself.

The album will be out in autumn. Prior to its release, there is already a single "Tag und Nacht" (Day and Night) to be released 11th May 2012. Watch it here!.

Source: Press Info