Written by Daniela Vorndran Tuesday, 15 May 2012 08:21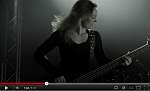 Norwegian female-fronted melodic metal band TRIOSPHERE has released an official video clip for their song "Marionette". The track is taklen from the band's latest effort "The Road Less Travelled", which was unleashed two years ago.

Vocalist/bassist Ida Haukland comments: "From the Triosphere-camp we can finally announce that we are releasing the first official video from our critically acclaimed sophomore album "The Road Less Travelled" (AFM Records).


We've had the honor of being featured on various compilations around the world with the songs "Driven" and "Human Condition" from the album, but the choice for the first official video landed on a song on the album that we've considered as somewhat of a "wildcard"; a song that differs from the others, and that seems to have touched listeners in a different and exiting way. But most of all; a song with a dense, powerful emotion and atmosphere that lent itself to an exciting visual presentation. On behalf of all in the band; we are quite satisfied with the result, and hope our fans will enjoy it!

The release of this video also marks the beginning of the end of the promotion of "The Road Less Travelled". We have been quite busy for the last months writing new material for our third album, and are intensifying the process with the plan of releasing it early 2013. Stay tuned for news and updates on both studio and touring at our official websites www.thetriosphere.com."

Source: Newsletter