Written by Daniela Vorndran Thursday, 14 June 2012 13:18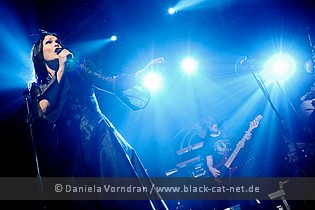 earMUSIC to release TARJA's first ever solo live album and video in rock outfit
"Act I" to be released August 24 – new track "Into The Sun" heralding single!

Hamburg, Germany, based label earMUSIC, the rock branch of entertainment company EDEL, is happy to announce the release of TARJA's first ever solo live album as a rock singer. "ACT I" will hit stores August 24th across the globe, featuring breathtaking theatre performances from Argentina in sound and vision. The release will come in various formats: as a 2CD, a 2DVD and a Blu-Ray version.


"ACT I" is Tarja's first solo live audio and video product in her rock outfit. The main content was filmed and recorded on two show nights this March 2012 in Rosario, Argentina, at the Teatro El Círculo. The video products include plenty of extras – video and photo material.

With the elaborate track listing and its extras, "ACT I" provides the full-fledged bill of fare to either Tarja fan. The track listing consists of Tarja's greatest solo tracks, Nightwish classics as well as some cover versions, such as Andrew Lloyd Webber's "The Phantom Of The Opera" and marvellous Gary Moore's "Over The Hills and Far Away" – or to make it short: a unique blend of music selection. The set up of these HD filmed concerts meant an incredible extra work and effort in the live production - with an impressive result, but also an emotional rollercoaster-ride. Says Turunen: "those two nights in Rosario were a huge emotional drive to me personally." The artist herself admits, she "was many times ready to burst into tears."

"ACT I", as the title already suggests, is the vanguard in a sequence of live products at a yet to be determined point of time. Fans and media can actively follow Tarja at www.tarja-act1.com on the road to release day of "ACT I".

While releasing "ACT I", Tarja is already working on her next solo studio album. "ACT I" already features two brand new tracks by the Finnish Soprano: "Into The Sun" is the lead single for the live album, to be released up-front August 24th.


On the artist Tarja:

No other voice and artist influenced and basically created the female fronted symphonic metal genre as much as Tarja Turunen. A pioneer in Goth-and Symphonic Metal, the classically trained Finn rose to fame with the metal outfit Nightwish, whose face and voice she had been for 9 years. With a vocal range of a lyrical soprano, Turunen started her solo career in 2004. Releasing two very successful metal rock solo albums (2007 and 2010), awarded gold and platinum in multiple countries, Tarja Turunen has been constantly touring the world with her live band.

Adored by many fans as their "Goddess", the Finnish Soprano has the skill to take her fans just by her presence. Probably more than any other female artist in this very genre. When classic meets Rock and Heavy Metal, this inevitably leads to Tarja.


Source: Press Release