Written by Daniela Vorndran Wednesday, 08 August 2012 19:21
Kari Berg have teamed up with front man J. Strauss of industrial band Morlocks for his solo project "Strauss ex Machina" for a guest appearance on the new release from this talented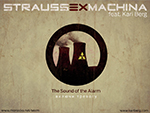 Swedish producer. Strauss ex Machina has released a new, steampunk influenced song called "The Sound of the Alarm" where Kari appears as vocalist alongside the charismatic J. Strauss. Beside this cooperation Kari Berg has recently been seen on stage with Chaos All Stars at Lumous Gothic Festival in Finland and now soon the new video to the song Defenses from Chaos All Stars will be released, featuring Kari as in the role of a really caring character... Strauss is well known for his work with industrial act Morlocks who have recently made plans for cooperation with KMFDM, but beside that he has among other projects worked with "Strauss ex Machina.


Kari is very happy with the new collaboration: "It was great fun to work with Strauss and I got the feeling right away how I should approach this song, the theme was quite clear, so to say. I look forward to future cooperation's with this great producer and songwriter."

Here is the story from J. Strauss:

I usually make industrial rock music in the band Morlocks, but every once in a while I play around with my solo project, which is mainly me and my attempts to settle the score with music from the 80's. Mostly. Well, I can do whatever the fuck I like, to be honest, but that is where it usually lands.
In this case, I just had to do a machine-pop song, because I simply wanted to. I can't write boy-meets-girl/boy lyrics (because I can't stand them), so even if the tune itself is sort of catchy, the contents deal with the usual stuff: Destruction, death, the end of life as we think we know it and whatnot. After all, it's more realistic. Power plants do explode. True everlasting love, on the other hand, only exists in fiction and the hearts of dreamers. Love is not even half as permanent as death.
Halfway through I realized that this song would do great with some extra female vocals. I collaborated with Chaos All Stars a while ago, doing a remix of one of their songs, where I added extra vocals myself. I later performed said remix live with CAS and their singer Kari Berg, and I thought she'd be perfect for the job since I respect her as an artist and also a new friend. She did not disappoint me, I am deeply grateful for her help and very happy with the outcome.
Disclaimer: I don't know jack shit about how nuclear plants operate in reality, so if anyone feels like pointing out that this scenario doesn't really work that way, don't.
All in all. Here it is. You won't hear from me as SexM for a time, it's going to be 100% Morlocks for quite a while.
Hail Eris.
J.Strauss, Aug 2012

Source: Press Release