Written by Daniela Vorndran Wednesday, 08 August 2012 19:24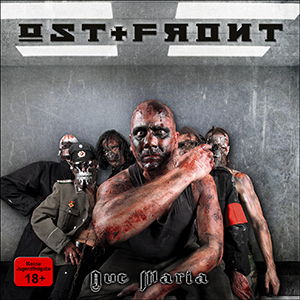 OST+FRONT are on the march! With walls of guitars, massive electronica and sporting a look somewhere between Hellraiser and Mad Max, the Berlin based horde has set out to stir up the very foundations of the Teutonic Metal-scene. OST+FRONT are not afraid of offending anyone and everyone, they are heading out to polarize and to take things one step further where other bands draw back. The goal is not to provoke for provocation's sake, though… OST+FRONT aim to hit it where it hurts and to mirror society like a grinning jester from hell. "Ave Maria" is a sonic crusade featuring songs that are as harsh as they are catchy: loud brutal, honest, uncomfortable, yet irresistible.


As a thunderstorm set to music, OST+FRONT present themselves like the evil brother of the famous German band that has re-popularized the rolling "r" and take us to an apocalyptic world of masquerade, hatred, scorn and unbridled sins of the flesh. Also available as strictly limited Digipak edition with bonus DVD containing exquisite audiovisual slaughter-festivities and harsh clips from the group's debut show in Berlin. Beware! "Ave Maria" might offend you. "Ave Maria" will go under your skin. "Ave Maria" will make you question all you believe in. You will love it!


Track Listing CD:
1.) 911
2.) Ich Liebe Es
3.) Dawaj Dawaj
4.) Heimat Erde
5.) Ein Alter Mann
6.) Gang Bang
7.) 1&1
8.) Nur Für Dich
9.) Heimkind
10.) Fleisch
11.) Dein Kanal
12.) Denkelied
Tracklisting DVD (FSK18):
1. Ich liebe es (Video)
2. Denkelied (Video)
3. 911 (Live)
4. Heimat Erde (Live)
5. Heimkind (Live)

Source: Press Release