Written by Daniela Vorndran Friday, 10 August 2012 07:56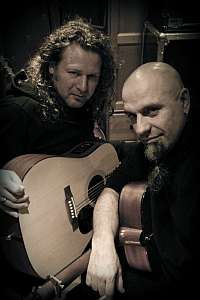 Soon, waiting time is over. On 15th October, the first long-player of DIE KAMMER will be released. The album, named 'Season I: The Seeming and the Real' contains 12 acoustically unique songs about the topic "illusion and reality" inviting you not only to listen to and dream, but also songs that you wish to dance to. Along with the album release, there are three release shows on the agenda:
Friday, 2nd Nov 2012 - Cologne, Alter Wartesaal
Friday, 30th Nov 2012 - Leipzig, Moritzbastei
Saturday, 1st Dec 2012 - Hamburg, Logo
Tickets are available via Headline Concerts.
Start of Season I: with release date of the album, meaning on 15th October 2012, Matthias Ambré and Marcus Testory herald the start of eponymous 'Season I'. Along with that, the duo worked out some surprises and great actions. Friends and early fans of DIE KAMMER may be curious what the musicians have thought of.
Season 0 - Review: With the release of the first album, the 'Season 0 - Early Adoptions', which accompanied the creation of DIE KAMMER, is ending. In form of a video fairy tale, the protagonists told allegoric stories of little Sophie and her search for the chamber (KAMMER). The final of this season was the single 'The Orphanage' with its accompanying video:



DIE KAMMER

Do you know the difference
- between persona and the things hiding behind?
- between mortality and the things remaining?
- between illusion and reality?


Source: Press release