Written by Birgit Luna Monday, 20 August 2012 11:50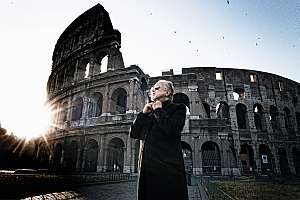 - The soundtrack of his whole life with all its ups and downs -

The work of JOACHIM WITT as an artist, starting with his overall success 'Goldener Reiter' in 1981, also describes the life of the man behind the songs. His songs always have been much more than just musical statements - they are equally ear witnesses of a biography featuring all ups and downs as the story of JOACHIM WITT is not the classic steady story of success. After having had creative differentials and having released two outputs by himself, the five years following 2007 remained silent for the untamable "creative bullhead" - until he came up with the idea of creating a "cathedral of pop music", at this stage already having passed the age of 50.


The first single release, 'Gloria' to be launched on 14th September, already features all ingredients to make up for an epic hymn and has been produced in cooperation with composer Michelle Leonard and producer Mirko Schaffer (i.e. DIE ÄRZTE). The video has been shot by no less than star director Specter, who already had been responsible for the Bushido/Sido clip 'So mach ich es' which has won best national video with this year's Echo awards.

A piece of work like 'DOM' with its sublime melodies, opulent arrangements and sophisticated lines is not something an artist would get as a gift for free. Without even knowing it, it seems that JOACHIM WITT somehow has sort of worked towards that special moment in his career for his whole lifetime. 'DOM' shows the emotional capacity of a musician who is able to confront his own cynicism, expressed during NDW years and the uncompromising way conveyed through his Bayreuth circle with his newly found romantic festivity of today. With 'DOM', JOACHIM WITT presents an album displaying deep emotions, power and the soundtrack of a lived life. Detached from his former work, Witt experiments with a newly found musical orientation, letting his songs appear like an electronic kind of symphony.

'DOM' opens its gates on September 28th, 2012 via Columbia SevenOne Music, the mutual label of Starwatch Entertainment and Sony Music Entertainment.

Source: Press Release