Details

Parent Category: News
Published on Wednesday, 06 March 2013 10:28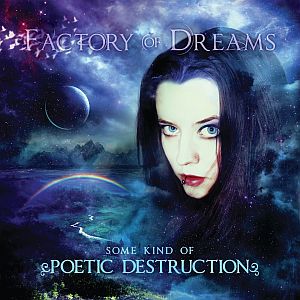 'Some Kind of Poetic Destruction', Factory of Dreams 4th album, has just been released. It's a conceptual scifi album that follows the adventures of Kyra, a unique and mysterious character who holds the key to our fate. Something is closing in on the Earth. What is it? What is its purpose? What will happen to Earth? Discover the storyline, full of surprises and mysteries, as we follow Kyra on an epic journey to find her purpose, faith and destiny throughout the album. 12-page booklet with original artwork, 70 minutes of music with 12 brand new tracks and a Bonus track.


This new album explores even further the sound of the previous album Melotronical, pushing it beyond the boundaries of the Electronic Progressive Metal genre. Expect poignant melodies, heavy passages balanced by atmospheric parts, rhythmical changes and instrumental sections that are sure to delight all who appreciate the genre. Track highlights are the explosive Neutron Star, the epic Join Us into Sound, the powerful Dark Season featuring Magali Luyten, the beautiful Seashore Dreams (cd includes the full version of this track ~7 min) and Angel Tears featuring great interaction and duets between Jessica and Raquel Schüler. Hugo Flores also decided to remake an older song called Playing the Universe, now revamped by Jessica's vocals, that perfectly fits the storyline.

The brand new album features amazing guest vocalists and musicians. Check them out:
Magali Luyten of Beautiful Sin, Ayreon, Epysode – Vocals
Raquel Schüler of Hydria – Vocals
Lyris Hung of HUNG – Violin
Chris Brown of Ghost Circus and Roswell Six – Guitar
Tadashi Goto – Keyboards
Shawn Gordon of Psychic for Radio – Keyboards
Narration by Mark Ashby, Angela Merrithew & Nathan Ashby
Produced by Progrock Records & Hugo Flores, mixed and composed by Hugo Flores
Mastered by Chris Brown
Artwork by Venefica Luna of https://www.facebook.com/circleofwolvesjewellery

Factory of Dreams is:
Hugo Flores – Music / Instruments/ Sounds / Production
Jessica Lehto – Lead vocals, vocal harmonies / arrangements

Tracklist
01. Prelude
02. Strange Sounds
03. Escaping the Nightmare
04. Angel Tears
05. Seashore Dreams
06. Dark Season
07. Sound War
08. Hope Garden
09. Travelling
10. The Neutron Star
11. Join Us into Sound
12. Playing the Universe
13. Seashore Dreams (BONUS video version)

PREORDER the 4th album for a $2 discount @ http://www.therecordlabel.net/progressive-rock/factory-of-dreams/some-kind-of-poetic-destruction
New trailer video @ http://www.youtube.com/watch?v=FxL8_LnL_ws


Souce: Press Release



Event Calendar
Search Event Tickets