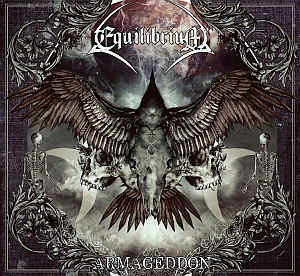 Artist: Equilibrium
Title: Armageddon
Genre: Epic Metal
Release Date: 12th August 2016
Label: Nuclear Blast Records
Album Review

EQUILIBRIUM. For me personally a conflicting topic since I count myself to the "early fans" when the band still had its original members. The "new" EQUILIBRIUM never really got to me - after the change of vocalists, the band turned over a new leaf and I kind of closed this book for me. 'Erdentempel', released in 2014, was the album that made me turn my back to the band, but since everyone deserves a second chance (so they say), I will see what EQUILIBIRUM's newest album, 'Armageddon', has in store.
The album's intro, 'Sehnsucht', creates an atmosphere with epic, well-known EQUILIBRIUM sounds and a spoken quote to set the mood. So far, so good - it's not ground-breaking, but it's a solid and well done opener. Following up is 'Erwachen', which slaps us with rough guitars and once more this distinctive Pagan-ish EQUILIBRIUM sound that everyone who has ever listened to the band - now or in the past - knows. Since I am avowedly not so much into Robse Dahn's voice, this downgrades the song a little bit for me. But to be fair, this is a personal problem in general, so let's get to the second part that matters more: the refrain. I think the track itself is quite powerful and has this certain epic sound to it, but somehow the refrain weakens it. Which is sad, because even though Dahn's vocals always tend to sound boring to my ears, this one is quite nice. The third track is named 'Katharsis', and as hateful as I seem towards the "new" EQUILIBRIUM, this one really got me. The refrain's melody instantly got stuck in my head and I caught myself randomly humming it. And not only the one in the refrain… why was I suddenly whistling the whole song?! Well, kudos, guys. Good job for making this one my new catchy tune.
'Heimat', song four, starts catchy again. Critical me raises a brow. Four good songs in a row? Suspicious! But as a conclusion to that I'm quite helpless because… it really is a good one. Although Dahn's vocals are a bit too low-pitched for the happiness the song emits, but that's probably nit-picking here. The atmosphere and mixing are on point, and I can see that one being played on festivals in front of a jumping crowd. Hands down - indeed the fourth good song in a row. This streak doesn't stop with 'Born To Be Epic' even though EQUILIBRIUM and English is already a big No-No for me. Okay, the lyrics are rather what we in Germany call "fremdschämen", but the melody is amazing and I am more into these videogame-like staccato-sounds than I want to admit. The whole song reminds me of Final Fantasy 9 somehow (hello, the gamer girl speaks) and that makes up for the lyrics completely. Can we now have a song I can ramble about?! 'Zum Horizont' is the next candidate for that… but nope, I can't hate on that one either. A lot harder and faster than the ones before, quite catchy again (damn you, EQUILIBRIUM) and with a somewhat Russian influence it enwraps me, and as much as I'd like to, I can't say anything bad about it. I even like the vocals here which makes me wonder - did the new EQUILIBRIUM get better or did I just change my mind?
'Rise Again', track seven, already is in my good books with the harp in the beginning… and it is so damn catchy again! What I like about this one especially is that the distinctive EQUILIBRIUM sound is back and even though it's English you know from the first second one which band you're dealing with. A feeling of nostalgia arises. Haha, arises! 'Rise Again', get it?! Joke aside - probably one of my favourites on this album. 'Prey', song number eight, starts vigorous and for a second I had to think about early 2000's Nu Metal bands. That impression fades when the Pagan sets in, but in the parts without the well-known sounds I wouldn't know that it's EQUILIBRIUM I'm listening to. All in all and despite being that aggressive a rather boring song for me - which makes it the first one on this album I really dislike. Track nine, 'Helden', starts off weirdly electronic for the band. The vocals set in and for a second I think I'm listening to an ERDLING song… and for some reason this impression stays throughout the whole track. If Neill Devin of ERDLING and Robse Dahn had a child, this would be it! With a bit of videogame-music in the middle. Which is pretty cool, like the whole song. Cool, but not at all what I would've expected to find on an EQUILIBRIUM-album. But to the band's credit, experimenting is and trying out new things on their own album is their prerogative, so rambling about this rather strange style that doesn't fit to the rest of the album is nonsense. Cool track, cool style!
'Koyaaniskatsi' ties in with the change in style. Spoken quotes accompanied by atmospheric sounds… but contrary to 'Helden', this one produces a rather awkward impression. I can't help myself, to me it sounds like televangelists telling me about the brave new world. Yikes. And we're already at the last one, 'Eternal Destination'. Final Fantasy 9 in the beginning again, and as soon as the other instruments set in, it's clear that this one won't be as happy as most of the album. The whole song has a rather gloomy, eerie atmosphere, and Dahn's vocals are more vigorous, more like in 'Prey'. The typical EQUILIBRIUM sounds are really "typical" in this one. Nothing new, nothing too special. The interlude with another spoken quote - this time by a little girl, as it sounds - is strangely out of place, just as the following rather slow melody accompanied by shredding guitars. The song is fading out gently and as a conclusion I find it confusingly cluttered. If you don't take 'Koyaaniskatsi' as a real song, this one is by far the weakest on this album.
Time for the résumé! 'Armageddon' is better than I'd have expected although EQUILIBRIUM stumble into musical areas they have no business in and the album couldn't convince me of Dahn's voice either. I'm also missing the epic-ten-minutes-fading-into-instrumental album closer that used to round the whole work off, but let's not be too picky. The outcome isn't horrible, rather on the contrary, it's pretty good actually. Even I have to admit that the guys did a good job here - not pioneering, not incredibly fantastic, and no match to the old stuff in my opinion - but really pleasant to listen to and with more good songs than I would have ever thought to find on here.
Tracklist

01. Sehnsucht - 2:58
02. Erwachen - 4:33
03. Katharsis - 5:11
04. Heimat - 4:23
05. Born to Be Epic - 4:04
06. Zum Horizont - 4:12
07. Rise Again - 3:51
08. Prey - 4:53
09. Helden - 4:35
10. Koyaaniskatsi - 4:10
11. Eternal Destination - 7:21
Line-up

Robert "Robse" Dahn - Vocals
René Berthiaume - Guitar, Keyboard
Dominik "Dom" Crey - Guitar
Tuval "Hati" Refaeli - Drums
Makki Solvalt - Bass
Website

http://www.equilibrium-metal.net
/
https://www.facebook.com/equilibrium
Cover Picture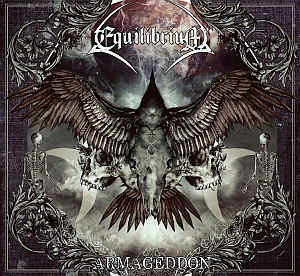 Rating

Music: 7.5
Sound: 9
Total: 8.25 / 10