Written by Elsabijn v.d. Valk Monday, 16 March 2009 19:41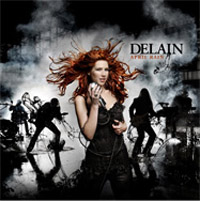 Title: April Rain
Band: Delain
Genre: Melodic, Symphonic Gothic Metal
Release date: 27th March 2009
Label: Roadrunner records
Introduction
From the official Delain website: Although originally envisioned by Martijn Westerholt as a musical project featuring a host of guest musicians, due to the high demand for live performances a real band was formed. This lead to the Roadrunner release of Delain's debut album 'Lucidity' in 2006. The group of musicians quickly transformed into a solid rocking force. Now Delain is nothing less than a real band. A versatile band with an impressive new album called April Rain.
Line-Up


Charlotte Wessels - Vocals
Martijn Westerhold - Keys
Sander Zoer - Drums
Rob van der Loo - Bass Guitar
Ronald Landa - Guitar & vocals
Guest Musicans:
Marko Hielata - Vocals
Maria Ahn - Cellist
Website
http://www.delain.nl
Song review
01. April Rain - 04:37
This song starts very bombastic with piano (Martijn Westerhold) guitars (Ronald Landa) and drums (Sander Zoer). You can't hear the bass guitar (Rob van der Loo) very well. It's an up-tempo song with melodic and symphonic parts, typical for Delain. The vocals from Charlotte sounds warm and the chorus parts are great. This song is a great opener for this album.

02. Stay Forever - 04:26
A couple of peoples know this song already, they present this song at the live performance in the "Broerenkerk", Zwolle. They made it only better. The song starts very soft, warm and with transformed vocals from Charlotte, but after one minute is it very bombastic. They switched up-tempo and slow parts. In the middle of the song you can hear a great guitar riff. You can hear also a couple of great keyboard parts.
03. Invidia - 03:49
It starts with a dark symphonic acoustic intro. The mix between Charlotte's vocals and the instruments are perfect. After a couple of seconds, can you hear a up-tempo song. Marko Hielata add his vocals on this track.

04. Control the Storm - 04:14
You can hear also the vocals from Marko Hielata on this track, it sounds like a mix Nightwish and Kamelot. But it still have the typical Delain sound, bombastic and symphonic.
05. On the other side - 04:11
On the other side is a slow one. They add a cellist, in name of Maria Ahn, for this song. After 4 tracks with up-tempo songs is a slower track not the wrong decision they made.
06. Virtue and Vice - 03:55
Virtue and Vice starts with a keyboard intro. Delain used a couple of rough guitar riffs. Finally, the grunts we're waiting for.
07. Go Away - 03:37
A lot of rough bass riffs from Rob van der Loo, with heavy drum parts from Sander Zoer, make this track up-tempo.
08. Start Swimming - 05:21
Start Swimming is a ballad which isn't unknown. They played this song already before live. It is having a title and they improved this. This ballad is prefect, a mix between Charlotte's vocals and the instruments. She used her complete voice for this track.
09. Lost - 03:24
A typical guitar intro, which start a little bit slow. It's a little bit the same as the rest of the tracks, not very special. They also add a standard guitar solo on this track.
The only thing what's special, is that they transformed Charlotte's voice.

10. I'll reach you - 03:30
I'll reach you is written for Unicef and Inspiring Enquiring Minds. The music I'll reach you is a little bit monotonous, the song text isn't it. You can also hear Marko Hielata (again) on this track.
11. Nothing Left - 04:57
Nothing left is the perfect last song for this album. The mix between the keys and vocals are great. And again, Marko Hielata on this track, but the balance between the voices are great. Nothing Left is complete in way of balance and mix. They add also a guitar solo on Nothing Left.
Cover Picture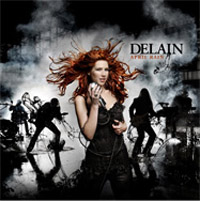 Technical Information
Total playing time: 46:02
Total numbers: 11
Conclusion
This album is typical for Delain, they didn't change the style of their music. The voice from Charlotte is much better then "Lucidity". In the past year she growned and learned a lot. A great mix between ballads and rough metal. Rough guitar riffs mixed with classical keyboard parts by Martijn Westerhold. "April Rain" isn't complete different than "Lucidity", a good sign for the Delain fans. They guest musicians are a perfect additive for "April Rain". The sound of the album is very warm and clearly. Delain recorded "April Rain" also at the Spacelab studios by Oliver Phillips. The release party is march 19th at the melkweg, Amsterdam.
Rating
Music: 7.5
Sound: 8
Extra's: n/a
Total: 7.7 / 10
{jos_sb_discuss:17}