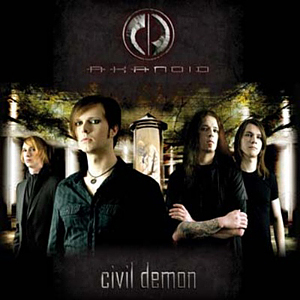 Title: Civil Demon
Artist: Akanoid
Genre: Electronic / Rock
Release Date: 22nd May 2009
Label: Echozone (Bob Media)
Album Review

Already the last EP '100 Burning Guitars' made it perfectly clear that guitars would have a very strong share in the sound of the next AKANOID album. The title of this new record is 'Civil Demon' and it kicks off with a song we could already enjoy as an extended cut on the EP: 'Unbreak Me' that in this version comes across much more compact but is still a tread for the ears utilizing diversified strings of rhythmic friskiness paired with the beauty of acoustic guitars and short but hefty rocking outbreaks. If that was much too little "real" rock for you then the next track '100 Burning Guitars' will fully make up for that. The electronic intro sequence only lasts shirt and leads right over to a joint-venture of fiery, slicing riffs and driving drums being a terrific under body for Hilton Theissen's vocals altering from mellow passages to vigorous outbursts in the chorus. With 'Jump into the Hive' comes another more upbeat pleasure for the fans whereas the guitars seem much heavier and down-tuned here and the synthetic atmospherics shimmer through a bit more.
'Climax' initially flatters the ears with finest acoustic chords before executing an - even if it's only a short - break by doing a foray into fast, gritty rock territory. If you're listening to 'Nexxus' you can't shake off the feeling that the guys have been even influenced by some Progressive Rock. The track comes up with various rhythm shifts and even an unusual time signature in the drum section at about 2:30 into the track later running against an electronic sequence with a different one. I could go on forever about this track but let's just say it's a stand-out tune on 'Civil Demon'. On 'Strange Obsession' the guitars step into the background and atop discreet drumming placid strings cater for melody and Hilton's soulful chant smoothly glides over this sonic carpet.
A matured symbiosis of natural and synthetic orchestration, a wide diversity in rhythm and melody and an unimpeachable voice; that's 'Civil Demon' and with these trademarks it's going to conquer hearts and ears en masse and considerably enlarge AKANOID's fan base. It's their finest work to date!
Tracklist

01. Unbreak Me - 4:59
02. 100 Burning Guitars - 3:48
03. Jump into The Hive - 5:09
04. All the Noise - 4:45
05. Climax - 4:08
06. Secret World - 3:45
07. Headless - 3:28
08. Nexxus - 5:02
09. The Nihilist - 3:20
10. Subtitle - 4:14
11. Pain - 3:27
12. Strange Obsession - 4:32
13. Hand Over Head - 4:13
14. Plus Plus Percent - 4:07
Line-up

Hilton Theissen - Vocals, Guitar, FX
Phil Weyer - Guitar, Vocals
Gregor Matlok - Guitarsynth
Dirk M. Berhorn - Drums
Website

http://www.akanoid.de/
/
http://www.myspace.com/akanoid
Cover Picture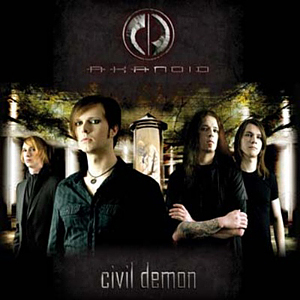 Rating

Music: 8
Sound: 9
Extras: -
Total: 8.5 / 10