Written by Katrin Renner Thursday, 07 January 2010 13:56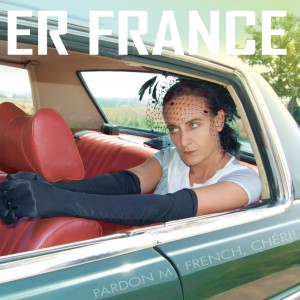 Title: Pardon My French, Cheri!
Artist: Er France

Genre: Rock, Pop
Release Date: 22nd January 2010
Label: Lolila
Album Review

With regard to the record's title, the listener might guess about the roots of the formation. Actually, the four-piece consisting of Isabelle Frommer (vocals), André Tebbe (guitar), Janosch Brenneisen (drums) and Daniel Decker (bass) is partly German, partly French. Previously, ER FRANCE had been a duo: Isabelle and André released their debut entitled with `Petite Filles Back In Town´ in 2004 followed up by `Ex Saint´ in 2007. Over the years, the band's soundscape had changed from synth-influenced pop / rock to today's garage rock and guitar pop. The new long-player `Pardon My French, Cheri!´ sounds like summer parties, hot nights, a bit Bohemian and - above all - very nonchalant, charming and somehow retro.
Every now and then, the album conjures up images of well-known divas from the good old days. For example, the third track `I Hate That Part´, a catchy song and easy to sing along, could be regarded as a modern and throttled version of BLONDIE´s `Atomic´. Moreover, Isabelle's fresh, seductive and Lolita-like voice sometimes reminded me of SIOUXSIE SIOUX and is an appropriate stylistic device connected to the various instruments as heard on `Two To Tango´. `Love To Kill You´ comes up with a 70´s guitar intro leading over to lascivious vocals that underline the nostalgic character of this track. The spirited up-tempo piece `In The Cheapo Bar´ radiates positive vibrations easily making forget that it's cold and dark outside these days. Due to a rousing rhythm and a striking guitar, `Man In Black´, the last but one song, is a real dance floor killer track that will make you dance immediately. Finishing with the bilingual `Mit Namen Und Mit Bildern´, a melancholic duet, `Pardon My French, Cheri!´ is the perfect record to prepare yourselves for the eagerly awaited spring season.
Tracklist

01. Pardon
02. You'll Possibly Disagree
03. I Hate That Part
04. In The Cheapo Bar
05. This Is Not A Test
06. Two To Tango
07. Joé And The Unalienable Right To Fail
08. I Woke The Same
09. Love To Kill You
10. Sing Song Girl
11. Danse Avec Moi
12. Man In Black
13. Mit Namen Und Mit Bildern
Line-up


Isabelle Frommer - vocals
André Tebbe - guitar
Janosch Brenneisen - drums
Daniel Decker - bass
Website

http://www.myspace.com/erfrance
/
http://www.erfrance.de/
Cover-Picture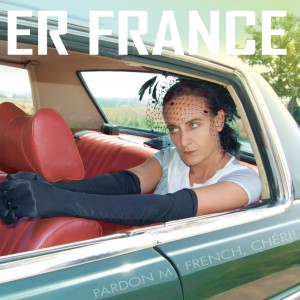 Rating

Music: 8
Sound: 8
Extras: -
Total: 8 / 10
{jos_sb_discuss:19}