Written by Monica Duffels Monday, 18 September 2006 20:51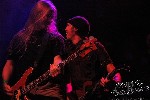 Bibelot, Dordrecht, The Netherlands
1st September 2006
Autumn, Sengir (+ gothic fashion show)
We hadn't seen Autumn for a while, so we were curious how they would be live nowadays. During the last few years there have been some line-up changes within the band and the question is of course if these changes turn out to be constructive or destructive for the band. We supposed the venue would be very quiet because the band had to compete with Epica, who played their last special club performance in The Hague the same evening.
And indeed the venue in Dordrecht was just nearly half filled, although there were some Autumn/Epica fans present, even from France. Today there would also be a gothic fashionshow that would start off when the support-act Sengir had finished playing. That was a smart way to fill the time during the soundcheck, before Autumn would hit the stage. The catwalk was placed on the left side near the stage. Nearly immediately after Sengir had finished playing the first models entered the catwalk. I supposed they weren't professional models because they didn't really looking like that and they didn't walk so graciously like models do. Most of the time they wore some flabby velvet dress or a cape, which didn't look very original. It was quite funny to see them changing their clothes behind the open door on the side, for there weren't enough models to show all fashion. That looked somewhat messy and unprofessional.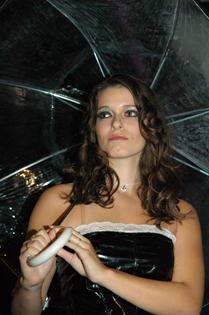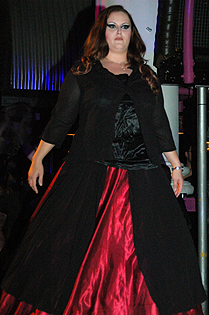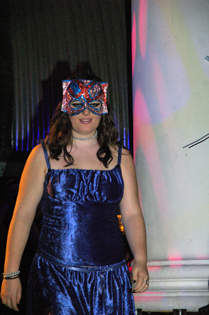 Sengir


The opening-act would be a gothic rockband from Belgium, Sengir. This band was founded in 1995 by Kris Scheerlinck and Jurgen Cobbaut and started as a doom-/death-metal band. Throughout the years their music evolved more into melodic gothic rock. They have released two official albums and one demo so far. The bandmembers are Ellen Schutyser (vocals), Pieter De Lannoy (guitars), Frederik De Dobbeleer (guitars), Wim Schockaert (keys), Olivier Roelandt (bass) and Bruno Goedhuys (drums).
http://www.sengirweb.com/
/
http://www.myspace.com/sengir
Music
When we entered the venue Sengir had started early. Fortunately we hadn't missed a lot for they had just begun with the first song "Time", from their most recent album "Sign Of Devotion", that had been released in January 2006. Apparently they were promoting their new album, for nearly all songs on the setlist were from that album, except for the track "Guilty Water" and the new song "Craven". Their music sounded fresh and raw with powerful riffs and simple melody-lines, but it still misses the character and originality of bands like After Forever. The melody-lines are comparable with those from bands who operate on the same level, like Morning and Trisomy. That means they haven't yet been able to create their own sound which will make you think like: thát's definitely Sengir! Ellen doesn't really have a characteristic voice although her pop/rock vocals sounded pure enough this evening. The musicians played their parts dutifully, but the overall sound was too loud and some parts of the drums were adjusted so loud it just hurted the ears. I've seen this band perform live several times before and it has to be mentioned that they sounded more tight and secure now.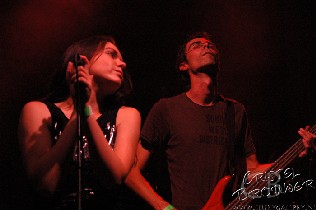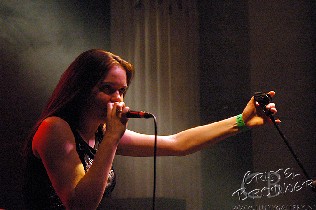 Performance
Ellen proved to be a frontwoman who doesn't suffer from stagefright. Moving on the rhythm of the music she looked quite relaxed and regularly made eye-contact with the audience. The other bandmembers made some static appearance in the beginning and Wim looked as if he was bored and was only concentrating on his own musical parts. During the last part of the show it seemed that the bassist and the guitarists finally came out of their shells and urged the audience to clap along. So when we arrived Sengir had already started playing and we entered the venue in complete darkness. The use of frontlights was totally neglected, so it was hard to see anyone around us and on the stage. Only some weak blue backlights were on. After a few songs the light engineer seemed to have woken up finally and turned the spotlights on and became a little more creative with the other lights as well. So it seemed that a part of the band and a the crew needed some time to warm up in te beginning and when the show was almost over they had finally started to express themselves some more.
Setlist
01. Time
02. Close To The Bone
03. Silver Lining
04. My Defense
05. Back To Reason
06. Guilty Water
07. Conscience Awake
08. Lose The Moment
09. Disbelief
10. Prove Me Wrong
11. Calling
12. Craven
Rating
Music 7
Performance 6
Light 6
Sound 6
Total 6 (6.3)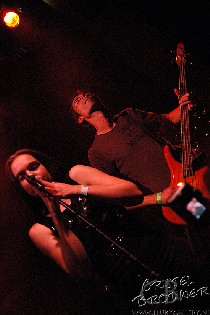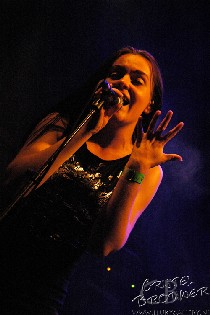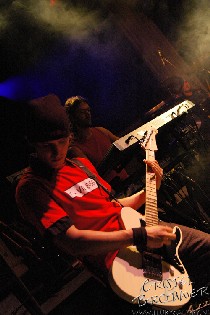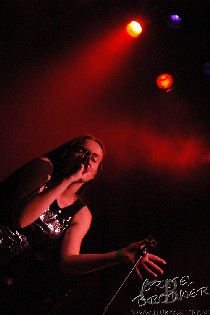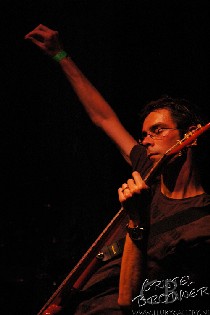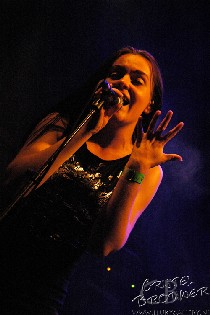 Autumn

Autumn was formed in 1995. In this new millennium gothic rock became a hype in The Netherlands and that had it's influence on bands like Autumn. In 2002 they released their debut album "When Lust Evokes The Curse". A period with succesful live-shows followed. As headliner, as support-act from After Forever, as support-act from Within Temptation during their "The Silent Force"-tour, and they took part at prominent festivals like Dynamo, Lowlands and M'Era Luna. Their sound matured through the years and this can be heard on their most recent album "Summer's End". Now they are working on a new album and during their current gigs they're trying out some new material on the listeners. The official bandmembers are: Nienke de Jong (vocals), Mats van der Valk (guitars), Jens van der Valk (guitars, vocals), Meindert Sterk (bass, grunts), Jan Grijpstra (drums) and Jan Munnik (keys). Due to circumstances Meindert has now and during the forthcoming gigs temporarily been replaced by Jerome, the bass-player from the death-metal band Massive Assault.
http://www.autumn-band.com/web/home/
/
http://www.myspace.com/autumnband
Music
The band blasted off with the song "The Green Angel", from Summer's End. This song contains grunt vocals by Meindert, but now that he wasn't present these parts were taken over by Mats. He suffered from a throatache and was quite nervous if he was able to do these parts well enough. In full concentration with closed eyes he succeeded pretty well. Only his microphone was tuned in too soft so it was hard to hear him. The same problem was going on with Jens's mic. During the show the volume on their microphones was turned up, so the sound was more in balance. Nienke sang with full power, but sometimes she seemed to be a little over-enthusiastic with which she had to pay for with shortage of breath. The prominent, complex bass-lines are one of Autumn's features. In my opinion it's hard to find a good bass-player who is able to play these parts well. Unfortunately Jerome, the temporary bass-player, sounded somewhat insecure. Maybe he needs some more practice, but hearing him now made me long for the comeback of Meindert. Hopefully he will return soon, but time will learn... It's brave of the other bandmembers though they're showing their fighting spirit by saying that they can prove themselves to be able to stand upright with or without him. The setlist mostly contained tracks from "Summer's End" and five new songs. One of the new songs, "Angel Of Desire" sounded very original, with sudden turns from a ballad-like sound into something fast and rocking. "The new song "Satellites" was presented as a song about people who work very hard but don't get the appreciation they deserve. That sounded like this was a song about themselves, for their popularity seems to be decreasing in spite of all their efforts. The song "Lost" was proudly presented by Nienke as a song totally written by herself, which she had done for the first time now for Autumn. During the whole gig the sound was continuously reverberating and overall it was just too loud.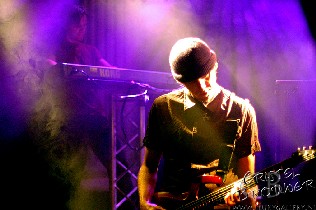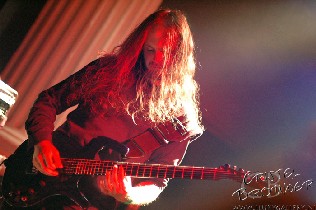 Performance
All bandmembers showed themselves as enthusiastic performers and they were very pleased and surprised to see some Epica-fans in this venue and asked them why they were here instead of at Epica's final show. Nienke is always looking good on stage and so she did this evening. Without any lack of self-confidence her interaction with the audience was great. She was very pleased to see some familiar faces and inbetween the songs she was making jokes. During the songs she regularly walked over to the other bandmembers to draw some attention from them. Mats had a more prominent role now because of his extra job as a grunt-vocalist. You could see in his facial expression he was taking this job very seriously. With emotion and in upper concentration he did his vocal parts well and when playing guitar it looked like he was freaking out, at times walking to his brother and to his other bandmates. It's really nice to see him perform. Also Jerome played with a lot of enthusiasm and was given a warm welcome by the bandmembers. It was clear he could get along well with them. A very negative aspect was the lightshow. The term "dark performance" was in this case taken too literally. Autumn is well known for its performances in the dark, but now it seemed worse than ever. It was as if the light-engineer was just pushing the buttons at random with closed eyes and one hand behind his back. Most of the time it just made no sense at all. Nienke, the frontwoman, who is supposed to at least get some frontlight, stood in the dark most of the time and sometimes the guitarists and the bass-player got some frontlights for no particular reason. This was a shame, for this venue offers the opportunity to make a good light-show and now not even half of all lights were used. For an experienced band like Autumn this is an aspect that shouldn't be ignored. When getting more professional and experienced musically it's also necessary to make it look more professional in my opinion.
Setlist
01. The Green Angel
02. Gospels In Dusk
03. Silent Madness
04. The Coven
05. Angel Of Desire
06. Satellites
07. Mirrors Magic Sights
08. Gallery Of Reality
09. Lost
10. A Day
11. The Witch In Me
12. No Trace
13. This Night
14. Summer's End
---
15. Premeditated Dying
16. Crown Of Thoughts
Rating
Music 7
Performance 8
Light 3
Sound 6
Total 7 (6.5)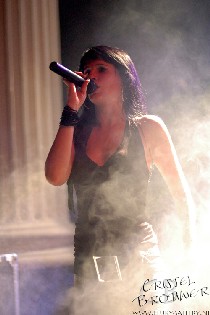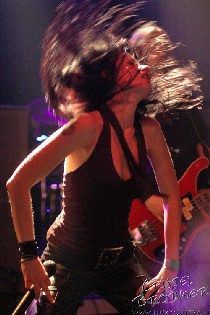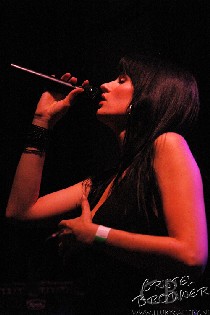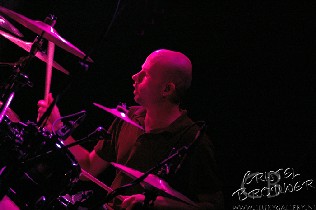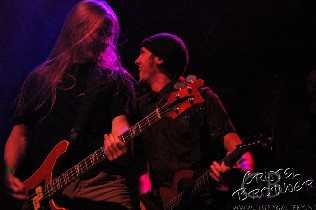 {jos_sb_discuss:17}