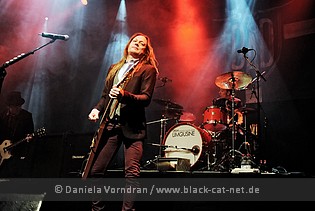 FZW - Freizeitzentrum West, Dortmund, Germany
20th February 2013
D-A-D

Wednesday was Hard-Rock day at FZW. D-A-D, Denmark's most successful act of this genre was coming. Previously announced as D-A-D & Guests, it turned out that there were no guests and the band was playing as only one that evening. The concert was announced to start at 20:00, but people had to wait very long until short after nine until the band finally entered the stage.


The Danish quartet began playing together in the early 80s, at that time under their original band name Disneyland After Dark. After their breakthrough, they had to change their name to avoid an impending lawsuit from the Walt Disney Company.. Today, the band is the best known and most important Hard-Rock band in their home country and count as mainstream act there, known by old and young. The band released their first EP in 1985 and in the very time if existence, they only changed the line-up once by replacing the drummer. D-A-D had released their latest and 11th studio album in November 2011, named 'Dic.Nii.Lan.Daft.Erd.Ark'. The band consists of Jesper Binzer (vocals, guitar), Stig Pedersen (bass, vocals), Jacob Binzer (guitar) and Laust Sonne 8drums). http://www.d-a-d.dk / www.myspace.com/dad / https://www.facebook.com/d.landafterdark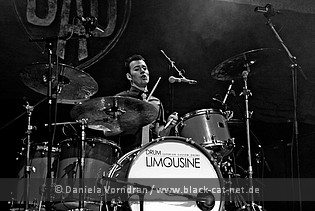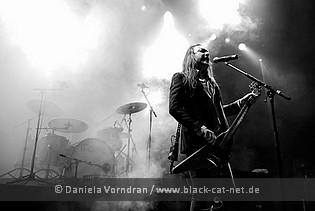 Music & Performance
Having no support act, the time until D-A-D finally entered the stage was really long. But when the band finally arrived, people in the hall – which was btw not really packed – cheered up to welcome the guys. Jesper, speaking quite good German, welcomed the audience of course in their home language and also explained that he's having a cold… but you did not really hear it in his voice when singing. Opening with 'Isn't that wild' the quartet soon proved that they not at all on the shelf. All band members (well, except the drummer who was of course stuck behind his drum set) were constantly moving and using the very small catwalk built into the security pit. Bassist Stig was changing from one crazy bass to the next – some were transparent and glowing, one looked like a rocket etc… - and playing even on the drum podium or on the amps and speakers. Really something to watch! The band convinced with cracking rhythms and a lot of drive. People soon joined in the fun and clapped along or loudly sang with the band. Long instrumental passages in several songs proved the musical abilities of the guys.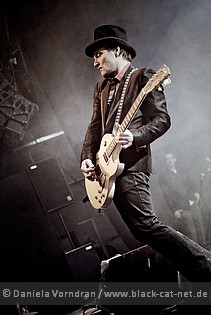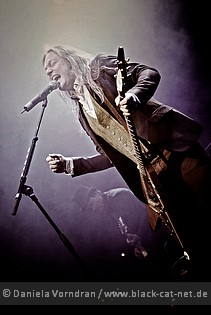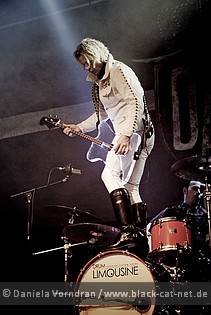 The encore bloc started with driving 'Sleeping My Day Away' before after 'Marlboro Man' with 'Laugh 'n' a Half' a calmer track followed. The set was ended with powerful 'It's After Dark' when band and audience gave everything for the big final. One thing is for sure, the D-A-D sound knows no expiration date and the joy in playing definitely is infecting.

Setlist
01. Isn't that wild
02. Jihad
03. The Road below me
04. A new Age moving in
05. Everything glows
06. Rim of Hell
07. Grow or Pay
08. Unowned
09. Black Crickets
10. The last Time in Neverland
11. Monster Philosophy
12. I want what she's got
13. Evil Twin
14. Bad Craziness
---
15. Sleeping My Day Away
16. Marlboro Man
17. Laugh 'n' a Half
18. It's After Dark

Rating
Music: 8
Performance: 9
Sound: 8
Light: 9
Total: 8.5 / 10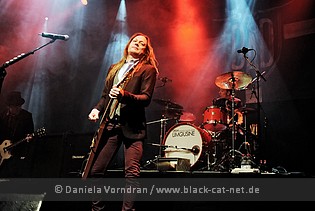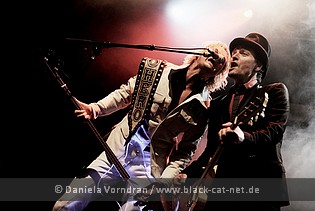 All pictures by Daniela Vorndran (http://www.vorndranphotography.com / http://www.black-cat-net.de/ / http://www.myspace.com/vorndranphotography / http://www.facebook.com/blackcatnet)