Written by Monica Duffels Wednesday, 01 November 2006 23:04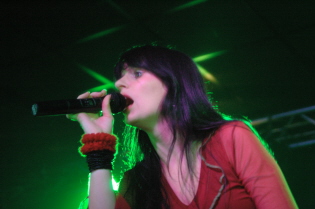 De Peppel, Zeist, The Netherlands
October 13th 2006
Autumn, Sylver Myst
In the heart of the shopping centre of Zeist, where you can regularly spot Dutch celebrities spending their money, the venue "De Peppel" is located. This friendly, small venue, with a capacity of up to 300 people, organises concerts for mostly well-known to talented unknown Dutch bands. An important amount of those bands originate from the region of Utrecht. In De Peppel there is also room for other activities, like dance evenings and workshops. For musicians they have rehearsing facilities. Tonight the stage was reserved for the gothic rock band Autumn and their support act Sylver Myst.

Sylver Myst
Sylver Myst kicked off first this evening. This band is a female fronted gothic rock band, formed in Someren, a town in the south of The Netherlands. Their new full length debut cd "Emotions Revealed" is in the stores now since a few months. They are proud to join Autumn during their Dutch clubtour and this evening was the first show with them. The band's line-up is as follows: Marjolein Hüsken (vocals), Rob van Dijk (guitar/grunts), Didier Roumen (lead guitar), Marco Brugmans (bass), Marc Jaspers (drums), Martijn in 't Veld (synths).
http://www.sylvermyst.nl/
/
http://www.myspace.com/sylvermyst
Music
Their music contains all elements gothic rock bands are known for: rich, bombastic melodies with heavy guitar riffs, an extensive drumming technique and a well-trained female fronted vocalist, singing about agony, pain and grief. It would be a little harsh to say in case of this band these are stereotypical elements, because Sylver Myst is innovative enough to create its own sound. Tonight they played a varied set of songs, mostly from their new album. With this album which is in stores for only a few months now, they had even added some newer songs on the setlist. Guess they must have a healthy amount of inspiration and/or have oceans of time to spend on writing. When they started Marjolein's microphone was tuned in a little too soft. Fortunately it soon got better, for her voice was in good shape. Without any problems she could hit the high notes and was able to switch from normal to operatic vocals regularly. It was clear she practices a lot and takes her singing lessons very seriously. Didier played some nice but not exquisite guitar solos, short parts that belong to some songs. Marc used the drumkit from Autumn. The band played a tight set, with not much left to moan about, except for the sound of the venue, which isn't really designed to produce the best of all sounds.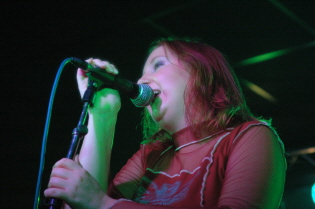 Performance
When they started playing there were not so many visitors in the venue yet. I guess there weren't more than 50 people inside. It wasn't easy for the band to keep holding the attention of the audience. It was clear that most people came especially for Autumn and there were only a few people who started clapping when Marjolein tried to get them to do so. But she didn't look disappointed, looked relaxed enough and even laughed a times. Didier didn't seem to be in a very good mood and looked a bit peevish, but it didn't affect his guitarplaying. Maybe he was ill. The overall performance was okay though because of the nice interaction between most bandmembers and Marjolein's interaction with the audience. At least it was a non-static performance, but somewhat less enthusiastic than I've seen before. It could've been due to illness. It wasn't said during their concert, but Rob told me afterwards he didn't feel well that day. This venue was also not specially designed to produce the best of all lightshows. The stage was furnished with a few backlights with just the standard colours and a few frontlights, which were used sporadically. For photography this was not good, but maybe some photographers might see it as a challenge to make some good shots anyway.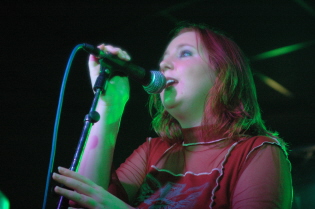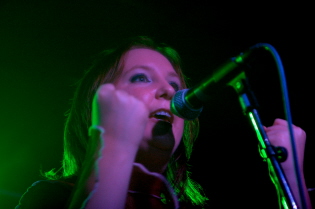 Setlist
01. Intro
02. Depth Of Illusion
03. Lovetred
04. Escape From Reality
05. Thrown Away + other new songs
06. My Valentine
07. As Heaven Blessed A Dying Rose
08. A Life's Tale
09. Devoted Yet Unable
10. Outro
Rating
Music 8
Performance 7
Sound 6
Light 5
Total 7 (6.8)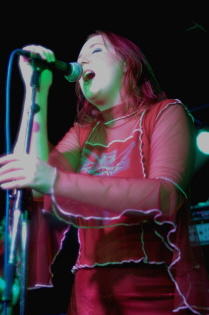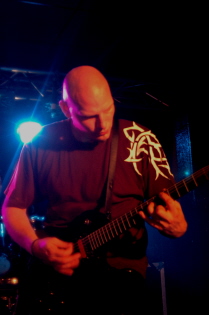 Autumn

Tonight it was the first show of Autumn after the official announcement of the departure of bass-player Meindert Sterk, one of the core members from Autumn. He was one of the founders of the band, eleven years ago. He had an important influence on the band concerning songwriting and artwork. Now he is replaced by Jerome Vrielink, bass-player from the death metal band Massive Assault, but he is also guitarist in the band Descent To Hell. The other bandmembers are Nienke de Jong (vocals), Mats van der Valk (guitars, grunts), Jens van der Valk (guitars, vocals), Jan Grijpstra (drums) and Jan Munnik (keys).
http://www.autumn-band.com/web/home/
/
http://www.myspace.com/autumnband
Music

One hour and a half long Autumn treated the audience with a setlist mostly containing tracks from the album "Summer's End" and five new songs. After a powerful start Nienke got problems with her voice due to the smoke and had to leave the stage for a while. The band just kept playing and the audience was served with a karaoke version of "Gospels In Dusk". When Nienke returned she was received with an ovational applause and made jokes about the fact she almost fainted and asked if there were any men in the audience who were able to perform some first aid on her, like mouth to mouth breathing. Fortunately this incident didn't have a negative effect on her powerful rock vocals. In the beginning it seemed that the bass was tuned in a little too loud. In this case that was actually an advantage for the ones who have to give an opinion about the new bassist. In my opinion he gets somewhat more integrated within the band. It always takes time to get accustomised to things. Mats had taken over the grunt parts from Meindert. He's quite used to that, because he also does the vocal parts together with his brother Jens, in their other project Cantara. Mats is not a bad grunt vocalist. Unfortunately his microphone was tuned in too soft, as well as the one from Jens. Jan, the drummer, who is the only member left from the birth of Autumn, always a steady factor, did his job with full conviction.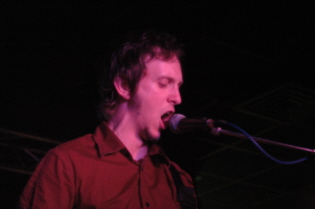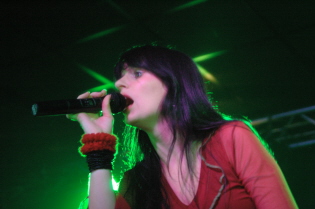 Performance
Tonight the band was in a very good mood, and that showed tonight. They eyed very relaxed and relieved and played with full energy. Autumn is on the verge of signing a new record deal. With about three record companies who are interested in them the future looks bright for Autumn. They hope to bring out their new cd before the summer of 2007. As said Nienke had some problems with her voice in the beginning, but she's always able to make fun of things that go wrong and also this time she was quick with a joke and just took up the thread and continued. The new bass player was presented to the audience, and not a single word was spoken about the former member. I guess that was to make the new member not to make him feel too uncomfortable. The audience consisted for a large part of young people. Some of them even formed a moshpit in front of the stage. As always Autumn is not really generous in offering a bright lightshow. It was literally a dark performance, with backlights and a few frontlights But at least it seemed that the light engineer was somewhat more aware of what he was doing. At least it looked better than the lightshow in Dordrecht, where they had played a month before.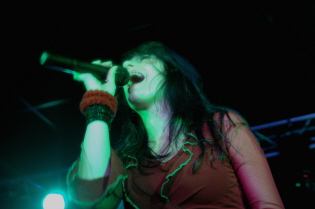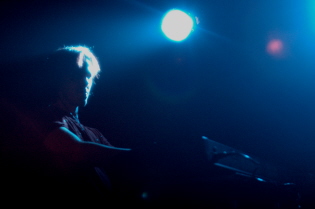 Setlist
01. The Green Angel
02. Gospels In Dusk
03. Silent Madness
04. The Coven
05. Satellites
06. Angel Of Desire
07. Gallery Of Reality
08. Mirrors Magic Sights
09. Lost
10. A Day
11. The Witch In Me
12. No Trace For Me
13. This Night
14. Summer's End
---
15. Premeditated Dying
16. Crown Of Thoughts
Rating
Music 8
Performance 8
Sound 6
Light 6
Total 7 (7,3)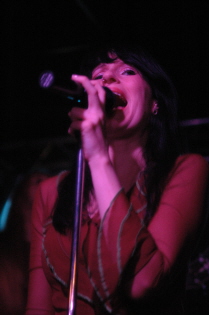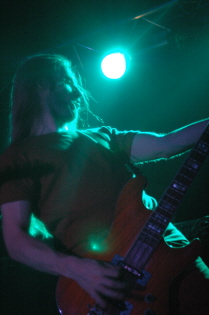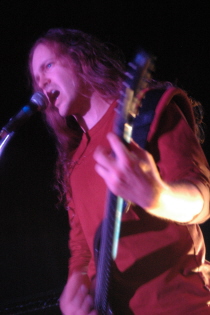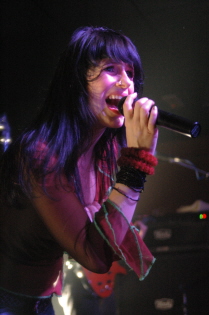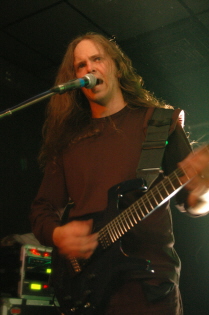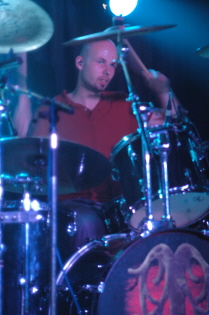 Photography and copyright: Monica Duffels

{jos_sb_discuss:17}