Written by Daniela Vorndran Tuesday, 06 May 2008 13:59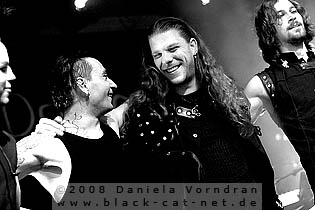 Nouveau Casino, Paris, France
2nd May 2008
Diary of Dreams
We had to wait quite a while since the end of the German tour on 10th February. But on 2nd May it was finally time for another DIARY OF DREAMS concert. This time, we took quite a way to experience the band in the "City of Love", means in Paris…
The day of the concert started very early for me. To be exact it was half past 4 when I had to get up… after not that many hours of sleep. My train left at six, anything was right in time and at short before one I arrived with another friend at the Paris Est station where we met some more friends. It took us quite a while to find some lockers for our luggage but finally we got rid of all the stuff, bought some tix for public transportations and entered a bus to Montmartre where we wanted to spend the afternoon.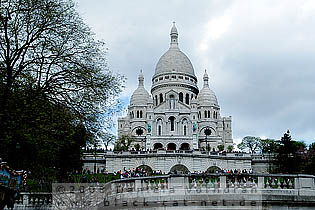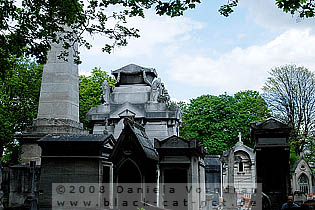 After leaving the bus at the "Sacre Coeur" station, we walked up the hill to this amazing cathedral, shining white in the spring sun. Lots of people were sitting at the stairs singing along with an artist covering several well known songs only accompanied with his guitar. Was a special mood somehow. We only missed a bottle of wine… and it took us quite a while to find a shop to buy one, well, exactly two. But first we - of course - went also into the church to have a look. Afterwards, we walked through Montmartre, a very nice district with small restaurants and a lot of artist shops, until we reached the Montmartre cemetery.
And right around the corner of the entrance we finally got the long awaited red wine which we consumed sitting on a bench in the sun. Of course we explored the fantastic cemetery as well. Afterwards we made a short visit at the Moulin Rouge had some food and then it was time to leave the restaurant for this evening's concert. Arriving at the Nouveau Casino we met some more friends and waited for the club to open. It was a bit sad that not a big crowd of fans headed for the show but anyway it shall become a fantastic concert…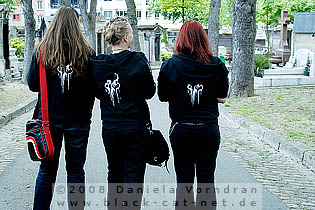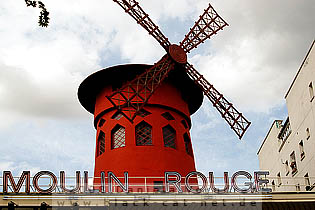 There is no need for a detailed introduction of DIARY OF DREAMS anymore since we reported extensively about this band in the past. Following the release of the latest album 'Nekrolog 43' in October 2007 was an extensive tour through Germany, Russia and some more European countries in the first quarter of 2008. Touring Greece in April, the band now played some selected gigs in different cities, just going for Paris on 2nd May. DIARY OF DREAMS are Adrian Hates (vocals, guitar), Gaun:A (guitar), D.N.S. (drums) and Taste (keyboard). Band member Torben Wendt (singer of DIORAMA) does not join the band on stage currently.
http://www.diaryofdreams.de/
/
http://www.myspace.com/diaryofdreams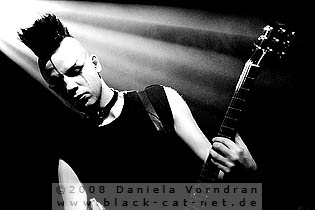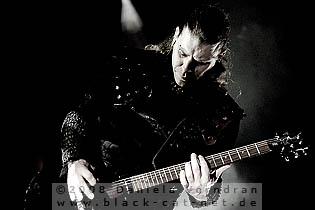 Music & Performance

The Paris show started extremely early at quarter to eight. No support act! It was quite strange to see DIARY OF DREAMS that early on stage. Without the spoken words intro from the tour, the set started right away with 'Nekrolog 43' followed by the strong and powerful 'False Affection, False Creation' which became one of my favourites during the tour. The mood on and off stage was pretty good and we few Germans tried our best to make the band feel comfortable on stage with loud screaming, clapping and singing. The show went on with 'The Plague', 'She' and 'Chemicals'. Then, a song followed which was not played during the N43 tour, 'Play God', one of my favourites also during the Nigredo tour, so I was very happy to hear it again.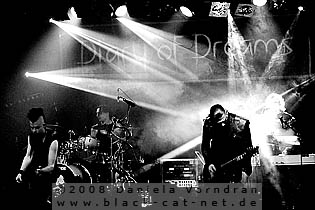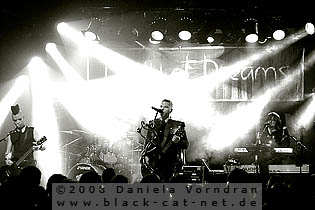 With 'Unwanted' one more song from 'Nekrolog 43' came up followed by 'Giftraum'. I was quite happy to hear this song again in the fast original version after we got a wonderful acoustic version during the finished tour, which was in fact great too. 'Hypo)crypticK(al', also from 'Nekrolog 43', was next. This song still is one of my live favourites since I heard it for the first time live in November 2007. With 'Menschfeind' the show went back in time continuing with the fan faves 'Amok' and 'Traumtänzer' where anyone sang along loudly. Even though latter song is not one of my favourites on CD but it always has this special charm during live shows, especially when Adrian holds the microphone into the crowd to let the fans sing the refrain on their own.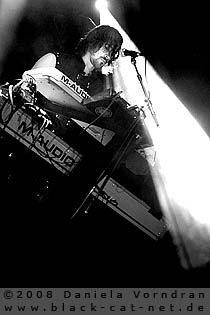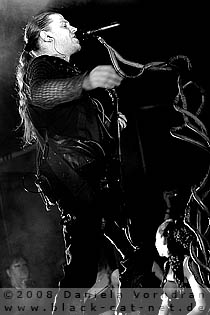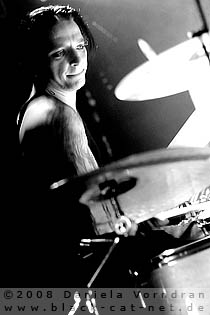 The end of the main set was again the three-piece 'The Curse', 'Soul Stripper' - again with a great drum solo by D.N.S. - and 'Kindrom'. All three songs are so energetic and powerful, and this power could be felt as well within the audience. Of course there had some encores to be played as well. The first encore consisted of 'Butterfly: Dance!' and 'Panik', latter one has not been played during the N43 tour either. As you could expect, the set was again finished with an acoustic song only presented by Adrian and by Taste on keys. As already known from the past tour, the last song was 'She and her Darkness', always a very brittle emotional song perfectly presented by Adrian.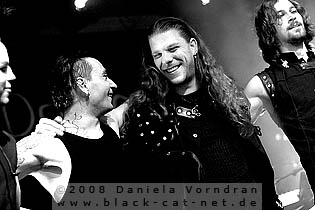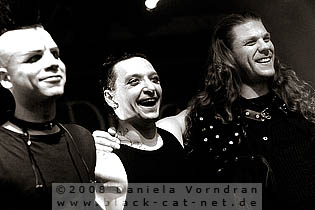 Setlist

01. Nekrolog 43
02. False Affection, False Creation
03. The Plague
04. She
05. Chemicals
06. Play God
07. Unwanted
08. Giftraum
09. Hypo)crypticK(al
10. Menschfeind
11. Amok
12. Traumtänzer
13. The Curse
14. Soul Stripper
15. Kindrom
---
16. Butterfly: Dance!
17. Panik
---
18. She and her Darkness
Rating

Music: 9
Performance: 9
Sound: 8
Light: 8
Total: 9.5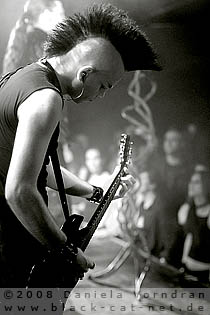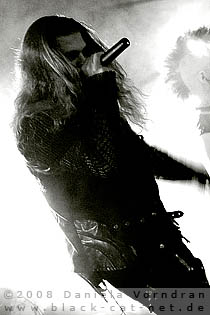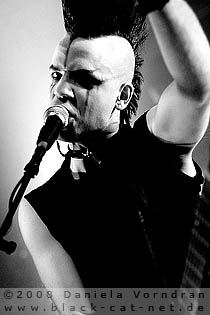 Even though the concert was over at about half past nine, the evening was long not over for us. First some chat with the band, some drinks and after only some minutes, band and remaining fans had to leave the venue because there was some other event later during the night. After some long chats in front of the venue we made it to the Eifel tower - some more sightseeing, you see. ;) Later in the night we thought it was time to go to the train station where out train to the Hexentanz festival shall leave in the morning. We thought being there not too late gives us the chance to sit somewhere, maybe have some coffee and some food. Wrong thoughts! We realised that the station was closed until five in the morning. So, we wandered around a bit, had a very strange night at a Paris bus station and finally entered the train station at five just to realise that all shops inside were not opening before six. So, we had to wait another hour for some coffee and food. But finally we were satisfied and entered the train which brought us to the next DIARY OF DREAMS concert a day later…