Written by Erika Knepper Wednesday, 15 April 2009 18:09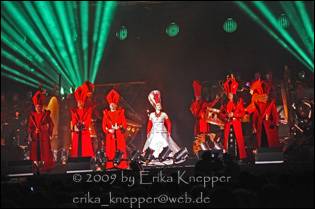 Olympiahalle, Munich, Germany
28th March 2009
CORVUS CORAX / Cantus Buranus II


On the 28th of March 2009, the "Kings of the Minstrels" alias CORVUS CORAX guested in Munich's Olympic. They brought their new work appeared in August 2008 "Cantus Buranus II" which was performed for the first time already in 2008 in Canton/China. Besides, as "strengthening", they had the Austrian soprano Ingeborg Schöpf who appears to the soloist's ensemble of the Dresden state operetta since 1998, as well as orchestra and a choir with them.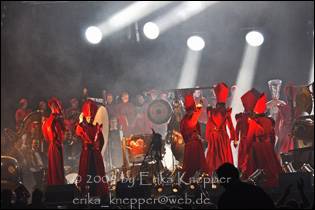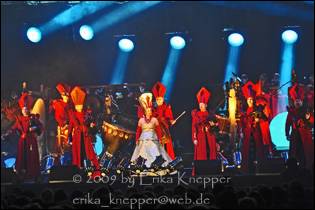 The German Middle Ages scene band CORVUS CORAX was founded in 1989 and consists of Castus Rabensang (voice, bagpipes, Binioù, hurdy-gurdy...), Venustus "Wim" Olere (bagpipes, shawm, zinc), Tritonius der Teufel (bagpipes, shawm), Hatz (percussions), Harmann der Drescher (percussions), Ardor vom Venushügel (bagpipes, shawm, Trumscheit), Patrick der Kalauer (Davul, kettledrum) and Jordon (bagpipes, shawm). The name CORVUS CORAX is the scientific name of the (common) raven. The musicians chose this band name because they had to leave their raven behind in 1989 during the republic escape from the GDR.
http://www.myspace.com/spielleute
/
http://www.corvuscorax.de/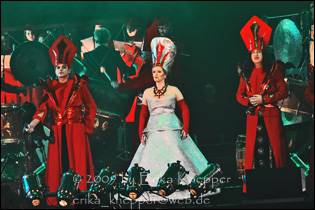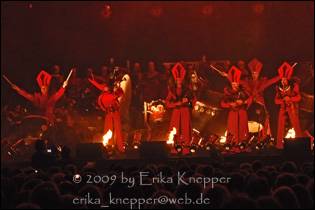 Music & Performance

Shortly after 8:00 PM it went dark in the Olympic hall. After about five minutes of lighting effects, a sonorous voice with the introduction sounded through the hall, before bit by bit the musicians entered the stage. Because of the band with their big choir, big orchestra and ancient instruments, the stage looked a little bit congested. In contrast to the auditorium: About 2,500 people who found place in the lateral ranks and in the arena looked nearly a little bit lost in the big Olympic hall. The audience was brightly mixed, from the Gothic fan up to the friend of the opera everything existed.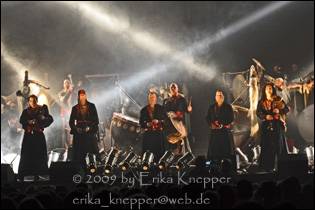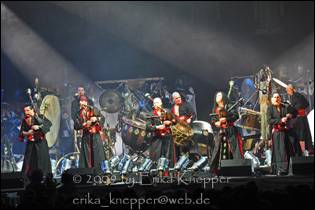 The performance offered a successful mixture of splendid, authentic garments and an extremely diverse light show. Nevertheless, central issue was the huge presentation by CORVUS CORAX to anew set to music and interpreted parts of the "Carmina Burana" (Songs from Benediktbeuern) from Carl Orff. Besides, it contains the probably best known song collection of the Middle Ages in Latin language which originates from about 1230 and consists of about 250 songs. They deal with love, joy, grief, the clergy and the everyday life. These are custom-critical and satirical as well as love songs and drinking songs.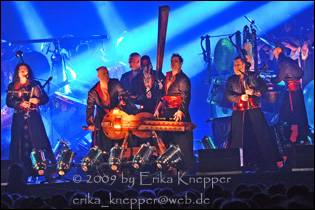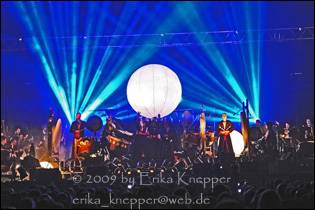 CORVUS CORAX went in this evening with their sombre, propelling and bombastic staging to re-animate the life in the Middle Ages for two hours - supported by the brilliantly voices of the choir and of Ingeborg Schöpf. Applause was lasting several minutes and standing ovations were the thanks of the audience for this unforgettable event!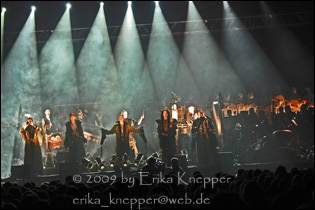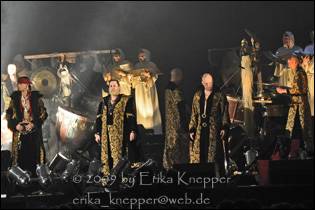 Setlist

01. Intro
02. Text 1
03. Custodes
04. Miser
05. De Mundi
06. Rustica Puella (with Ingeborg Schöpf)
07. Nummus
08. Ordu Languet
09. Text 2 (CC dress change)
10. Ergo Bibamus
11. Quid Agam (with Ingeborg Schöpf)
12. Lingua Mendax
13. Curritur
14. Causa Ludi
15. Text 3 (CC dress change)
16. In Orbem
17. Veritas Simplex (with Ingeborg Schöpf)
18. Fortuna (with Ingeborg Schöpf)
---
Encore (CC dress change):
19. O Varium (with Ingeborg Schöpf)
20. Chou Chou Sheng
Rating

Music: 8
Performance: 10
Sound: 9
Light: 9
Total: 9 / 10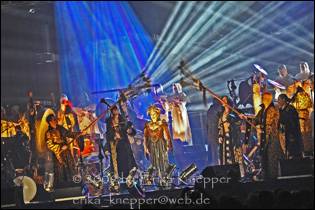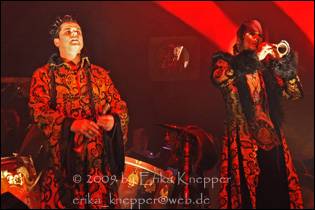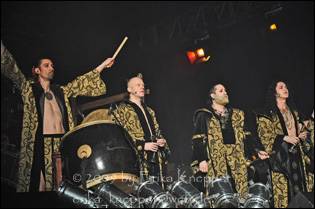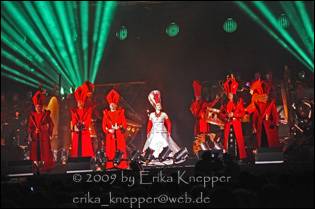 All pictures by Erika Knepper ( This e-mail address is being protected from spambots. You need JavaScript enabled to view it ,
http://www.myspace.com/antecanis
)
{jos_sb_discuss:17}