Written by Nicole Kizina Thursday, 12 May 2011 14:57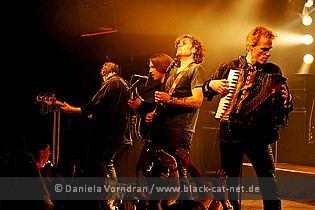 Zeche, Bochum Germany
10th May 2011
The Hooters

In the 80s, this band had some great hits like 'Karla with a K', 'Johnny B.', or 'All you Zombies'. Their music is a certain mixture of Folk Rock, Rock, Reggae and Ska. They were always a fantastic live band and still they are. So THE HOOTERS danced with Karla, Johnny B. and all their zombies in Bochum and it was a fantastic night.


THE HOOTERS are an American rock band from Philadelphia, Pennsylvania combining a mix of rock and roll, reggae, ska and folk music. The band was formed in 1980 and played their first show on July 4th of that year. They took their name from a nickname for the melodica, a type of keyboard harmonica which is German in origin and made by Hohner. Two of the members, Eric Bazilian and Rob Hyman, had originally met in 1971 at the University of Pennsylvania and had played in a band in the late 1970s, based in Philadelphia called BABY GRAND, which also featured local singer, David Kagan. BABY GRAND released two albums on Arista Records. In addition, producer / friend of the band Rick Chertoff also had a significant role during these album sessions, and he would later produce several HOOTERS albums as well.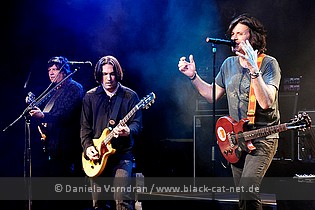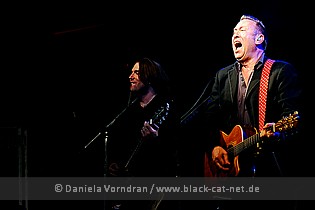 THE HOOTERS first gained major commercial success in the United States in the mid 1980s due to heavy radio and MTV airplay of several songs. Their popularity resulted in the band opening the Philadelphia portion of the Live Aid benefit concert in 1985. During the late 1980s and 1990s, THE HOOTERS found significant commercial success internationally, especially in Europe, where they played at The Wall Concert in Berlin in 1990 before they went on hiatus in 1995. Since reuniting in 2001, the band has staged successful tours in Europe and 2007 saw the release of their first album of new material since 1993, 'Time Stand Still'. Their last released was the single '5 x 5' in 2010 with the unforgettable 'Pissing In The Rhine'. http://www.hootersmusic.com / http://www.myspace.com/thehooters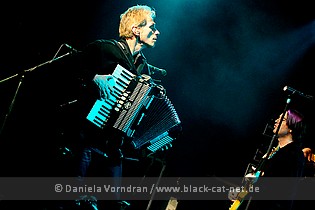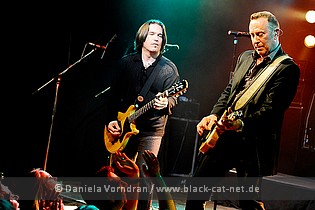 Music & Performance
THE HOOTERS are one of these bands when they enter a stage, then just get yourself a beer and have a good time. The only problem with the beer is you need free hands for clapping and you must jump. There's no other way. They have started the set with 'Dancing On The Edge' and gave us no time to rest, played one song directly after another. After the third song we got a short "Guten Abend Bochum" (Good evening Bochum) from Rob Hyman. With 'Fightin' On The Same Side', Rob changed the keyboard with the keyboard harmonica and John changed from guitar to keyboard. We also got a little acoustic set with 'One Too Many Nights' and a version of 'Deliver Me' + 'Private Emotion' (of course half sung in German by Eric) as one. With 'Karla with a K' Rob presented his new baby. A keyboard harmonica made of course by Hohner and he gave it the name "Fire". With 'And we danced' ended the first part of the show.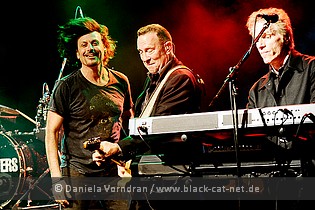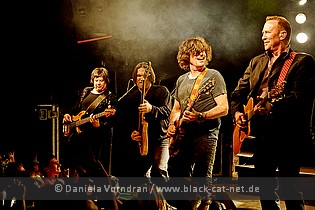 They came back to play the well known 'Johnny B.'. Rob introduced the band and couldn't believe that he is playing with these guys for 31 years now. Eric said they are doing what they do best, they enjoy it and they will keep on doing it. Everyone was pleased to hear that. The mood reached the highest point with the German song 'Pissing In The Rhine'. What a party, the whole Zeche was singing along. The guys left the stage a second time and after returning, the audience was going on with singing the refrain of 'Pissing In The Rhine'. The last two songs were no cover versions as some might thought, the songs were written by Eric and Rob, they were just presented by someone else. Eric sang 'One Of Us' which we known sung by Joan Osbourne. Eric's version was half German and you can download this version for free on THE HOOTERS website.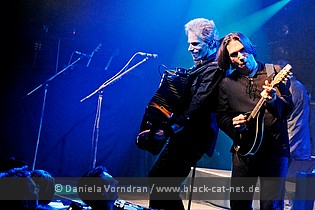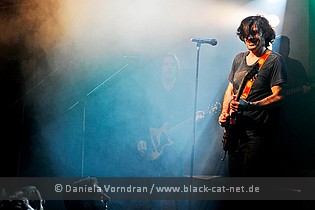 Rob sang 'Time After Time' which everyone knows from Cyndi Lauper. Both songs you can find also on the last single '5 x 5'. An amazing gig reached its end, but I get myself a beer now and dance another 500 miles.

Setlist
01. Dancing On The Edge
02. Day By Day
03. South Ferry Road
04. Fightin' On The Same Side
05. Silver Lining
06. 500 Miles
07. One Too Many Nights
08. Deliver Me / Private Emotion / Deliver Me
09. The Boys Of Summer (Don Henley cover)
10. I'm Alive
11. 25 Hours A Day
12. Satellite
13. All You Zombies
14. Karla With A K
15. And We Danced
---
16. Johnny B
17. Nobody But You
18. Pissing In The Rhine
---
19. One Of Us
20. Time After Time

Rating
Music: 10
Performance: 10
Sound: 8
Light: 8
Total: 9.4 / 10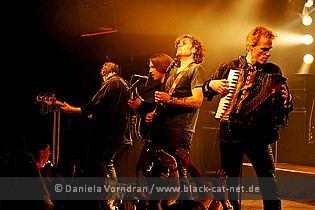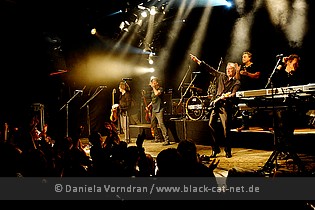 All pictures by Daniela Vorndran (http://www.vorndranphotography.com / http://www.black-cat-net.de/ / www.myspace.com/vorndranphotography / www.facebook.com/blackcatnet)