Written by Sebastian Huhn Saturday, 29 March 2008 14:35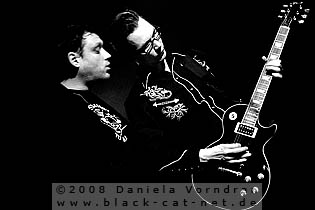 Matrix, Bochum, Germany
28th March 2008
Northern Lite, Chapeau Claque


Their last album 'Unisex' was an incredible success for NORTHERN LIGHT on which they've opened their sonic horizons to many new influences without becoming 'mainstream' because of their attendance at the "Bundesvision Song Contest". With their recently released new full-length 'Super Black' the band continues their very own way of making music. Yesterday, Bochum was the city that should be brought to a boil…



Chapeau Claque

Usually describes a top hat you can shrink together to save some room, but in this case it is the name Maria-Antonia Schmidt and her fellow musicians have chosen for their band. Initially founded as VANILLA CINNAMON and called ZWEIEKKENKREIS, the band released the first EP 'Marienkäfer im Nacken' in 2006 followed by the first full-length 'Hand aufs Herz' in 2007. In the same year, a second EP 'Blütentraumromanzen' has been released too in the shape of a 12" vinyl. CHAPEAU CLAQUE is: Maria-Antonia Schmidt (vocals, composition), Peer Kleinschmidt (piano), Jörg Waehner (drums), Timo Klöckner (guitar, accordion) and Tim Schaefer (bass).
http://www.chapeauclaque.net/
/
http://www.myspace.com/chapeauclaque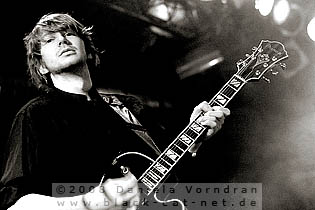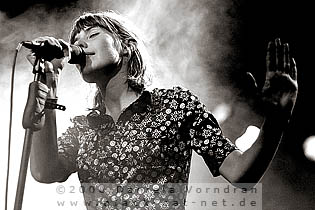 Music & Performance

I've read an article saying the style would be electro pop. Well, that might apply to some songs on the studio release but live on stage, there was honestly nothing electronic (As long as you don't count the piano to the electronics, but pop applies very well I'd say. Pop with a bit of soul and thoughtful lyrics. All members of the band seemed to be quite young but soon after the gig has started you could see that this has nothing to do with the quality of the performance as they're all handling their instruments very well and they all had much fun on stage, which could easily be seen. But the person who attracted most of the attention surely was the singer Maria, who couldn't stand still for a minute and happily danced over the stage just like a little child.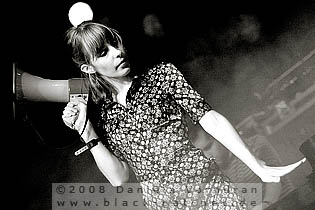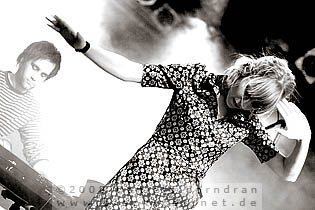 The sound could have been a bit better in my opinion especially the voice which much to low so you could hardly understand anything most of the time.
Setlist

01. 3x Schnee
02. Zum Tanz
03. Storch
04. In Deinem Garten
05. Blütenstaub
06. Reykjavik
07. Pandora
Rating

Music: 7
Performance: 8
Sound: 6
Light: 7
Total: 7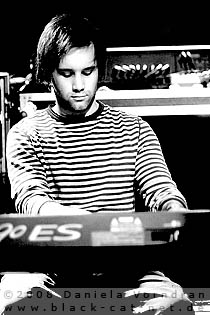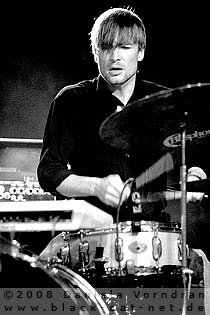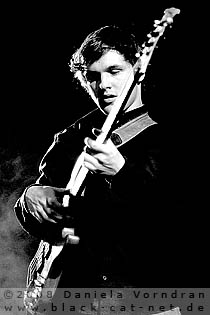 Northern Lite
In 2007, the 6th year of NORTHERN LITE as record releasing artist, the guys just made a big step concerning popularity. With their attendance at the "Bundesvision Song Contest" in that year they not only gained a much wider audience, they also attracted the attention of music television the venues at their shows especially in their home base Erfurt were sold-out. They were never a pure club act but with their album 'Unisex' they opened their sonic world even more to other genres and thus to whole new audiences, and the pop appeal they always had came to full effect, but now it's time to celebrate the next highly anticipated release going by the name of 'Super Black'. NORTHERN LITE is Andreas Kubat (vocals, producer), Sebastian Bohn (co-producer), Frithjof Rödel (keys, guitars) and Valerian Herdam (guitar).
http://www.northernlite.de/
/
http://www.myspace.com/northernlite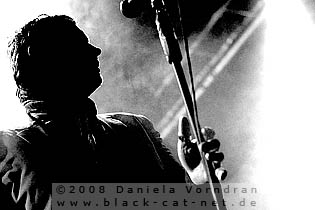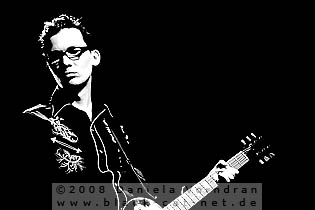 Music

When exactly Sebastian and Andreas met is not important but a fact is that the foundation of NORTHERN LITE in 1997 was the best thing they could do. The combination of Sebastian Bohn who worked as DJ BOON in the Techno/Dance scene and Andreas Kubat resulted in a sound which couldn't be more unique. They're one of those bands you can't put into a specific drawing or assign them to a particular scene. The band mixes driving beats and infectious dance grooves with subtle guitar work and penetrating lyrics and with that trademark, NORTHERN LITE is able to play on a techno rave as well as on a Gothic festival (M'era Luna 2006) and no one would get the feeling of them not fitting on either the one or the other.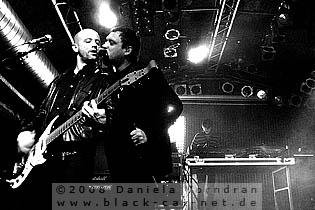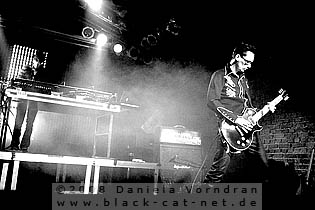 Having just released their newest studio album 'Super Black' two weeks ago, it was clear that several songs out of this release would dominate the setlist on that evening in Bochum i.e. 'Super Black', 'In Control', 'I'm so glad', 'Enough' or 'Girl with a Gun', but there were just too many other songs from the previous releases that just couldn't be missed like 'Enemy' the song they've played at the "Bundesvision Song Contest" last year or the smash hit 'Reach the sun' as well as 'Go with the Flow'. The two guitarists Frithjof and Valerian added the needed portion rock to the mostly electronic studio sound of NORTHERN LITE.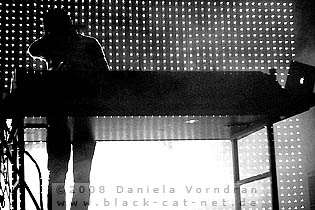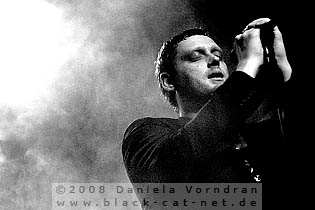 Performance

Cool! That's the word that most probably applies best to the show in Bochum and technically I could stop at this point if I wouldn't fear many of you would kill me for that so I'm just going on and save my life. The club was meanwhile packed with over a hundred people eagerly awaiting the band to show up on stage but before we get to that part we'll have a look on another thing attracting your attention, when we entered the club. As usual a big desk with keys and instruments has been built up on stage behind which Boon later would do the electronics but the real interesting thing was a big wall with LED lights and we were of course curious how that would look like during the show.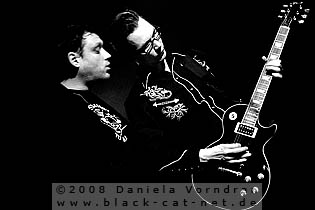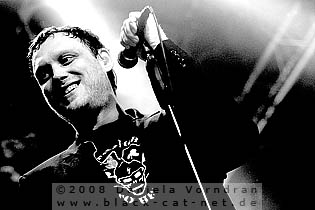 Well it looked just great. The lights were adjusted to the rhythm of the songs and lit up in various colours but I noticed another strange effect. Despite the fact of letting Bohn appear like a shadow I somehow got the impression his shapes becoming kind of edgy. Maybe I was just hallucinating. The lots of people were in a really good mood, whereas that probably is the wrong term. Ecstatic would be the more appropriate term for that. People where screaming and dancing the whole time. Sometimes I really had the feeling of being the only one in that room, who had never seen the band before. Everywhere you looked you could see the people loudly singing the lyrics. I just kept on moving to adeptly cover up that lack of knowledge. Also the band was seemingly happy on stage, especially Andreas who was laughing a lot and thanked the audience several times for being so great. Besides him standing at the front and doing the vocals (cool as hell) in his leisure black suit, he occasionally grabbed the mic (incl. stand) and rocked the house or he just assisted Frithjof in playing the guitar with his tongue.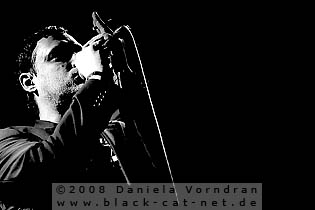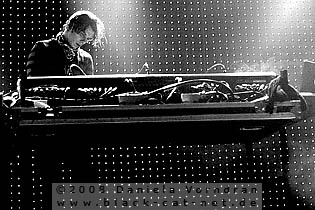 Another "ritual" was celebrated, when he grabbed into his jacket to pull out his "friend", the cigarette. What would a NORTHERN LITE gig be without that anyway? The crowd heavily demanded encores and they got a couple of more songs before the lights went on. The whole show was very intense and emotional and everyone could leave the club with the feeling of having experienced a great concert.
Setlist

01. Intro
02. Super Black
03. Go with the Flow
04. In Control
05. I'm so Glad
06. Alien Girl
07. My Other Self
08. Enough
09. 1000 Year Old Song
10. Nowhere
11. Girl with a Gun
12. I don't Remember
13. Liar
14. Cocaine
15. Please
16. Gone
17. Reach the Sun
18. My Pain
19. Trusting Blind
20. What you want
---
21. Different
22. Enemy
Rating

Music: 9
Performance: 9
Sound: 8
Light: 8
Total: 8.5