Written by Maddi Isaacs Thursday, 21 October 2010 17:42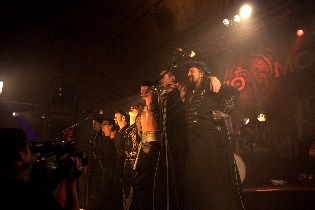 Historische Stadthalle, Wuppertal, Germany
15th October 2010
Saltatio Mortis - Ten Year Anniversary Concert

SALTATIO MORTIS have come a long way in ten years. I could say from Medieval Markets to the pinnacle of their game, but so grounded as individuals are they and such is their love of their work that despite mammoth success and acclaim they still play Medieval Markets, but they also put on a rock show, and not just any rock show, but one that makes you hold your breath and goose bumps rise on the back of your neck. And so I travelled to the historic Town Hall in Wuppertal for their ten year anniversary gig, a gig I would not have missed for the entire world.
The Show
Blue light swathed the stage and crowd hushed and then roared into life as the curtain lifted on a remarkable show. The first track proper 'Rastlos' was a perfection of balanced sound and great lighting, proving that the band are more than just the sum of the performers, they also have a great technical crew behind them. For the next three songs I was in the pit photographing and already lead singer Alea had worked up a sweat giving a performance that was energetic and intense from the very off. 'Kaltes Herz' was met with tumultuous appreciation by the audience and it was only two songs until the first guest appeared in the form of Eric Fish, accompanied by Frau Schmidt, Bodenski (all three SUBWAY TO SALLY), Dr Pest (DIE APOKALYPTISCHEN REITER) and Victor Smolski (RAGE) to give a great rendition of 'Daedalus'. Frau Schmidt, Dr Pest and Victor Smolski stayed onstage for 'Leztze Worte' a beautiful song perfectly executed with Alea proving himself to be a singer of real worth and not just an energetic and charismatic front man.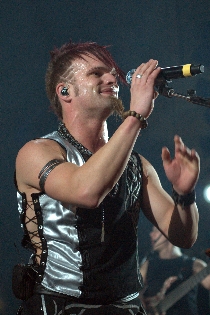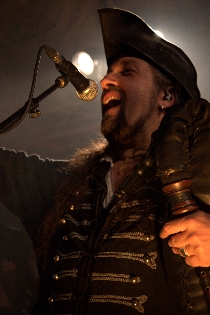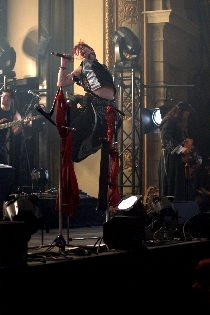 And so they continued to rampage through song after song, all greeted more enthusiastically than it's predecessor by the audience who by now were baying like a pack of hungry wolves for more. And more they got in the form of 'Nicht Bleibt Mehr' and 'Equinox' before Hurdy-Gurdy maestro Falk Irmenfried von Hasen-Mümmelstein decided to show his vocal talents with 'Dessous Le Pont de Nante' a ribald and ancient French tune that he caroused his way through with true medieval vivacity. The audience loved it especially since former band members Thoron and Cordoban were also present on stage. I should at this moment point out the rest of the band members are just totally awesome also, all being consummate musicians from Bass, Chapman stick player and composer Brother Frank, the fabulous El Silbador, bagpipe and shawm master, to Samoel who is an exceptionally accomplished guitarist of many flavours. Rhythm is provided in the form of the cheerful but killer drummer Lasterbalk who worked his arms off for a whole two hours forty minutes. Respect!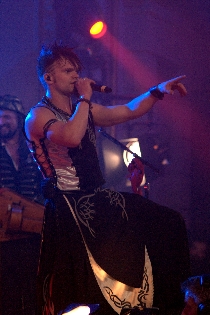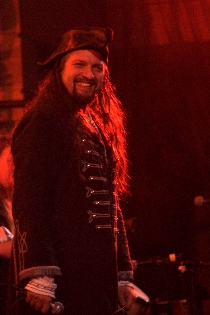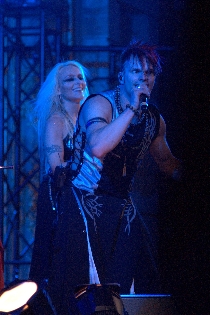 They have a song called 'Salome' my favourite of theirs and I hoped that they would peform it. More than that I dared to hope that, like the album, Doro Pesh would be guesting. These guys just never disappoint for in a swirl of blue light she was there and her performance in the duet with Alea was one of the highlights of the whole night. Simply fatastic. Another favourite 'Prometheus' followed and it was hard to hear the band for the huge chorus of 'Ich bring euch feuer' (I bring you fire) from the crowd. One final guest in the form of Johnna from Feurschwanz for 'Wir säen den Wind' and we all knew they couldn't surely carry on much longer. As the band prepared for the last song a lone small voice started in the audience, a song that was all too soon taken up by the rest of the crowd- ' Happy birthday to you' - now more people- 'Happy birthday to you' and stilll more until the whole crowd were singing it ' Happy Birthday Saltatio Mortis, happy Birthday to you!" It was all too much for lead singer Alea, who looked close to tears with apreciation and smiled at the audience as a doting father does to a favourite child.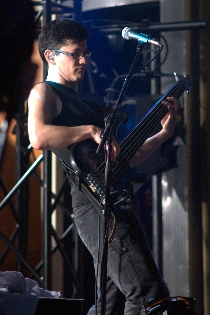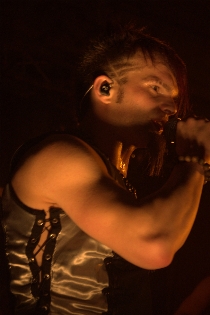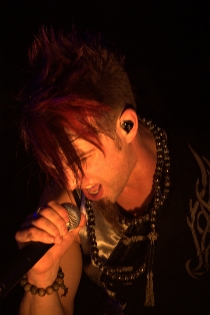 'Uns gehört die Welt' brought the set to an end but the audience was having none of it, screaming for the band to come back, which they did to give a three song encore which began with 'Sieben Raben' and ended with ' Dunkler Engel'. Still the audience wouldn't let them have any peace with chants of "SALTATIO MORTIS, SALTATIO MORTIS" ringing eerily in unison and then to their delight once more the magnificent seven returned once more to grace the stage with 'Falsche Freunde' and 'Spielmannsschwur' with an energy no more depleted than when they had taken to the stage nearly three hours earlier. There is not a band I have ever seen who has put so much work, time and effort into planning a gig, nor one which has put so much energy, enthusiasm and joy into their performance. They triumph by loving what they do and by translating that love to their audience who pick it up and run with it making the experience something truly special for anyone who attended. They forge a way in terms of excellence where other bands can only stand and watch. Better than brilliant, it was pure perfection!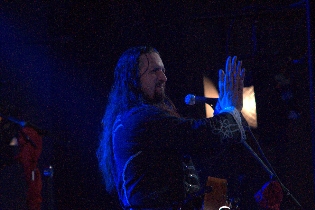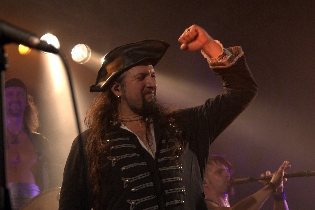 Setlist

01. Intro
02. Rastlos
03. Tritt ein
04. Tod und Teufel
05. Wirf den ersten Stein
06.Keines Herren Knecht
07.Das kalte Herz
08. Worte
09. Koma
10. Daedalus - with Eric Fish (Guest appearances Frau Schmidt, Bodenski, Dr. Pest, Victor Smolski)
11. Letzte Worte (Guest appearances Frau Schmidt, Dr. Pest, Victor Smolski)
12. Manus manum lavat
13. Miststück
14. Salz der Erde
15. Junges Blut
16. Nichts bleibt mehr
17. Equinox
18. Dessous Le Pont De Nantes (Guest appearances Thoron and Cordoban - former Band Members)
19. Le Corsaire (Guest appearances Thoron and Cordoban)
20. La Jument de Michao
21. Varulfen
22. Salome - with Doro Pesch
23. Prometheus
24. Wir säen den Wind (Guest appearance of Johanna from Feuerschwanz)
25. Uns gehört die Welt
---
26. Sieben Raben
27. Licht und Schatten
28. Dunkler Engel
---
29. Falsche Freunde
30. Spielmannsschwur
Rating

Music: 10
Performance: 10
Sound: 10
Light: 10
Total: 10 / 10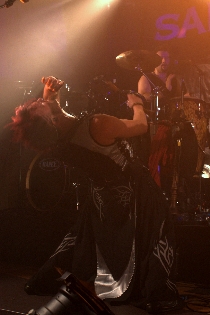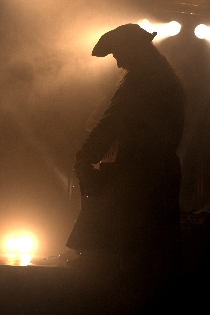 The Aftermath

After the main rock set was finished those of us who had access (including some fans who had been allowed to buy VIP tickets to the party) adjourned up a staircase that looked as though it should have princesses descending in ball gowns, to the after show party. With plenty to eat and drink available in one room, a nice smoking terrace with tables and a large room housing a disco with a huge stage area emblazoned with the SALTATIO MORTIS logo, it wasn't long before the band appeared to happily mingle with friends and fans alike. Beers were drunk, pictures were taken, t-shirts were signed, and all in the spirit of great enthusiasm by the band. They are nothing if not 100% accessible and amenable to their fans who greet them like old friends. I did think at this point though that it was slightly odd that they were all in full stage gear still, and call me stupid by all means, but it never occurred to me that they were going to play another set since they had already been on stage for nearly three hours! However after an hour or so they all made their excuses and disappeared backstage while everyone else made a b-line to the room which had housed the (excellent) disco.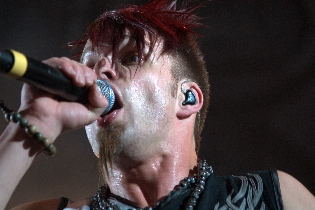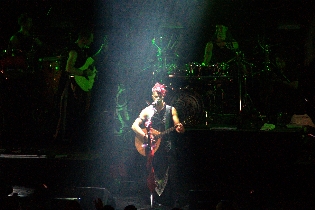 Sure enough the lights dimmed and stage lights replaced them before the band bounded enthusiastically onto the stage striking up with the fabulous 'Mersberger Zaubersprüche'. By the time we got to 'Pirate's Life' some four songs later the audience were on fire with what can only be described as wild little circle pits of frantic dancers appearing which you could easily get dragged into if you ventured too close (I did). 'Ecce Gratum' came next and then 'Douce Dame Jolie' and instrumental that allows the entire band to individually showcase their talents. Nice! Alea was ablaze with energy bending over backwards whilst playing a shawm and milking the audience's enjoyment for all he was worth. They finished their main set with 'Drunken Sailor' which as everyone in the world knows all the words went down a storm. Howling and screaming from the fans who were in no mood to go home brought them back for one of two great encores which included the second visit to the mic of Herr Mümmelstein with another bawdy French drinking song 'Choix des Dames' with slightly dodgy connotations and the audience dutifully repeated each line whether they spoke French or not.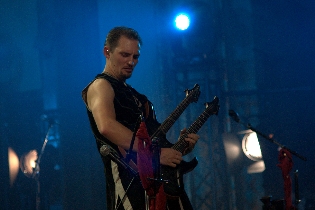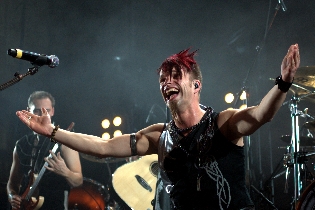 'Cantiga Alhambra' brought the first encore to an end but the audience had a feral sense that if they yelled and chanted loud enough there might be more. After a few minutes to get their breath back the band returned for two more songs which culminated in a brilliant version of QUEEN's 'We will Rock you' and 'Lady in Black'. The audience were rapturous and the party continued until 5.30 a.m. with the guys from the band showing almost superhuman energy and good will as they partied with the concert goers. If I had created a perfect concert in my head beforehand it would not have even come close to what I experienced in Wuppertal and it has made me certain that SALTATIO MORTIS are not one of the best medieval rock bands, they are the very best!
Setlist

01. Mersberger Zaubersprüche
02. Skudrinka 1
03. Eisenhaus
04. Russe
05. Pirate's Life
06. Ecce Gratum
07. Douce Dame Jolie
08. Herr Holger
09. Ali Ben
10. A Kenavo
11. In Taberna
12. Veitstanz
13. Drunken Sailor / Morbus
---
14. Tulla
15. Choix des Dames
16. Cantiga Alhambra
---
17. Chaperon Rouge
18. We Will Rock You / Lady in Black
Rating

Music: 10
Performance: 10
Sound: 10
Light: 10
Total: 10 / 10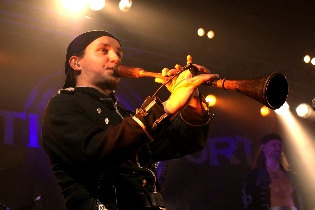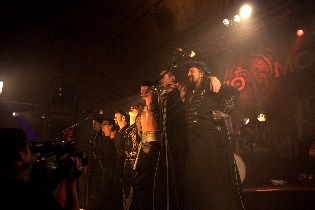 http://www.saltatio-mortis.com/
/
http://www.myspace.com/mittelalterpunk
All photographs by Maddi Isaacs (Kamera Obskura)
{jos_sb_discuss:17}