Written by Sebastian Huhn Thursday, 17 February 2011 22:53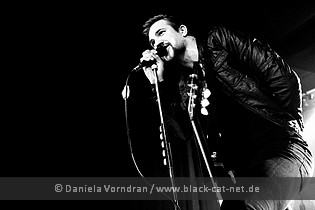 Sputnikhalle, Münster, Germany
16th February 2011
Royal Republic, Eternal Tango

The Swedish Royals were on vacation to Münster; no not the real royals, but the guys of ROYAL REPUBLIC who've come with their debut album to Sputnikhalle to party the hell out of this venue. The audience was high in number and ready to completely lose themselves in the music.



Eternal Tango

The Luxemburg-based Post Hardcore formation ETERNAL TANGO consists of David Moreira (vocals), Pit Romersa (drums), David Schmit (guitars), Joe Koener (guitars) and Tom Gatti (bass). Founded in 2002, the band released its first recording `Spyglass´ two years later followed up by the debut long-player `First Round at the Sissi Café´ in 2007, extensive touring and a video for `Narya Narya...´. The single of the same title made it into the Top 20 of the international German club charts. Last summer, the guys introduced the most recent single `Pink-White Sheets´. The last album 'Welcome to the Golden City' has been released in 2010. http://www.eternaltango.net/ / http://www.myspace.com/eternaltangoband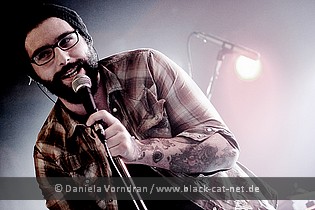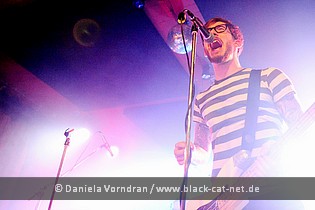 Music & Performance
The task of a support band is to warm-up people. In case of ETERNAL TANGO it was a bit more than that. ROYAL REPUBLIC ordered them to make people sweaty. A good start was made already with the set opener 'Welcome To The Golden City' that with his groove immediately had the people moving and it would only be getting more with the following 'Ronny Roy Johnson'. But the beat was too irresistible not to move at least one limb to it. Other reactions showed increased excitement about the band's music. The band themselves equally displayed fun with their hearty performance. For 'Oh! No' it was about time the audience got a little more involved into the show and so they were doing loud chanting in turns with singer David Moreira. Its follow-up 'Narya Narya' was according to the band very suitable for poging. Of course, the people wanted to find out if that was really the case and started poging heavily to the track. Turns out the band were right. Following three more songs of fun the band had to say goodbye, but not without encore shouts after such an energetic performance.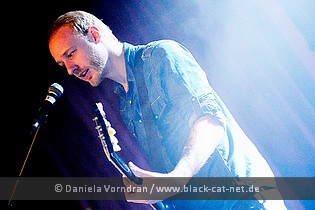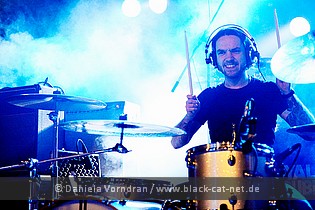 Setlist
01. The Golden City
02. Ronny Roy Johnson
03. The Vicious Five
04. Pink-White Sheets
05. Don't Stop Me Now
06. Oh No!
07. Narya, Narya…So Glad You Found Your Way
08. At The Drive-In
09. Touch The End
10. Da/Da

Rating
Music: 7
Performance: 8
Sound: 7
Light: 7
Total: 7.3 / 10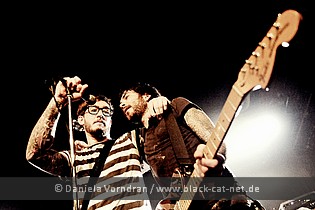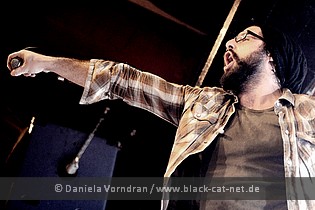 Royal Republic

The band came together in 2007 and advanced to a degree in an amount of time that is surprising. 2010 is the year for them to conquer audiences with their debut album, simply titled 'We Are The Royal'. ROYAL REPUBLIC is Adam Grahn, Hannes Irengård, Per Andreasson and Jonas Almén. http://www.royalrepublicband.com/ / http://www.myspace.com/royalrepublic

Music & Performance
Sometimes, as a journalist, you have to put your life on the line for an article and photos. Here, and with ROYAL REPUBLIC, was such a day. The tension was on a peak and after the band walked in from the side to a royal introduction, it erupted with the first seconds of 'Walking Down The Line' when we all became a surging mass and for a minute I feared to fall down together with the speaker that was dangerously shaking. At the front it wasn't less dangerous. The band hardly noticed at first, but that wasn't because they didn't want to, it was because they couldn't while putting on that insane performance already within the first minutes and sweat was dripping from their faces. But their satisfaction was huge when they did. A chant of joy followed the first few songs; the kind of chant that belongs to football stadiums. The band righteously took that as sign of appreciation and Adam to showcase some of his German skills…dirty skills they were.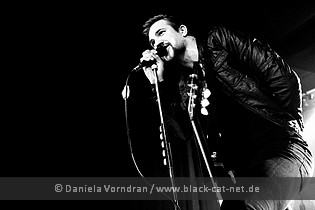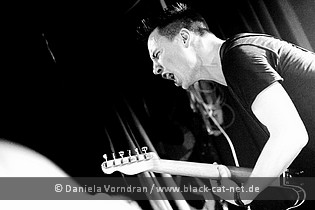 With 'Full Steam Spacemachine' the spectacle went on then and 'The End' offered the first, heavy circle pit of their show. Actually, you could've expected it with this band on stage, but taking a deep breath from a slip and afterwards using it as decoration for the microphone stand still came as a surprise. I'm not sure if anybody, if male or female, followed through with throwing their underwear on stage. At least I didn't see anything. Why am I telling you all this? Because it was 'Underwear' time and the people were all up for that track now. Riled up as they were, they couldn't just let the band leave after the last song of the main set and quickly had them coming back for more. First thing we heard then was a new song called 'Vicious' that was bursting with energy again. The whole thing was ended with a little teaser of how 'Wind of Change' by THE SCORPIONS would sound from ROYAL REPUBLIC and a rousing showcase of 'The Royal'. If someone needs a definition of entertainment, a show of ROYAL REPUBLIC will give you one.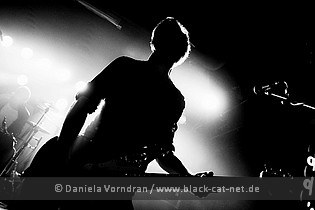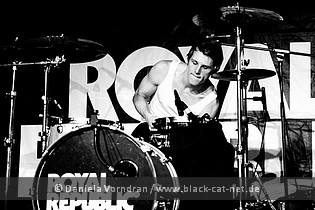 Setlist
01. Walking Down The Line
02. All Because Of You
03. I Must Be Out Of My Mind
04. Cry Baby Cry
05. Full Steam Spacemachine
06. The End
07. President's Daughter
08. OIOIOI
09. Underwear
10. Tommygun
---
11. Vicious
12. 21st Century Gentleman
13. The Royal

Rating
Music:8
Performance: 9
Sound: 7
Light: 7
Total: 8 / 10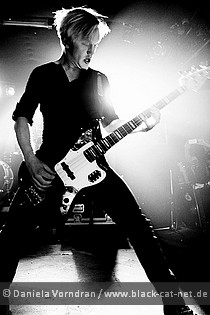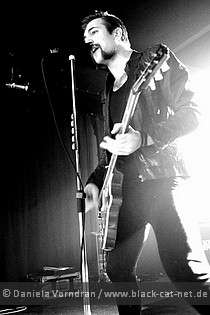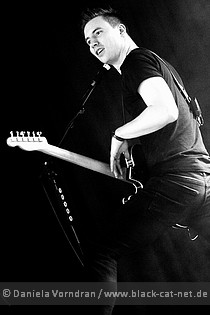 All pictures by Daniela Vorndran (http://www.vorndranphotography.com/ / http://www.black-cat-net.de/ / www.myspace.com/vorndranphotography / www.facebook.com/blackcatnet)