Written by Sebastian Huhn Wednesday, 28 October 2009 20:27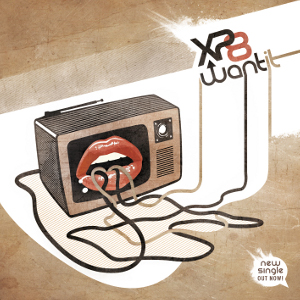 Title: Want it
Artist: XP8
Genre: Electronic
Release Date:
30th October 2009
Label: Infacted Recordings
Single Review

The story of the Italian project began in 2001. Following the released of their first demo, they earned positive feedback and eventually signed a record deal with the Polish label Black Flames Records who re-released it with an altered title. Some time later, they switched to German label Infacted Recordings to which they're signed to the present day. Their third and most recent album 'The Art of Revenge' has been released in January 2008. New material is in the works and the first appetizer is the new single 'Want It'.
We're kicking it off with the title track, starting with a German speech sample that could be from a porno considering its spoken content. Anyway, the last sentence eventually blends with a dirty dance beat that complements it very well and makes it a track that will work very well in every dark dance temple. The second track 'I See Her' follows suit in delivering even faster beats and menacing bass lines which are interspersed with various types of vocal styling from whisperings to aggressive shouts. These days, almost every EP has its bunch of remixes, so does this one. Two of them are renditions of the title track. The FROZEN PLASMA take wouldn't even be recognized as such if not labelled with the name. Sound-wise closer to REAPER in my opinion! The 'Tying Tiffany Mix' has more of a gritty vibe pulsating through it alongside heavy distortion.
For good measure, you'll be getting two remixes of tracks from previous releases: The SAM remix of 'The Art of Revenge' that's striking with its powerful production; and the DOPE STARS INC. version of 'Lies' coming in the typical sound of their own tracks with driving beats complemented by lashing industrial guitar riffs. 'Want it' isn't a stylistic departure for XP8; rather it marks a point on the road to perfecting their sound. The real changes are in the details. Club goes will find great pleasure in every single one of the tracks. Also could come in handy on a private party.
Tracklist
01. Want It - 4:57
02. I See Her - 4:36
03. Want It (Frozen Plasma Mix) - 4:31
04. The Art Of Revenge (SAM Mix) - 5:26
05. Lies (Dope Stars Inc Mix) - 3:57
06. Want It (Tying Tiffany Mix) - 4:42
Line-up
Marco Visconti
Marko Ressurreccion
Website
http://www.xp8.org/
/
http://www.myspace.com/xp8
Cover Picture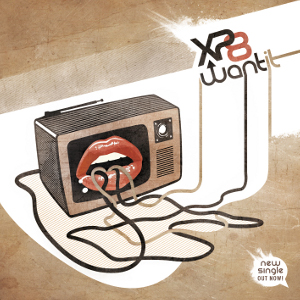 Rating
Music: 7
Sound: 7
Extras: -
Total: 7 / 10
{jos_sb_discuss:19}