Written by Daniela Vorndran Friday, 22 June 2012 08:16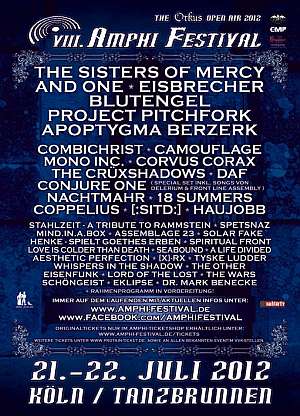 Roughly 5 weeks before the Amphi Festival 2012 the moment has arrived, by which the most important of all ticket categories has run out of stock as well!

Weekend tickets exhausted / day tickets for Sunday still available!
For the fourth time in five years pre-sale has run out of weekend tickets for the Amphi Festival. Only a small allotment of day tickets for Sunday, 22.07.2012, remains left and can be purchased from our ticket shop www.amphi-festival.de/tickets and all nationwide CTS/EVENTIM offices.


Box-office reservation of weekend tickets online!
As a direct reaction to the massive request for weekend tickets promoters resolved their regular box office contingent for mandatory online reservation. These very last weekend tickets can be reserved under www.amphi-festival.de/2012/kartenreservierung.html for the box-office price of 75€. Each visitor may reserve a maximum number of 2 tickets! As always with these reservations, you need to act quickly. Assume after the remaining tickets are booked out, no further weekend tickets will be available at the venue!

Amphi Festival Pre-Party on 20th July at Alter Wartesaal
On Friday, 20.07.2012, DJ Elvis and his team invite you on 2 floors to the big Amphi Festival pre-party at "Alter Wartesaal" in Cologne. While DJ Elvis takes care of the main-floor with synthpop and 80´s flavor, DJ Peter and DJ Frankahdafi will rock you on the second floor with heavy electronics, EBM- and industrialbeats! As some of you already came across, the pre-party was sold-out in the past for a couple of times as well. We recommend to secure tickets in advance. Visitors with Amphi ticket pay 4 €, for those without the price is 8 €. Tickets can be ordered directly from the Wartesaal here. For additional party related info please check out: www.memphis-team.com!

Reading performance at the theater stage: Ecki Stieg reads his best essays!
As the final entry to this year´s theater stage we would like to announce journalist, DJ and radio presenter Ecki Stieg. Known for his smart humor and razor sharp observations, Stieg reads a selection of his finest essays under the title of "Ecki´s kleiner Katechismus" ("Ecki´s little catechism"), by which he holds an entertaining mirror of disarming honesty against his audience.

For further festival information please visit www.amphi-festival.de and www.facebook.com/amphifestival

Source: Newsletter