Details

Published on Tuesday, 19 February 2013 11:35
Written by Daniela Vorndran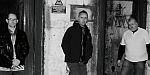 In support of the new E.P., "Pride," Analog Angel have begun booking for 2103. Live, Analog Angel have played well-received shows at renowned electronic music festivals, Wave Gothik Treffen in Germany, and the UK's Infest. The band have also supported such scene luminaries as VNV Nation and Assemblage 23, with whom they toured as guests on the British leg of the Bruise World Tour. They have also been support to acts as diverse as Toyah, XP8 and Voltaire locally in Glasgow, and have played headline shows in their own right across the UK and Europe.


20th March - Republica - Classic Grand Glasgow - Support slot along with Tenek

May Bank Holiday (25th to 26th May) - BAS 2013 FestivaI
Analog Angel will be appearing at the 2013 BAS Festival along side such other artists as: Heaven 17, Tenek, Strangers, Modovar, Cult With No Name, Automatic Writing, Analog Angel, Electro Kill Machine, Speak & Spell, Kloq, Sinestar

Saturday 8th June - Cybersonik Festival - Electrowerkz London - Along with Surgyn, XHM, Machine Rox, Skinjob, Biomechanimal and Defeat

Hailing from Glasgow, Scotland, Analog Angel has deservedly developed a devoted following on the basis of their previous two releases, "Dischord" (2009), and "The Thin Line (2011) in combination with their always dynamic live performances. Formed in 2009 Analog Angel consist of members John Brown handling lead vocals, keyboards and programming, Derek MacDonald on keyboards, programming and providing backing vocals. And the final, third member is Ian Ferguson also keyboards, programming and providing backing vocals.


Source: Press Release



Event Calendar
Search Event Tickets