Written by Monica Duffels Wednesday, 21 June 2006 09:06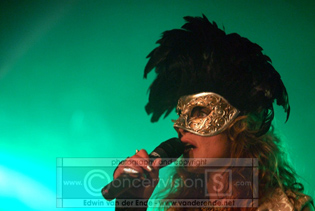 JC Kompleks, Heerhugowaard, The Netherlands
May 20th 2006
The Dreamside, Sylver Myst, Mantikhoras, Reel

This evening I had the opportunity to visit one of my favourite bands at the moment, The Dreamside. A little month before I visited them for the first time in Den Bosch and was amazed about the quality of their show. Onfortunately they do not play that much in The Netherlands so I really had to grab this chance. So now they were going to play at Molfest gothic, an event that takes place in a youth center in Heerhugowaard every year. I was also curious about the bands Mantikhoras and Reel for I had never heard about them and I always like to be caught by surprise, in a positive way of course... The shows were supported by a VJ who projected different images on a small screen at the right side of the
stage. When we arrived at the venue there were just a few people waiting outside for the doors to open. Throughout the evening it occurred that the audience largely consisted of groups of young teenagers who didn't really seem to care about the music and were just there to have a party. It was also surprising to see that there were hardly any gothic-dressed people. What a difference it was with Den Bosch, where the gothic atmosphere had filled the air. I estimate that tonight's event was visited by about 50 people.
Reel
The first thing I think about when I read the word "reel" is Celtic dance music. But this band has nothing to do about that. Reel is a Dutch band that combines industrial with techno and metal. It was formed in 1993 by Richard Groot (vocals), Fred Lont (guitar, programming) and Peter Degen (keys, programming). In the past they supported shows from for example Rammstein and Einstürzende Neubauten.
Music
Reel opened this evening with pumping electronic beats and a heavily set guitar. The first few minutes sounded quite nice, but after that it had to be noticed that there wasn't much variaton in rhythm and melody, so it started to get boring quickly. The music sounded like a weak extraction from prominent bands like Rammstein and Front 242. Throughout the show the sound on Richard's microphone was set at different positions to produce a wide range from normal to electronic distorted vocals. The problem was that it was impossible to hear what he was singing. It wasn't even possible to understand in which language he was singing. Whether it was English, Dutch, or Japanese... you could only find out by reading the setlist. So it's clear what can be said about the sound quality.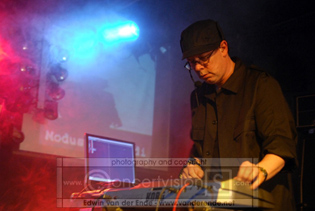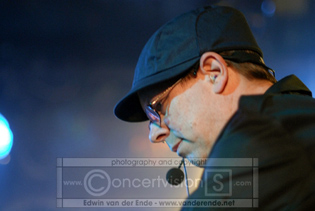 Performance
The bandmembers were dressed like soldiers in dark shirts and were wearing caps. The guitarist and the keyboard player were wearing bracelets with flickering lights. In spite of the fact that they didn't get any support from the audience (people didn't even clap after each song), they still thanked the audience in a laconic way. Sometimes they took a short glance at the audience, but most of the time they were concentrating on their own instrument and glancing at each other with ironic looks on their faces and raised eyebrows. The lighteffects were boring as well, for as far one speak about "effects". It was as if the light engineer had fallen asleep and awoke at the moment another song had just begun and was almost too late to change the colours of the lights.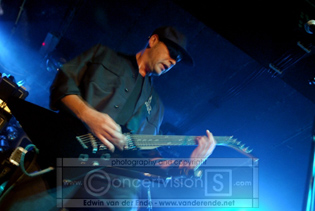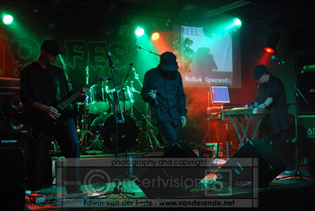 Setlist
01. Black Water
02. Everything
03. We
04. Mind The Gap
05. One Step Back
06. Hell Or Heaven
07. Second Hand
08. Time
Rating
Music: 4
Performance: 4
Sound: 3
Light: 3
Total: 4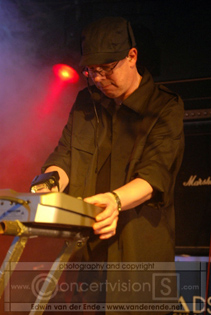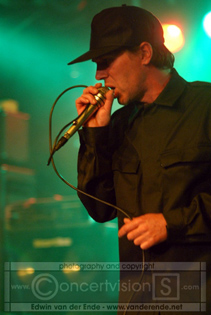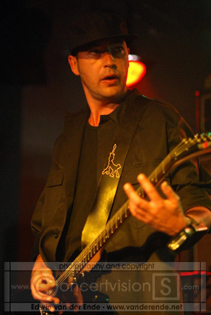 Mantikhoras
The next band to play was a local band, Mantikhoras, founded in 2002 in Alkmaar. The name Mantikhoras comes from "manticore", which is a monstrous creature in Greek mythology. Their music can be described as melodic, symphonic metal. They have released two demos so far and two songs of them are featured on two local compilation cd's "Alkmaars Trots". The bandmembers are Shanna Bartels (vocals), Jasper Welp (lead guitar, vocals), Bas Tempelmans Plat (guitar), Sjoerd Moll (keys), Erwin Arbon (bass guitar), Lars van den Eng (drums).
Music
During the past years I have seen many different female fronted metal bands. Now I was curious about this band with its original name. But of course that wouldn't mean that their music would be original as well. And in my opinion it wasn't, indeed... I like bands that play metal combined with melodic elements, but this band couldn't hold my attention for very long. The melodies were just not catchy enough and sounded uninspired. What irritated most was the singing from Shanna. She uses normal, plain non-operatic vocals. Not that there is a problem with that, but she constantly sang out of tune and to make it worse her microphone was adjusted too loud, so she sounded very shrill. Plus the fact that the sound quality of the venue was far from crystal clear didn't make it any better. During the last few songs I needed to step outside for some fresh air to relieve my painful ears and I didn't even took the effort to grab a setlist.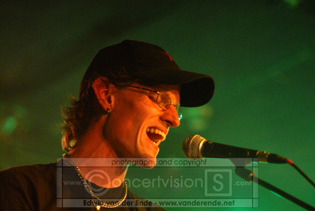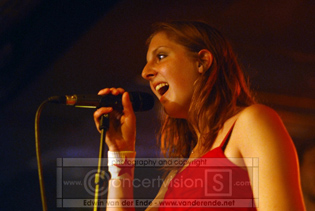 Performance
Shanna was wearing a simple red dress. She made an insecure and tense impression, and was trying to move graciously on the rhythm of the music, but that didn't work out too well. When she looked in the direction of the audience her eyes were mostly fixed at a point behind them. Only Bas regularly looked at the audience. The other bandmembers were mostly concentrating on playing their instruments well and once in a while they took a glance at each other but they didn't make a static appearance. The lighteffects were not so impressive either. Most of the time the lights stood still and only backlights were used. The use of frontlights was neglected.
Rating
Music: 4
Performance: 5
Sound: 3
Light: 3
Total: 4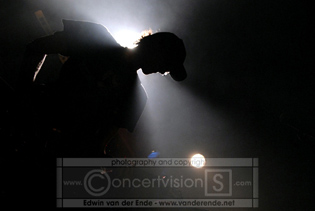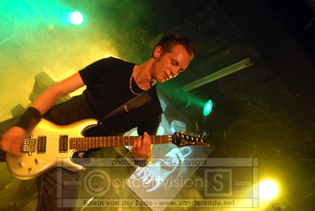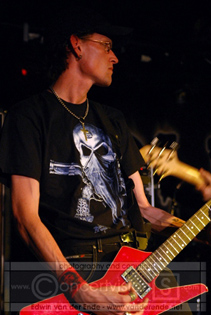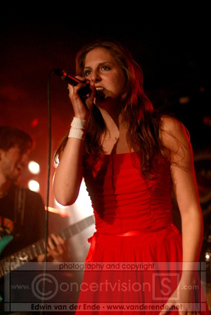 Sylver Myst
The third band in line was Sylver Myst. Taken together Sylver Myst is a female fronted gothic metal band and the bandmembers are: Marjolein Hüsken (vocals), Rob van Dijk (guitar/grunts), Didier Roumen (lead guitar), Marco Brugmans (bass), Marc Jaspers (drums), Martijn in 't Veld (synths). The last time I saw this band I was impressed about their live performance. The difference with this evening was that the previous time they played in Helmond, which lies close to their hometown Someren. There they attracted a considerable group of local interested people, who especially came for them. But how would they perform now, in front of this totally different kind of audience?
Music
Now musically this band was a relief in comparison with the band that had played before them. At some points the music from Sylver Myst reminded me of After Forever. The powerful riffs, the inventive bridges in the melody lines and Rob's grunts sounded a bit alike. I happened to see a live performance of After Forever just a day before and in my opinion there has hardly been any band in this genre yet that could match them in quality. Neither Sylver Myst.
But I am convinced that Sylver Myst has potential to grow further, musically and technically, for this is still a young band with not such a lot of experience yet. Marjolein is an enthusiastic performer who varies plain with opera vocals. This evening she did that pretty well with sporadically a small mistake if it comes to singing in tune. The sound between the different instruments and vocals was sufficiently balanced, but sometimes Rob's microphone was adjusted too low, so his grunts sounded too soft.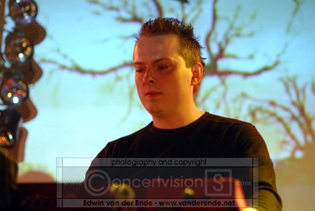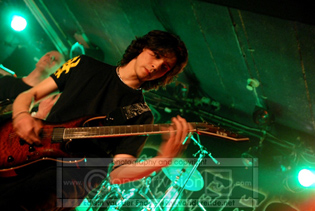 Performance
In spite of the inattentive audience this band played with a lot of enthusiasm. But of course action provokes reaction so with the lack of positive feedback from this audience their performance was a little less spontaneous than I've seen before. Marjolein still made a secure impression though and moved naturally on the music and when she spoke and laughed at the audience her laughs were obviously real. She kept eye contact with the audience and gave people the chance to make nice photographs of her. So did Rob and Marco. These bandmembers also seemed to have a lot of fun with each other. Rob and Marco, with their bald heads, for example sometimes crossed their strings, looking fiercely at each other as if to mock their baldness. The other bandmembers were a little more reserved, but made anything but a static impression. The lighteffects were simple and added only little value to the music. During each song a different set of colours was used. At least the changing of lights was a little more vivid than with the previous bands.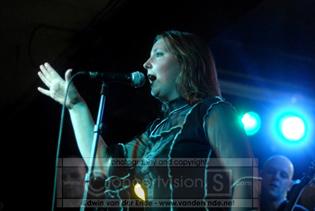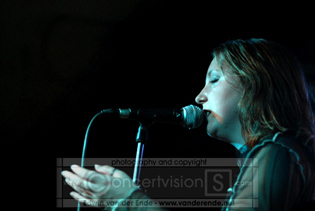 Setlist
00. Intro
01. Desire
02. Escape From Reality
03. Lovtred
04. Waiting For A New Day
05. Devoted Yet Unable
06. Depth Of Illusion
07. Strains Of Souls
08. A Life's Tale
09. The Bleeding Snowlands
10. My Valentine
11. Thrown Away
12. As Heaven Blessed A Dying Rose
Rating
Music: 7
Performance: 8
Sound: 6
Light: 5
Total: 7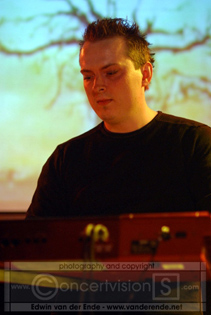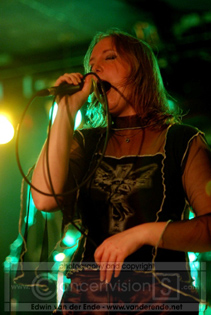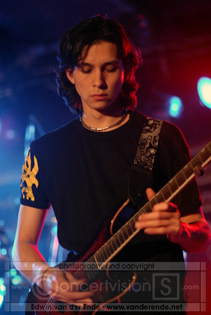 The Dreamside
And now here stood the band I'd been looking forward to the whole evening, The Dreamside. To our pleasure most of the young teenagers had left the venue in the meantime. Although the amount of people had diminished, a more serious audience was still present. The Dreamside was founded in 1994 by the Dutch/Italian singer Kemi Vita. In that year the band released the debut cd "Pale Blue Lights". After that they released the EP "Nuda Veritas" (1995), "Apaika" (1996), "Mirror Moon" (2001), the compilation cd "Faery Child" (2002), the EP "Open Your Eyes" and "Spin Moon Magic" (2005). The band is mainly well known in Germany and in the USA. The current bandmembers are: Kemi Vita (vocals), Fried Bruggink (guitar), Cees Viset (guitar), Roman Schoensee (bass) and Merijn Mol (drums).
Music
The show blasted off with two songs from the album "Mirror Moon". From the first notes it was clear that this band had been worth waiting for. The people who had left early really had missed something interesting. The Dreamside offered a range of songs with much variation. Songs for the ears, for the feet and for the head(banging). Most songs they played were from their latest album "Spin Moon Magic". In spite of the lack of audience the bandmembers played well enough and saw this gig as a warming up for their coming show at Wave Gotik Treffen at Leipzig. Roman proved to be a very good bass-player in spite of his handicap, one missing hand and contributed the back (grunt-like) vocals in a few songs. What I like most about Kemi's voice is that she has a very unique sound, larded with emotion. If I really should compare her to other vocalists, I'd mention Tori Amos, Lisa Gerrard... This evening it seemed that a tiny part of this emotion was missing, probably due to the atmosphere in the venue. The show ended after about an hour but the band entered the stage once more with the worthy ending song "Nuda Veritas".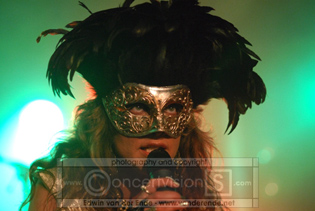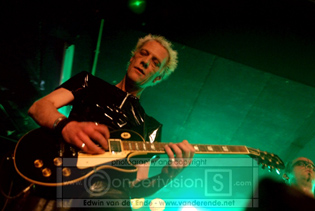 Performance
When the first notes of "Symbol" started the male bandmembers entered the stage with an iron mask and Kemi wore a long coat, leather pants and a mask with feathers. She looked as well as a goddess as like an angel. After the first song they put away their masks and during the show Kemi threw off her coat. Throughout the show the bandmembers had a kind of serenity over them. They had a dreamy look in their eyes, which emphasized the emotion in the music. It seemed that they didn't make much eye-contact with the audience, but in my opinion this fits well with their music and in fact they were fully aware what was happening in front of them. When the ethereal song "Somewhere Before" started, my breathing nearly stopped. The lights went out and a kettledrum was already placed in front of the stage. Merijn, who just before had hit the drums like a fierce creature, entered the stage with two flaming torches to hit this drum with grand movements. It was a little bit frightening, because the ceiling was very low and sometimes the fire touched the cables which were running across it. Fortunately all went well. In this song Kemi looked like a queen flanked by her guardians, Roman and Fried, also wearing a torch. So with this song only the lights of the fires were used. During the rest of the set nearly only backlights were used, but they weren't so bright that the audience was blinded by them.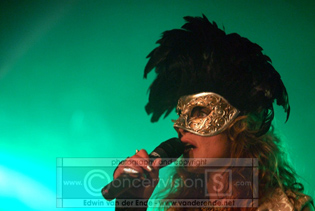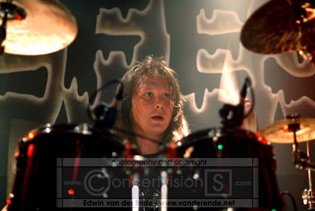 Setlist
01. Symbol
02. La Tempesta
03. Joyfire
04. The Feast Is Set
05. Spin Moon Magic
06. This Quest
07. Dreaming All Of You
08. Somewhere Before
09. Open Your Eyes
10. Into A Frenzy
11. Die Hoffnung
12. Forsaken
---
13. Nuda Veritas
Rating
Music 8
Performance 8
Sound 7
Light 7
Total 8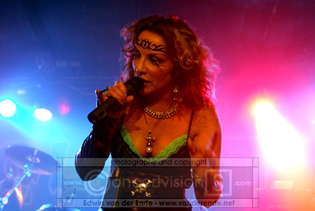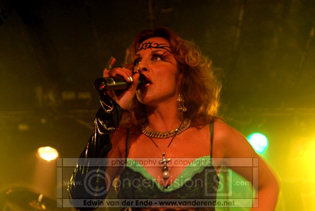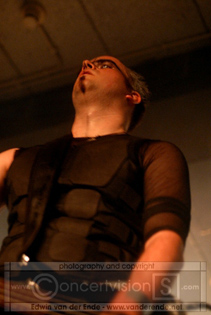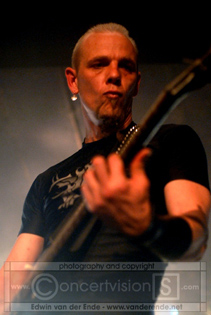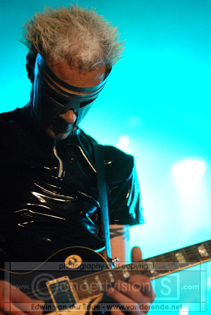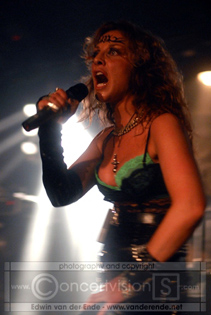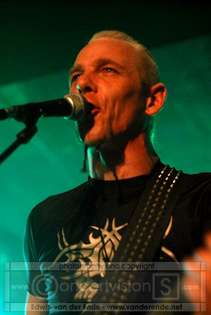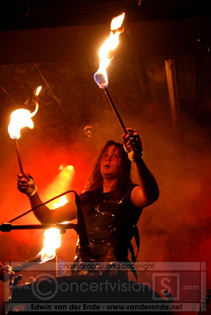 More photos on page 2

{jos_sb_discuss:18}
---
Manthikoras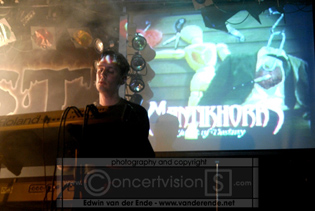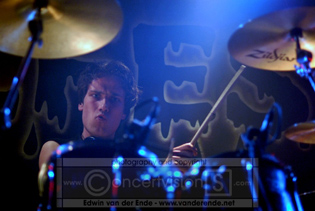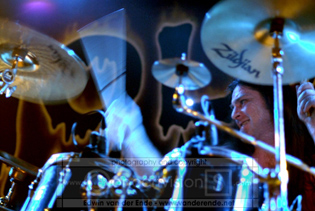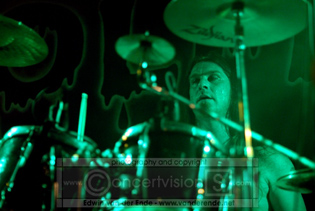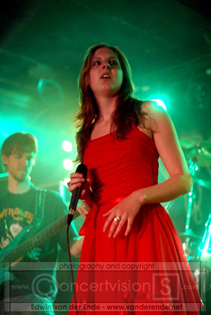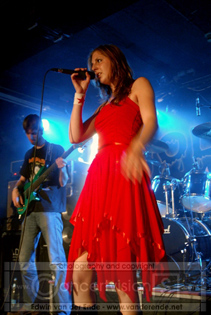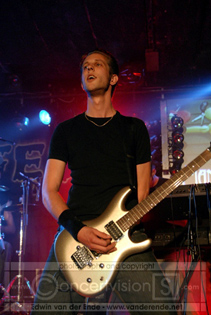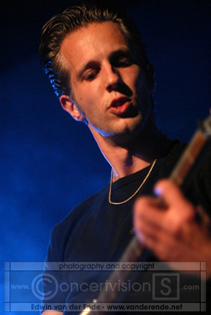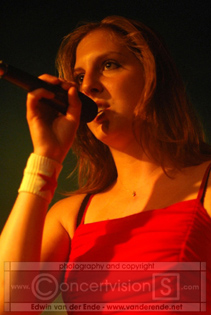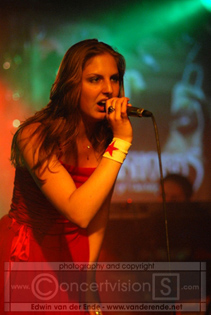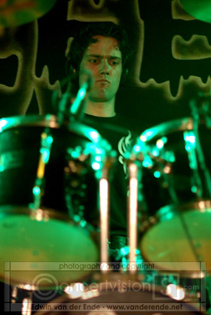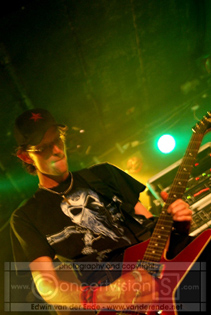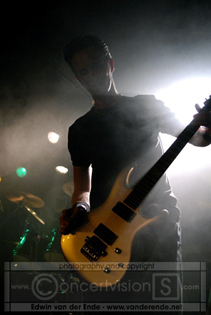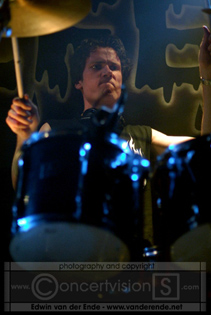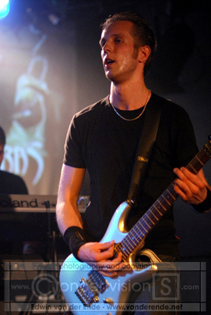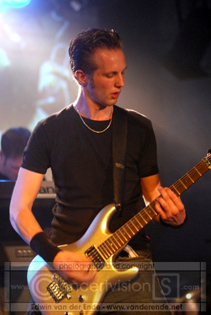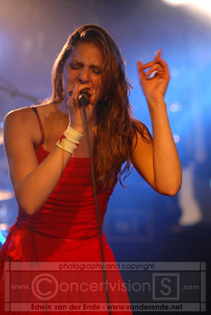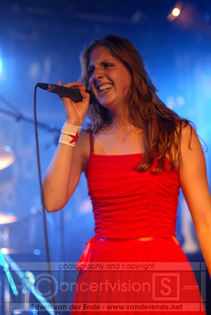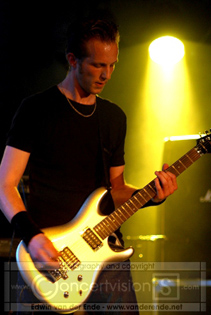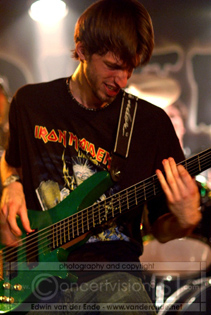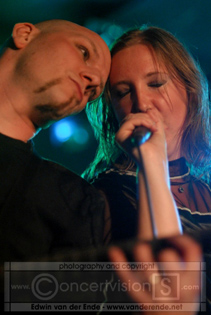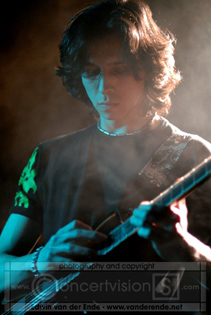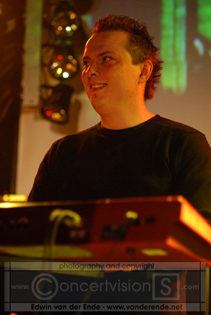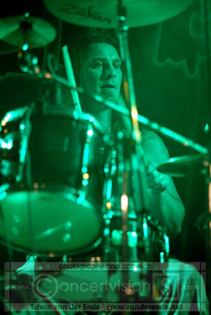 Sylver Myst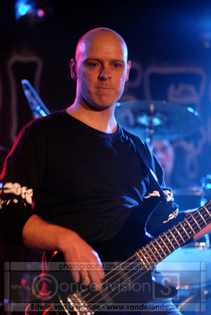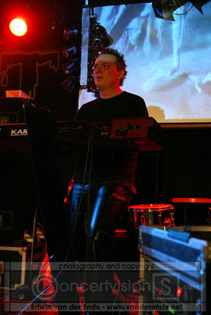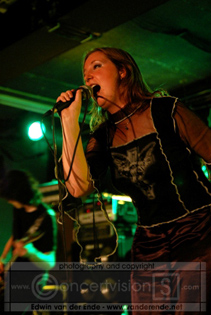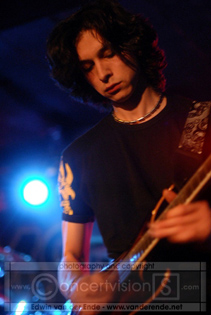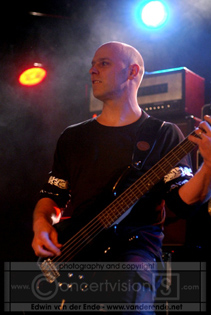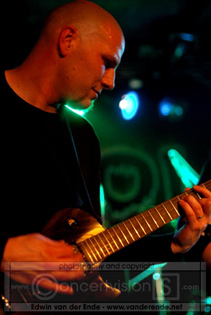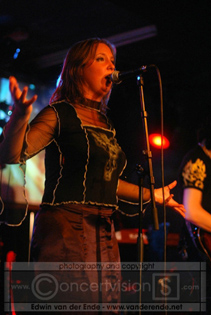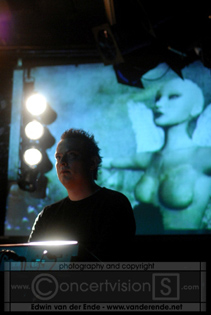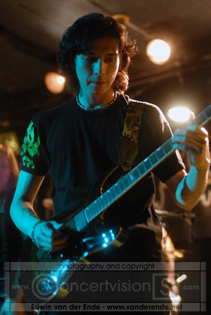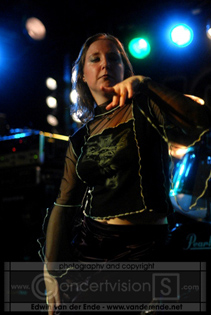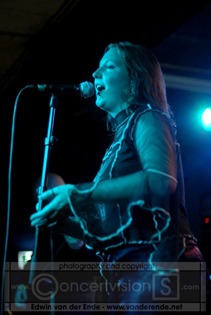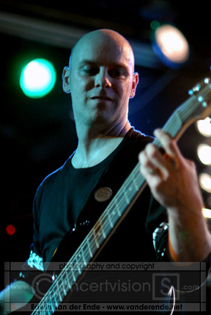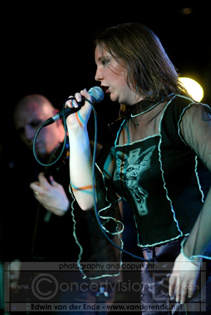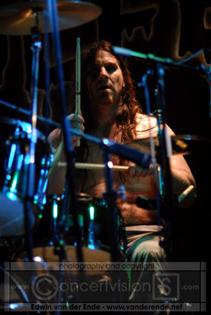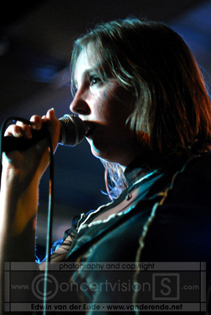 The Dreamside