Written by Daniela Vorndran Tuesday, 18 July 2006 10:17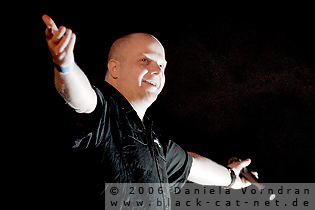 Leipzig, Germany
2nd June 2006 – 5th June 2006
WGT Day 2: Anubiz, Limbogott, Lacrimas Profundere, Imperative Reaction, Necro Facility, Destroid, [:SITD:], Cat Rapes Dog, VNV Nation, Vive la Fete, Sono
As beautiful as the weather was at the first festival day, as rainy it was at the second. Luckily we planned only indoor gigs for that day and after meeting friends in the city of Leipzig our way led us to a new festival venue – the Kohlrabizirkus which is an old market hall and a very nice venue in our opinion.
http://www.wave-gotik-treffen.de/
Anubiz – Kohlrabizirkus [DV]
The band was formed back in 1999 and after a few changes they found their recent line-up and recorded the first demo in 2000. After recording a second CD the band proofed its qualities as a live band. Finally in 2003 the band got signed by TTS-Media-Music. Later in 2005 they changed the label to Nicrothal records where they also released the CD '17'. 'Anubiz' are: Katrin Block (vocals), Jörg Erkelenz (guitar, vocals), Michael Eichhorn (guitar), Jörg Mohr (keyboard), Alex Becker (drums) and Daniel Fleckhaus (bass).
http://www.anubiz.de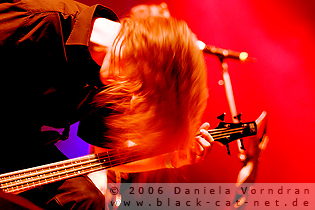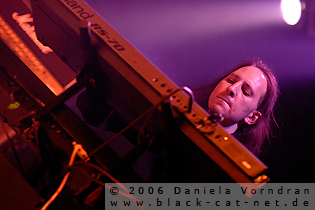 Music

'Anubiz' are playing a mix of Gothic and Metal where melancholy meets aggression. The mostly slow songs full of pain are presented in German language. Typical is the dark male chant in the back and an angelic female chant in the front. The songs are characterized by soulful sound, melancholic melodies, doomed guitar riffs, grooving bass and bitter-sweet keyboard lines. Changes in tempo create an unmistakable and menacing atmosphere. With their lyrics, the band goes down to the deepest depths of human soul telling stories about the dark sides of life. Due to the early hour the set consisted only of six songs. But this was enough to get an impression of the bands potential. Metal-growls were accompanied by the very clear and clean voice of Katrin. The sound in the new WGT-venue was surprisingly very good too. We did not know what to expect of that band, but sometimes the days start with nice surprises.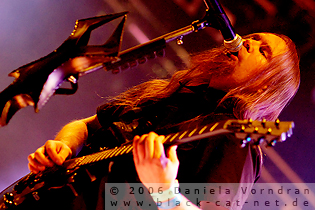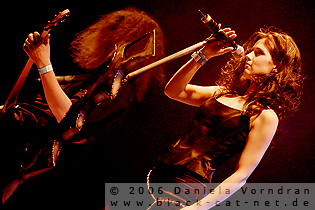 Performance

Besides their own shows, 'Anubiz' had some experience supporting other successful acts like 'Dead Soul Tribe', 'Holy Moses', 'Die Apokalyptischen Reiter', 'Corvus Corax' or 'Schelmish'. And you felt the stage experience during the show. All worked very well together. The eye catcher was of course Katrin in her beautiful black tight outfit. Of course the obligatory head banging could not be missed out too. Due to the fact that we started the Saturday with indoor shows we could also enjoy the bright and well composed light shows at the Kohlrabizirkus.
Setlist

1. Sonnenwende
2. Fährmann
3. Winternacht
4. Puppenspieler
5. Abschied
6. Mondlicht
Rating

Music 7
Performance 7
Light 7
Sound 8
Total 7 (7.2)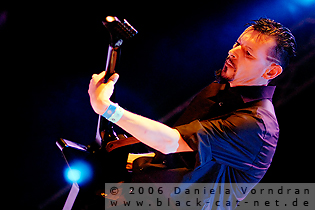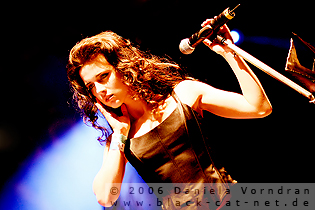 Limbogott – Kohlrabizirkus [DV]
A small village in northern Germany is the birthplace of 'Limbogott'. Not much happens there and it's a little wonder that such a band found together – it was just two years ago in 2004 when they started to conquer the world. The debut 'One Minute Violence' was like a bomb and got rated on top level by German music press. Also on stage the band is impressive and played some of the biggest scene open airs last year. Recently a new album is out and the band back on stage again. 'Limbogott are:  Lard Mason (vocals, programming, synths), Limbosonic (vocals), Tim Machine (guitars, programming, synths), Sprodd Kall (guitars, programming, synths), TB Lemper (programming, synths) and HP Nixon (live drums).
http://www.limbogott.de/
/
http://www.myspace.com/limbogott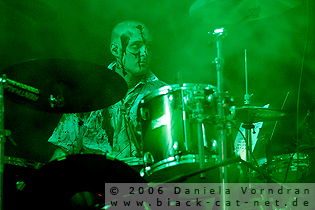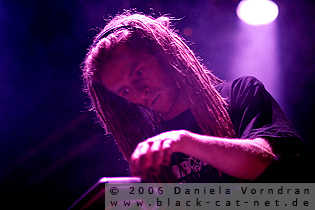 Music

The band from Germany itself calls their sound "New Level Shit". You can see it as a mix of 'Marilyn Manson', 'NIN', 'The Prodigy' and a bit of 'Ministry' spiced up with a pinch of sickness – which you also realize during the live shows – and completed with melodies and singing on a high level. Shouter Lard Mason and singer Limbosonic share the vocal parts that switch between melancholy and aggression nearly equally. 'Limbogott' are creating a musical inferno on stage with fat guitar riffs, deep bass lines and electronic storms. They lead over from industrial sounds to some drum'n'bass-rhythms combined with metal riffs. The setlist of course included songs from the first release 'One Minute Violence' – like 'Headlock' or 'Deep' – as well as songs from the new album – like of course the title track 'Pharmaboy'.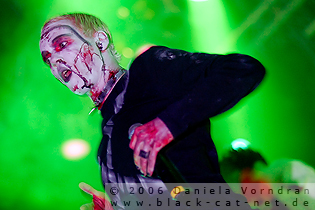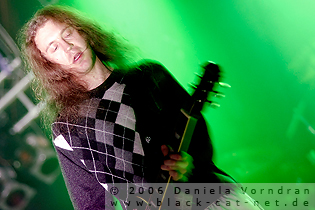 Performance

The show of 'Limbogott' is as sick as the music – two freaks in front in white clothes messed up all over with (artificial) blood, two guitar players in chequered cardigans, a kick ass drummer and a wild guy with dreadlocks behind the electro keys – the band tears down every stage with their enraged inferno. Despite of the early hour the audience had gone mad from the start – dancing, cheering and jumping a lot. Limbosonic of course talked about the new album which could be bought at the merchandising stand where the band would appear later too. The show is as wild as the music and the light show picks up the beats with fast changes.
Rating

Music 8
Performance 8
Light 8
Sound 8
Total 8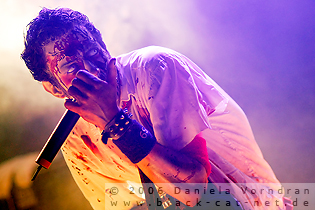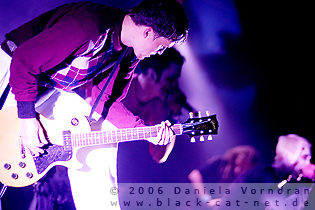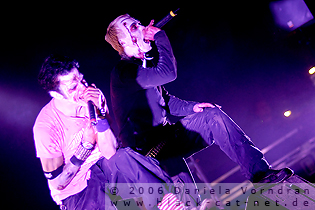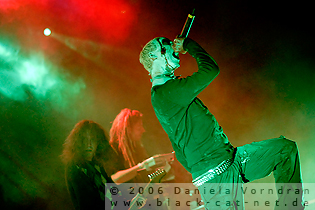 Lacrimas Profundere – Kohlrabizirkus [DV]
The German band was founded in 1993 by guitarist Oliver Schmid whose brother Christopher took over the lead vocals in 2001. At the beginning the band made doom metal influenced music using female vocals and classical elements. Over the time the classical elements were removed more and more and the female voice was replaced by the baritone vocals of Christopher. The attention of international specialized press started in 2001 and afterwards grew with the albums 'Fall, I will follow' in 2002 and 'Ave End' in 2004. Now the band is presenting a new release – 'Filthy Notes For Frozen Hearts'. 'Lacrimas Profundere' are: Christopher Schmid (vocals), Oliver Nikolas Schmid (guitars), Christian Freitsmiedl (guitars), Daniel Lechner (bass), Christian Steiner (keyboards) and Wilhelm Wurm (drums).
http://www.lacrimas.com/
/
http://www.myspace.com/lacrimasprofundere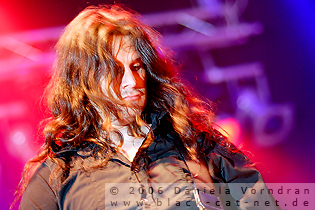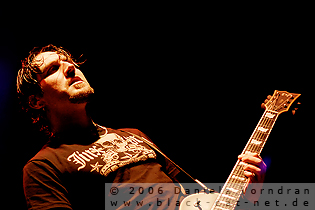 Music

Whilst the band was mixing Gothic Metal and typical Death Metal at the beginning they are now presenting a soulful and sad but also manifold combination of Dark Rock, Gothic Metal and sometimes Doom Metal. The band itself sometimes calls their mix "Rock'n'Sad". Their Gothic Rock also includes Seventies influences and dark dirty melodies. The songs move between melancholy, hope, anger and aggression – just right out of life. The show on WGT was a bit like a pre-listening session for the upcoming album 'Filthy Notes for Frozen Hearts'. Several songs of that album had been played. Especially in mind I kept 'My velvet little Darkness' and 'My Mescaline' which started very calm and unfolded its full power towards the end. Of course also older hits were not missed out and right at the beginning of the set 'Sarah Lou' fired up the audience. The show ended with the new single 'Again it's over' and the hit 'Ave End'.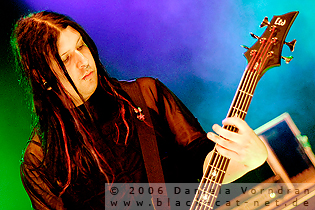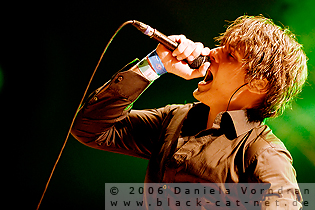 Performance

When the band entered the stage all looked very "cool" – especially Christopher with the obligatory cigarette in his hand. As a typical rock band they brought a typical rock show onto stage. Daniel on bass was the wildest – posing a lot for the audience and shaking his hair. The light show was well composed again like during the whole day so far. The audience just took over the mood from stage and clapped along to the songs.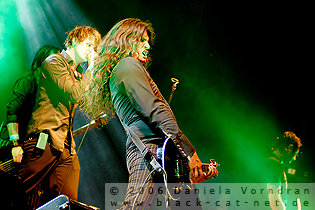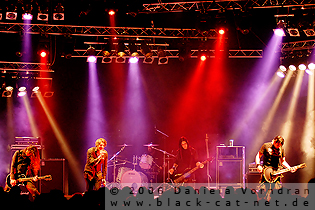 Setlist

01. Intro 
02. Black 
03. Sarah Lou 
04. My velvet little Darkness
05. Under You 
06. To love her on knees 
07. My Mescaline 
08. For bad Times 
09. One Hope's evening 
10. Again it's over 
11. Ave End
Rating

Music 9
Performance 8
Light 8
Sound 8
Total 8 (8.4)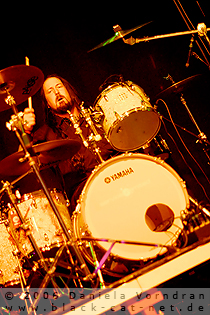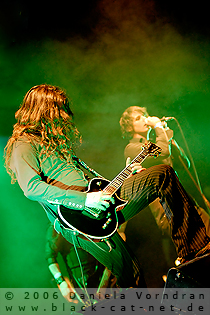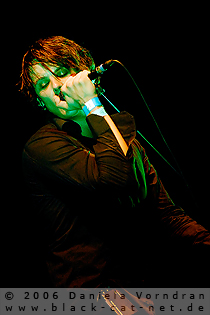 Imperative Reaction - Agra [KM]
Imperative Reaction is a band from Los Angeles  the US. So far they have released three albums :Redemption (2004), Ruined (2002), Eulogy for a Sick Child (1999), they also featured several compilations and did the remixes. Imperative Reaction are Ted Phelps, Clint Carney, Sam P. and Gabriel Opruta.
http://www.imperativereaction.net/
/
http://myspace.com/imperativereaction
Music

The half an hour concert of Imperative Reaction was a combination of  rhythm, beating pulse of music and specific half harsh half lyric vocal of Ted Phelps. They started with "Fault – a very dynamic track and continued with the once established mood for the most of the show. "Guilt", "Severed", "Arrogance" , already known to the fans of the band, as well as the new one - "Red"  - were the perfect stimulant to move and dance.
Performance

Imperative Reaction opened the concert day in Agra on Saturday. It was a good thing on the hand, as it set the right, energetic mood of the day at the very beginning, but on the other hand – bad, because at this 'early' hour plenty of people was still asleep or somewhere else and couldn't enjoy the show. Well, life is hard – the band started with a rather small audience, which, however later became larger. The vocalist - Ted Phelps – did everything to move the listeners and I think if it wasn't for the time he would've succeeded more. Still, even as it was it was a very energetic, danceable and appealing performance. It wasn't an orgy of special effects and definitely couldn't be called "light and sound spectacle", but rather a kind of a traditional exchange between the front man and the audience with the former giving his artistic output and the latter - attention and acceptance. It was the first show of the band in Germany and as a debut it was quite an interesting event that got a positive reception.
Rating

Music: 8
Performance: 6
Sound: 8
Light: 8
Total: 7 (7.4)
Necro Facility – Agra [JT / MN]
'Necro Facility' is a brand new EBM style band from the dark forests of Karlskoga, Värmland in Sweden. The band is comprised of Henrik Bäckström and Oskar Holter, and when appearing live they add Christoffer Hedström to the mix. Last year they released their debut album "The Black Paintings" on Progress Productions.
http://necro.e-prom.se/
/
http://www.myspace.com/necrofacility
Music
The obvious musical links to bands like 'Skinny Puppy', 'Frontline Assembly' and 'Numb' are refreshingly enough confirmed to be completely intentional. Their sound really is like a hybrid with inspiration from early 'Project Pitchfork' and 'Skinny Puppy'. They are however still feeling their way as they go along, something that should become quite apparent when you have a look at the setlist. They really were doing more songs – they just don't have names yet...
Performance

My afternoon started by watching the young guys from Swedish 'Necro Facility'. I guess it's good not to expect too much every now and then, and this time I was really surprised – in a good way. Even though the young band on occasion are reproachingly accused of mimicking 'Skinny Puppy', they did their thing well. A good development since I saw them last time.
Setlist

Freeze
Nursed
Methane view
Rating

Music 6
Performance 6
Light 6
Sound 6
Total 6 (6)
Destroid – Agra [JT / MN]
"'Destroid' masters all nuances of modern electronic music in the blink of an eye and leave their rivals clinging to their own conventions, condemning themselves to eternal stagnation. The concept of 'Destroid' is about breaking these conventions...". Big words about their recent release "Future Prophecies" -  which they liken with a "red pill"... well, real or fake – it's good.
http://www.destroid.com/
/
http://www.myspace.com/destroidmusic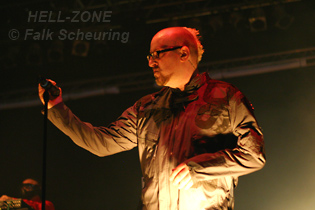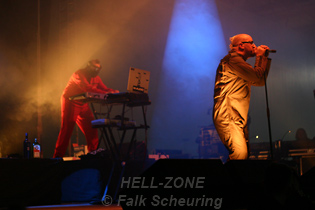 Music

Taking influences from numerous contemporary sources and blending them into a whole, greater than the sum of its parts. Dynamic, and dance-floor friendly, 'Destroid' are openly flaunting technical ability and pure talent. If anyone of the contemporary sources are listening... this is how it should be done...
Performance

Three guys entered the stage, with a singer in front and the two others on keyboards slightly behind and to the sides. All of them were wearing orange overalls, and combining this with lots of smoke and flashing lights – it somehow lead the associations to a Front 242 concert. Even though the performance lacked a bit in energy and the parallel also being flawed in other ways, it gives you some impression of how the stage appearance was.
Setlist

01. Into the deepest Dark
02. …I still Continue
03. Bonewhite Light
04. Judgement Throne
05. Passion
06. Broken and Abused
07. Soul Asylum
08. Als wär's das letzte Mal
09. Sir William
Rating

Music 8
Performance 8
Light 7
Sound 7
Total 8 (7.7)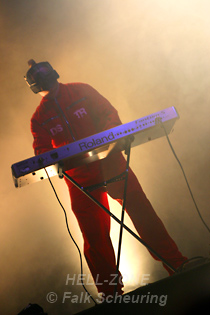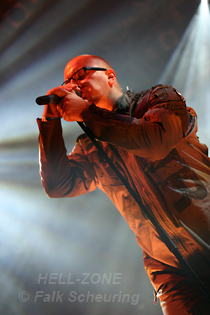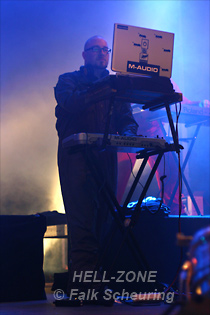 [:SITD:] – Agra [JU]
Carsten Jacek (vocals, lyrics), Tom Lesczenski (composition, programming, backing vocals) and Francesco 'Frank' D'Angelo (keys) are 'Shadows In The Dark', or shorter '[:SITD:]'. Since their 2002 club hit 'Snuff Machinery' the band became one of the most popular German Electro acts, which has been confirmed by further club hits like 'Laughing Stock' (2003) or 'Richtfest' (2005) and the album 'Coded Message: 12' (2005).
http://www.sitd.de/
/
http://www.myspace.com/xsitdx
Music
Describing '[:SITD:]'s' music is easy: Somewhere between 'VNV Nation' and 'Suicide Commando'. However, this description might be a little unfair as you should acknowledge that '[:SITD:]' definitely built up their own profile, both lyrically and musically. They combine pounding distorted drums of Industrial, epic and beautifully orchestrated melodies and alluring dance rhythms as well as Trance elements borrowed from "Futurepop". '[:SITD:]' definitely found their formula for successful club tracks, the only problem is that they sometimes repeat this formula too often so that some tracks sound too similar when you listen to their full-length outputs 'Stronghold' or last year's 'Coded Message: 12'.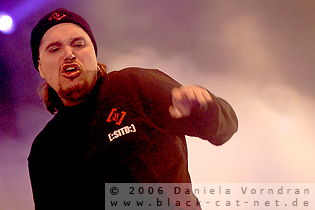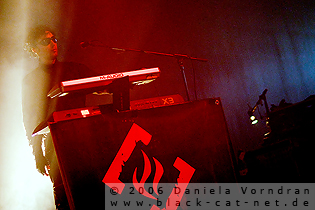 Performance
'[:SITD:]' have a reputation as a very energetic live act and several times I witnessed their show so that I can confirm that their show is full of energy, both on stage and in the audience! '[:SITD:]' have only one problem: their front man! I didn't care too much about him when I first saw '[:SITD:]', I found him a little annoying every now and then, but at the band's show at the WGT in Leipzig it was almost disgusting. I don't want to start to ramble about the fact that one should seriously give him some more English lessons (his pronunciation is ridiculous) as this doesn't matter too much at a live show (well, for most people). But why the f*ck does he behave on stage like a tourist entertainer from Ibiza, or like he was HP Baxter of Scooter fame himself? It's okay to scream out the name of the city when you're doing a gig. But doing that a dozen times per song ("Leeeeeeiiiiipziiiiiiiig!") is simply disturbing and disgruntling, especially if you combine them with "I love you all!" a dozen times – as if Michael Jackson turned into a Dark Electro clown. Well, almost, he didn't do the moonwalk. The best moment of the show was when keyboarder Tom Lesczenski took over the microphone to deliver the lead vocals for one track. This guy is very passionate and knows how to deliver a good show without looking like a silly jerk. '[:SITD:]' simply should get rid of their main front man and let Lesczenski do his job, as Carsten Jacek spoilt the fun. The fans in the first rows might see this differently but what do masses know? Truly the most annoying gig of the WGT for me, though others may have enjoyed this.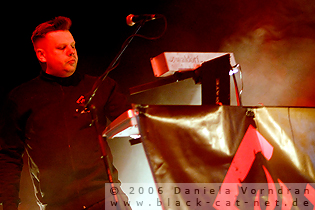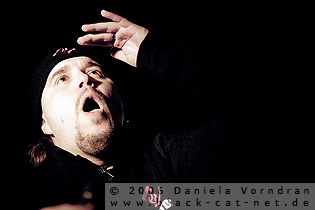 Setlist

01. Laughingstock
02. Firmament
03. Lebensborn
04. Richtfest
05. Suffering in solitude
06. Wegweiser
07. Snuff machinery
Rating

Music 6
Performance 3 (2 of those for Tom Lesczenski!)
Light 4
Sound 6
Total 5 (4.8)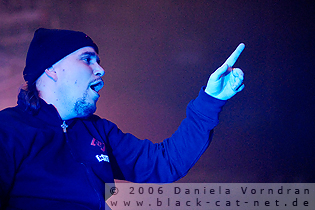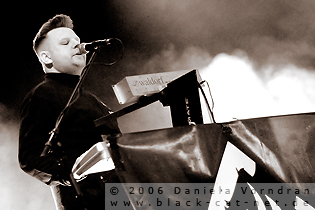 Cat Rapes Dog – Agra [JU]
This Swedish band is a curiosity as they transformed so many times and in such different ways regarding their music and their line up. Magnus Fransson is the only member from the original line up, and the personal of this Electro Rock legend was changing many times. 'Cat Rapes Dog' didn't release anything in this century (with "People As Prey" from 1999 being the last album) and announced several "last shows". At the WGT 'Cat Rapes Dog' performed another "last show"… ;-)
http://www.myspace.com/1cat1dog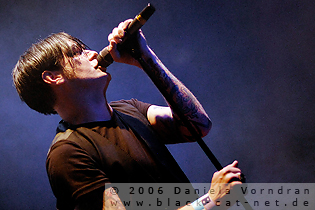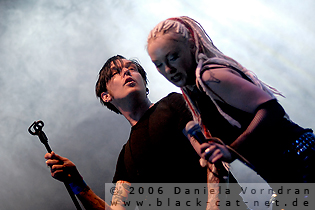 Music

Magnus Fransson formed 'Cat Rapes Dog' as a duo together with Joel Rydström in 1989 after few years of experimenting with synths and noises in private. Their debut "Maximum Overdrive" made a big impact on the EBM scene, as well as their second album "Gods, Gun & Gasoline". Their electronic high-speed sound and the ironic and black-humoured attitude and lyrics attracted many people as this combination was unique. Annelie Bertillson joined the band to play the bass guitar on stage – and becoming a very important member of the band as well as eye-candy for all male fans. With founding member Joel Rydström leaving the band and numerous line-up changes 'Cat Rapes Dog' dived deeper into the Rock 'n' Roll side of things, combing the driving electronics of the early days with heavy guitars. Especially on stage 'Cat Rapes Dog' was more and more Punk & Rock, which was also resembled in their later studio releases.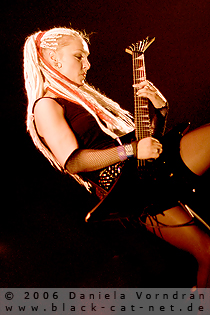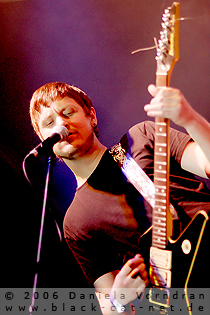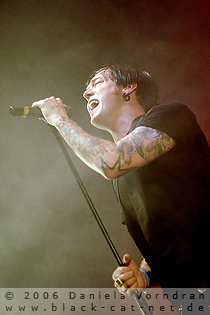 Performance

Performing after '[:SITD:]' the contrast couldn't be bigger, it was like a polar opposite. While '[:SITD:]'s' singer offended every underground fan by behaving like Scooter's front man, 'Cat Rapes Dog' had this subversive, rebellious and anti-mainstream attitude I was longing for after the band before. The guitar-heavy sound of 'Cat Rapes Dog' drove a few of the electronic purists away but I have to admit that I pretty much enjoyed the band's show. Their show was supported by a nice screen with videos and graphics which supported the band's sarcastic view on the world. And, of course, Annelie Bertillson was another attention getter on stage.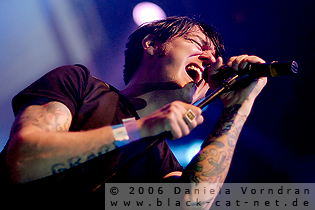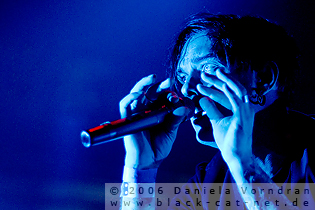 Leipzig seems to be one of the last places on earth where 'Cat Rapes Dog' still has a big following so the Agra Halle was packed with a lot of slam dancing at the front. The band performed a nice mix of songs from almost all periods of their career with tracks like "Eating People is Fun", "How the Country Falls" and "Moosehair Underwear" being the highlights. I still love their earlier, more electronic sound a little more but this punky gig was a relief and joy!
Setlist

01. Eating People is fun
02. CountryGods
03. How The Country Falls
04. Schizo
05. Mother Goddess
06. Doomed
07. American dream
08. Human Remains
09. Trojan whores
10. Moosehair underwear
Rating

Music 7
Performance 8
Light 7
Sound 7
Total 7 (7.3)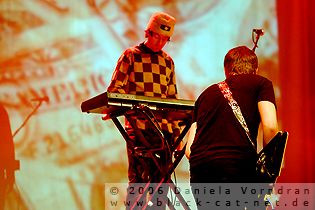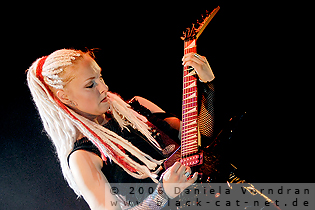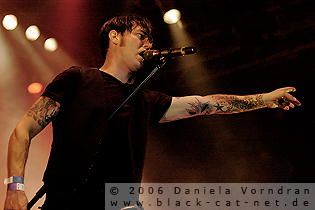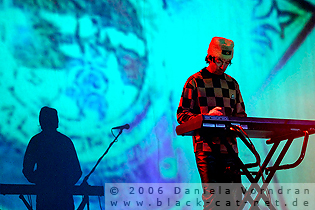 VNV Nation – Agra [JU]
Well, Mark Jackson and Ronan Harris aka 'VNV Nation' don't need an introduction anymore. 'VNV Nation' is the most successful Electro band of our scene (well, that is, if you put aside obvious Pop bands like 'Wolfsheim' and regard 'Apoptygma Berzerk' as Rock these days). Founded in 1990 as Ronan Harris' solo project and debuting with the album 'Advance & Follow' on Discordia Records in 1995, the band made their breakthrough supporting Swedish fellows 'Covenant' in 1998 and with the release of  "Praise The Fallen" on German label 'Off Beat'. Tour and album were the starting shots for an outstanding career.
http://www.vnvnation.com/
/
http://www.myspace.com/vnvnation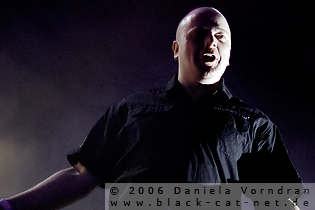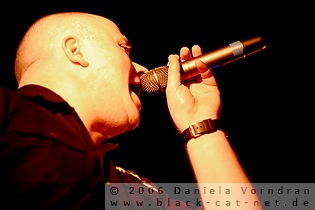 Music

The outstanding career of  'VNV Nation' found its first climax with the album "Empires" (1999) and its two hit-singles "Darkangel" and "Standing", which stayed at the pole position of the German alternative chart DAC for a total of  8 weeks! Last year 'VNV Nation's' latest album "Matter & Form" was released, an album where 'VNV Nation' opened their music to other influences, leaving all the predominant Trance elements of earlier days behind, and which had again a huge club hit with the single "Chrome".
Performance

Business as usual for Mr. Ronan Harris – 'VNV Nation' headlined the Saturday night at the Agra Halle and the exhibition hall was really, really packed! Even in the back I could hardly move as I was stuck between hundreds of other people. Like on their "Formation Tour" last year the duo Mark Jackson and Ronan Harris were backed up by two live keyboarders. "Genesis [c92]" was the intro for the show and people in the audience were in great mood from the start. The following "Chrome" rocked the whole venue and I guess people at the front suffered a bit from all the squeezing and pushing. For all those who saw 'VNV Nation' already a few times live on stage – and I guess literally everyone in the Agra saw one or two of the many many VNV shows – the show at the WGT offered nothing new. But Mr. Harris was in top form, and it's always a pleasure to watch this man live as he's a born entertainer.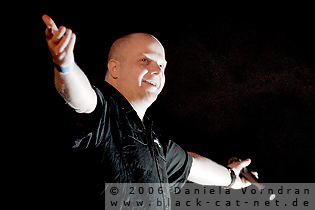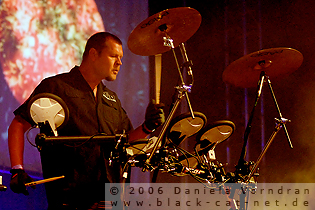 After three tracks from their most recent work "Matter & Form" my personal highlight followed, the slow and dark "Carbon" from the 2002 album "Future Perfect". "Epicentre" threw everyone back in dancing mood for the rest of the show, which featured two more songs from "Matter & Form" and the wonderful "motion"-version of "Standing". I was happy that they performed this version instead of the crappy dance version they used to perform at earlier tours. Of course the audience wanted more, so VNV Nation did a two-song encore with the unavoidable "Beloved" and the vocal version of "Saviour". It was again an entertaining show but as mentioned before nothing new for someone who saw 'VNV Nation' performing live numerous times before.
Setlist

01. Intro: genesis (c92)
02. Chrome
03. Arena
04. Entropy
05. Carbon
06. Epicentre
07. Homeward
08. Standing (motion)
09. Perpetual
--------------------
10. Beloved
11. Saviour (vox)
Rating

Music 6
Performance 9
Light 8
Sound 7
Total 7 (7.4)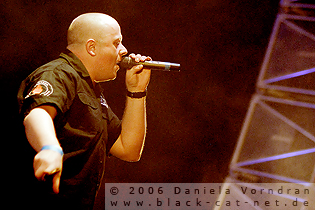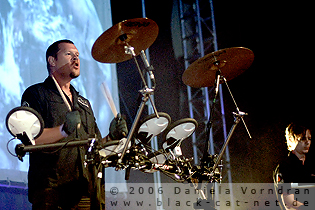 Vive la Féte – Agra 4.2 [JU]
Belgian band 'Vive la Féte' made an appearance at the Agra 4.2, a smaller venue next to the huge Agra Halle with the main stage of the WGT. 'Viva La Féte' is the project of Danny Mommens, bass player of the famous Belgian Rock band 'dEUS', and the blonde bombshell Els Pynoo. The couple founded their project in 1997 just to have some fun as they both had their main projects but after a couple of years and releases 'Viva La Féte' made weird turn into fame – especially in the fashion scene, where they even played live at one of Karl Lagerfeld's catwalk shows. It seems strange that such a band plays the Wave Gotik Treffen but it was a perfect match – not only because 'Vive La Féte' blend many 80s styles into their music but also because as a live act they have a good following in the Wave/Goth scene.
http://www.vivelafete.net/
/
http://www.myspace.com/vivelafeteband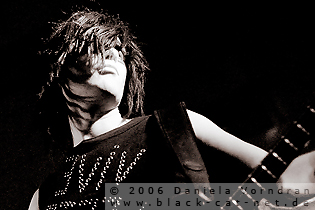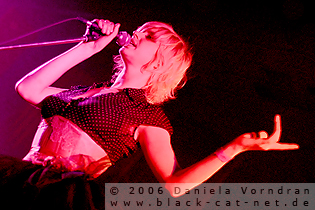 Music
On their studio works 'Vive La Féte' is Electro Pop and Electroclash meeting the most obscure influences. Danny Mommens displays his love for eighties Synth Pop, melancholic Cold Wave and back-to-basics Electronica, while Els delivers breathy vocals and self-penned lyrics, written in French, her way of paying tribute to her heroes like sixties chanteuses Brigitte Bardot and Jane Birkin and suave wordsmiths like Jacques Dutronc and Serge Gainsbourg . A unique and quite daring mix when 'Viva La Féte' started in the late 1990s. But just after a few years their sound was just perfect for the new movements in the Dance and Pop scene, which more and more took up 80s influences and song structures.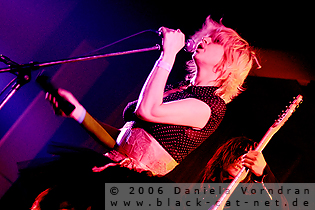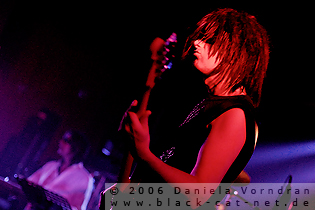 Performance

'Viva La Féte' live is a little different from their studio stuff. On stage the duo is backed up by Ben Brunin (bass), Matthias Standaert (drums) and Marc Requilé (keyboards). With Mommens playing the guitar 'Viva La Féte' is a lot more guitar-based on stage than in the studio. You can really tell that they love their Post-Punk/New Wave heroes from the eighties. 'The Cure', 'Joy Division', 'Human League' and early 'Depeche Mode' come to mind. And with such an exciting female singer especially 'Siouxsie & The Banshees'! I was surprised how packed the venue was as I wasn't aware that 'Viva La Féte' has such a good reputation among the Goth and Batcave crowd. This must be due to their extensive touring – and gosh, what a cool show they deliver! Singer Els knows how to play with audience and is a real diva, and the interaction with Mommens delivering the male vocals was quite fascinating. A very intense, sexy and uplifting performance. Hope to see them live again soon!
Setlist

1. Nuit Blanche
2. Hot Shot
3. Schwarzkopf
4. Verité
5. Machine Sublime
6. AC
7. Maquillage
8. Noir Desire
---
9. 2005
Rating

Music 8
Performance 8
Light 7
Sound 8
Total 8 (7.9)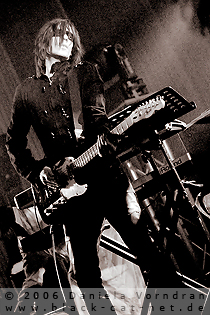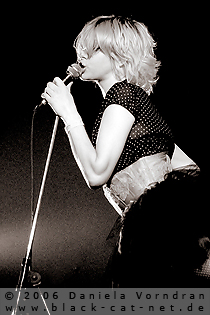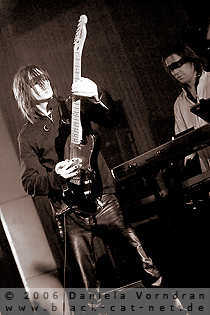 Sono – Agra 4.2 [JU]
Even more than 'Viva La Féte', 'Sono' is a quite strange guest at a Gothic festival. The Pop group from Hamburg were on the edge to the big mainstream success with their 2002 debut 'Solid State' and dance hits like 'Keep Control' or '2000 Guns', which got a lot of airplay in Germany and even had huge success in the US Billboard Dance Charts. But unfortunately they lost their contract with the major label Polydor after their debut success so that it took a while until they were able to release their second album 'Off' on PIAS in 2005. Similar to 'Viva La Féte', Lennart A. Salomon, Florian Sikorski, and Martin Weiland aka 'Sono' have some roots which qualify them as nice act for the WGT - which is in this case first and foremost Synth Pop.
http://www.sono.fm/
/
http://www.myspace.com/sonomusic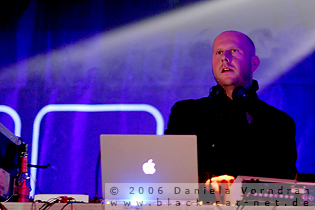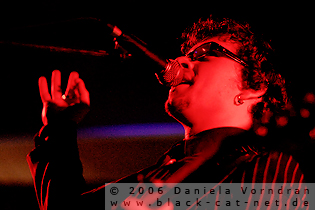 Music

As the band state themselves they "polish synth pop until it gleams, sprucing it up for the third millennium." 'Sono' is definitely a Dance act, but also a Pop group as they rely on traditional songwriting and put the souly voice of Lennart Salomon in the centre of their music. 'Sono' have such diverse elements from Breakbeat, House, Techno, Pop and Rock in their music, and the result is very modern Synth Pop.
Performance

Unfortunately after 'Viva La Féte's' gig many people left the Agra 4.2 so that the venue was a lot emptier when 'Sono' hit the stage. Nevertheless the Hamburg band had some die-hard fans in the crowd. Florian Sikorski and Martin Weiland occupied the back of stage, hidden behind a lot of equipment, leaving the whole front of the stage for their front man Lennart Salomon. 'Sono' started with an extra-long version of their single "A New Cage", which preceded their second album. The track, albeit pretty long for an opener, got everyone grooving.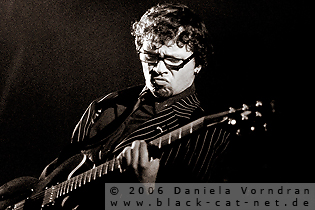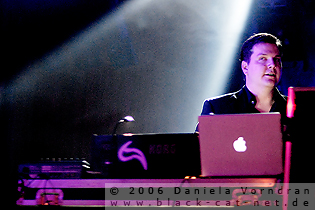 Their best-known track "2000 Guns" followed to much applause. Singer Lennart, who also plays the guitar on stage during some songs, ended the song by jamming Depeche Mode's "Personal Jesus" – a great moment which got the whole place cheering. He remarked jokingly that it would be a nice tune but he's still working on it and, off the microphone, "I knew everyone from the Depeche forum is here". This precious little moment explains a lot of the charm of 'Sono' performing live. They're not playing the cool stars, they are very down-to-earth and natural and feel close to their audience. "Open The Door" from "Off" with its irresistible groove and the balladry "Still the Drug" from their debut followed, and then the gig had its climax with the club hit "Keep Control" – and a way too early end. A very short set which left you wanting more, but this shows that it actually was pretty good!
Rating

Music 8
Performance 7
Light 6
Sound 8
Total 7 (7.4)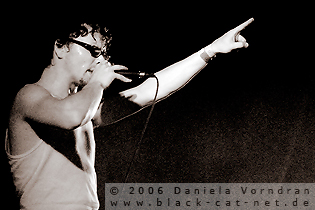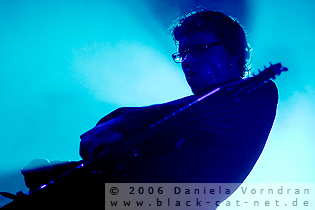 More pics on Black-Cat-Net

{jos_sb_discuss:18}
Reviews:

Daniela Vorndran [DV]
Jenny Thorell [JT]
Jörg Uhlenbruch [JU]
Karolina Moszkowicz [KM]
Mattias Nordgren [MN]
Pictures:

Daniela Vorndran (all if not stated different)
Falk Scheuring (Destroid)