Written by Anne Kuhfuß & Florian Schürmann Wednesday, 11 July 2012 13:34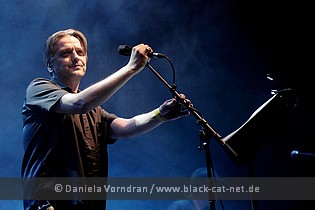 Leipzig, Germany
25th-28th May 2012
21. Wave-Gotik-Treffen Day 3: Mark Benecke, The House Of Usher, Mono Inc., Diary Of Dreams and Peter Heppner

The third day of this year's WAVE GOTIK TREFFEN began with a lot of waiting… it was time to see DR. MARK BENECKE. Also, bands like MONO INC., DIARY OF DREAMS and PETER HEPPNER made sure that the visitors of the Agra had some great entertainment. The weather was just as great as it was the days before, so we were off to a good start to enjoy another day at the WGT 2012.



Dr. Mark Benecke - Centraltheater (Florian Schürmann & Anne Kuhfuß)

DR. MARK BENECKE is a forensic biologist. Benecke was born in Germany in 1970. After receiving a Ph.D. at Cologne University in 1997, he worked in the Chief Medical Examiner's Office in Manhattan, New York from 1997-1999. As of 2008, he works internationally on forensic cases as a freelance expert witness. He also teaches at various police academies and acts as a visiting professor to universities in Germany, England, Vietnam, Colombia and the Philippines. Benecke has published several popular science books about the biology of aging, criminal cases and forensic biology. He is a member of the editorial board of the "Annals of Improbable Research" (Cambridge, USA), guest editor for "Forensic Science International", and scientific advisor to the German sceptic organization GWUP, where he publishes sceptical articles on various topics, including his attempt to explain alleged signs of vampirism. http://www.benecke.com/ / https://www.facebook.com/markbenecke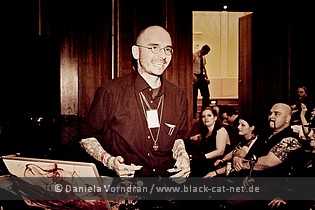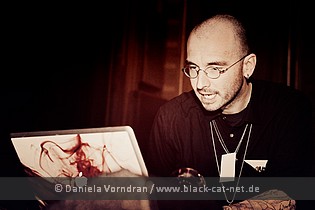 Like every year, DR. MARK BENECKE invited all the visitors to see his lecture on forensic biology - and like every year, one had to be there early because everybody wants to be part of the audience. Entering the Centraltheater, one could already hear the music DR. BENECKE was playing. That was getting everyone into the right mood for the following lecture on his every-day-life. For one hour he showed us pictures of a special crime scene which apparently was one of his hardest mysteries to be solved. Everybody who managed to get one of the 666 seats that day was pleasantly entertained by BENECKE's great way of speaking and telling jokes along the way. It was a very interesting lecture and a nice change to all the concerts happening all the days.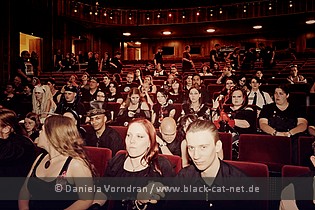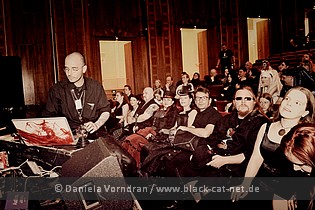 The House Of Usher - Agra (Florian Schürmann & Anne Kuhfuß)

In 1990, THE HOUSE OF USHER founded, back then still without any drummer, so a drum computer would be taking over that job until 1994 after the release of the debut album 'Stars Fall Down'.1995 became a year of reformation and 1996 saw the release of the single 'Succubus' and in the following the album 'Zephyre', followed by a couple live gigs. Two years later in summer, The 'Black Sunday Chronology' was put out to the increasing fan base, who soon would be getting a self-released live CD of the tour they did with MIDNIGHT CONFIGURATION in 1999. Over ten years later, they're still holding high the flags of a more classic direction of the Goth rock genre and have released their newest album 'Pandoras Box'. THE HOUSE OF USHER is Jörg Kleudgen (vocals), Tom O'Connell (guitar), Georg Berher (guitar), Ralf Dunkel (bass) and Axel Burgard (drums). http://www.the-house-of-usher.de/ / http://www.myspace.com/thougothicrock / https://www.facebook.com/thehouseofusher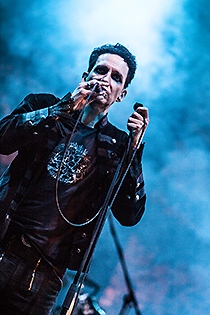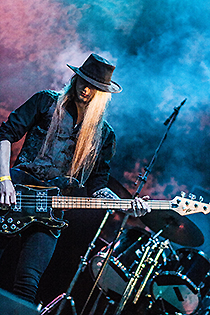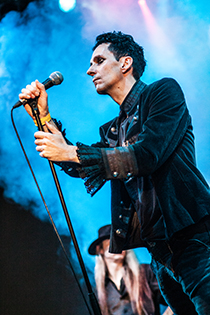 Music & Performance
After having some troubles and being late for the band before, we just made it to THE HOUSE OF USHER in time. One of the biggest bands of the 1980s when it comes to classical Goth rock was ready to entertain the Agra and began with a strong start. The sound was a little too loud like it is always the case in the Agra. The band played a mixture of guitar driven rock combined with slow gothic sounds. Jörg's voice is quite clear which make it nice to listen to it. Minimalistic songs were played just as well as some more complex and heavier songs. The quite big crowd in front of the stage supported the sound, danced along and screamed loudly throughout the band's performance. However, I couldn't really get myself to liking the band and the performance. The songs seemed to be repetitive at some times and rather boring. All in all, it is probably a matter of taste if you like the band or not. They did a solid show and entertained quite a big crowd. For me, it will not become a band I will look after in the future.

Rating
Music: 7
Performance: 7
Sound: 7
Light: 7
Total: 7 / 10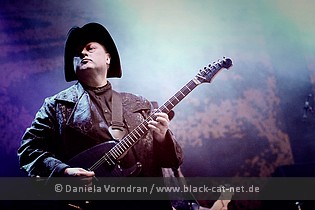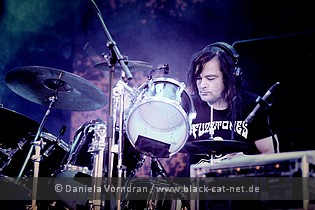 Mono Inc. - Agra (Florian Schürmann & Anne Kuhfuß)

MONO INC. formed as MONO69 in 1998, beginning of 2003, Manuel Antoni fills in the vacant position as bassist and hence completes the line-up. The self-released debut 'Head under Water' followed then in autumn 2003. The year 2006 brought one of the worst surprises a band is able to encounter. The departure of their former singer, however a proper replacement was to be found quickly with drummer and songwriter Martin Engler. Katha Mia would take over drum duties for him from there on. As it turns out, the idea to put Martin to the front wasn't a bad one at all; ever since the band has grown more popular than ever expected. 2007 sees the release of the next record 'Temple of the Torn' to be followed only one year later, exactly in June 2008, with the third album 'Pain, Love & Poetry'. The band's newest album is named 'Viva Hades' and was released in March 2011. MONO INC. is Martin Engler (vocals), Manuel Antoni (bass, vocals), Katha Mia (drums) and Carl Fornia (guitar, vocals). http://www.mono-inc.com/ / http://www.myspace.com/monoincmusic / https://www.facebook.com/monoinc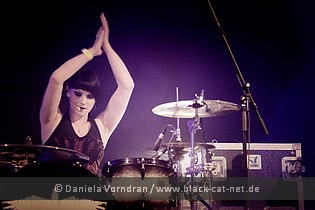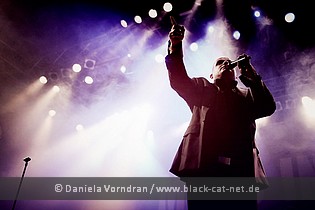 Music & Performance
MONO INC. is a band which seems to be everywhere during the past years. They made their way to the top in no time and are now part of every line-up when it comes to gothic and rock festivals. And so, it was no surprise that MONO INC. were part of the WGT 2012. In order to please all the fans in the crowd, the band did a survey and asked everybody to name their favorite songs. The result was the setlist – needless to say that all the fans really enjoyed the performance. However, MONO INC. (festival)concerts seem to be the same every time they enter the stage. The band plays their songs, Martin (vocals) takes his guitar and sits down playing some song, followed by Katha (drums) who comes out with a camera and films the crowd for one of their little shows on youtube. Nevertheless, the band knows what they are doing and that is probably also why all the songs follow the same pattern and could also be played by every other band. There is nothing unique to the band's sound.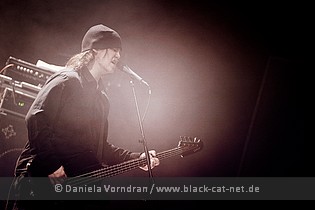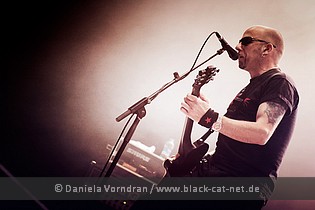 The band did a great job on stage but it seemed to be almost like a routine. MONO INC. is probably the band that does most for their fans. They always give autographs, interviews, take picture, talk to everybody and take their time to be there for their fans. So, there is nothing bad to say when it comes to their interaction with the audience. Summarizing, one can say that MONO INC. always do a good show and try to please their fans. However, a little more variety wouldn't hurt in my eyes.

Rating
Music: 7
Performance: 8
Sound: 8
Light: 7
Total: 7.5 / 10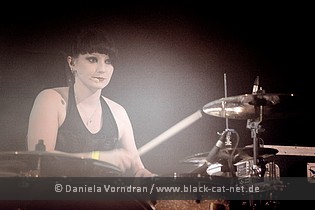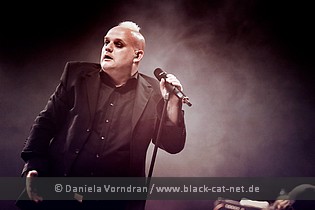 Diary of Dreams - Agra (Florian Schürmann & Anne Kuhfuß)

Since 1989, DIARY OF DREAMS enchants a still growing fan base all over the world with beautiful and at times fragile tunes. Already 1.5 years after 'Nekrolog 43', the latest album '(if)' was released on 13th March 2009. In October 2009, the 'King of Nowhere' MCD including a brand new video clip has been released. In early 2010, the band was supporting UNHEILIG on their "Große Freiheit" tour. As a vanguard to the upcoming new album 'Ego:X' the track 'Echo in Me' was released digitally with the fans being able to choose what they'd like to pay for the download. 'Ego:X' has been released at the end of August 2011. In June 2012, there was already another new release out, the 'Dream Collector Ii', a compilation of re-worked best-of songs. DIARY OF DREAMS is Adrian Hates (vocals), Gaun:a (guitar), Flex (guitar), Dejan (drums) Taste on keyboards. http://www.diaryofdreams.de / http://www.myspace.com/diaryofdreams / https://www.facebook.com/officialdiaryofdreams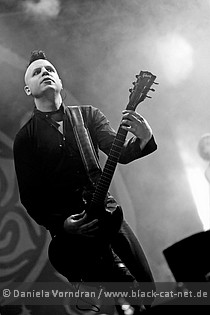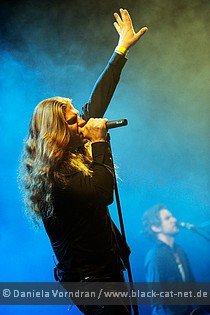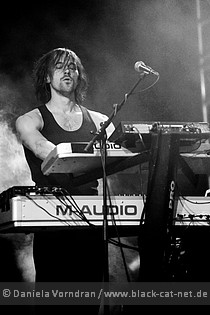 Music & Performance
DIARY OF DREAMS was a band I was looking forward to since I saw the name on the billing. So, we were there as the band entered the stage at the Agra that Sunday. The members stepped on the stage one after another and opened their concert with the well-known 'The Wedding' which immediately grabbed everyone's attention. The audience was singing along, dancing to the beats. I really like DIARY OF DREAMS' way of combining slow yet heavy guitar sounds with powerful lyrics and Adrian's amazing voice. It is always a pleasure to watch the guys on stage and so it was at this year's WGT as well. The mood was great and songs like 'The Curse' and 'Son Of A Thief' got everyone going.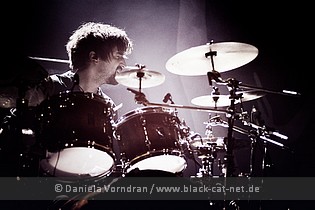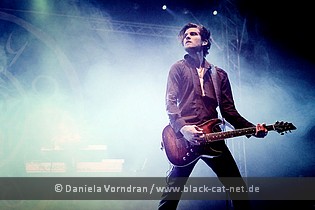 This day, the band also seemed in such a great mood that there was no way around of having a good time during the hour the band entertained the audience at the Agra. As mostly, the set ended with obligatory 'Traumtänzer' when people all alone sang the refrain. What a great concert and a nice 'opener' for the upcoming midnight special PETER HEPPNER AND BAND!

Rating
Music: 9
Performance: 9
Sound: 8
Light: 10
Total: 9 / 10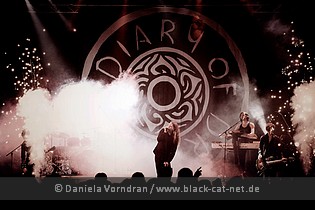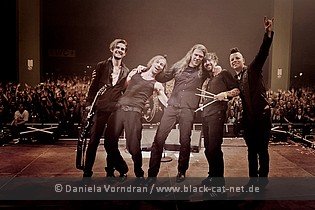 Peter Heppner - Agra (Florian Schürmann & Anne Kuhfuß)

In September 2008, PETER HEPPNER finally released his long-awaited solo debut, aptly titled 'Solo', containing electronic gems, ranging from softly melancholic to even danceable stuff, always with the lyrical depth the fans know and love this man for. After having played a couple dates in 2009 already, PETER HEPPNER and his band return for more in 2010, playing a program not only comprising songs of the 'Solo' album, but also featuring songs out of collaborations he did for instance with SCHILLER or PAUL VAN DYK. Peter Heppner's much-anticipated second solo CD 'My Heart of Stone' was released on May 18th, through Universal Music (DE). My Heart of Stone entered the German album charts at #6. The live line-up is composing of Peter Heppner (vocals), Lothar Manteufel (keys), Carsten Klatte (guitar), Dirk Riegener (keys) and Achim Färber (drums) while Manteufel was not taking part at the WGT show. http://www.peter-heppner.com/ / http://www.myspace.com/peterheppner / https://www.facebook.com/peterheppneroffiziell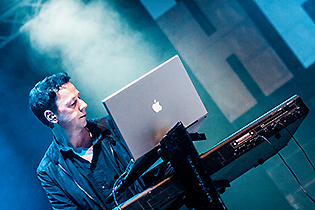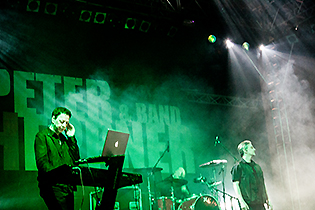 Music & Performance
A special highlight of every WGT is the "Mitternachtsspecial" (midnight special) which always offers well-known bands and is promised to bring big names to the Agra. This year, PETER HEPPNER and band made their way to Leipzig and entertained the fully crowded Agra. The voice of WOLFSHEIM and one of the biggest names in the German Electro-Pop scene entered the stage and was awaited by many anxious fans. HEPPNER appeared to be rather reserved which made him even more sympathetic if you ask me. He introduced all the band members and finally himself with the words: "and I am Peter, I am singing here". During the concerts, the band played big songs like 'Kein Zurück', 'Leben – I feel you' or 'Meine Welt'. Those songs were supported by a big range of fans singing along and dancing. It was really great to see how PETER HEPPNER managed to enchant everybody with his unique and thrilling voice.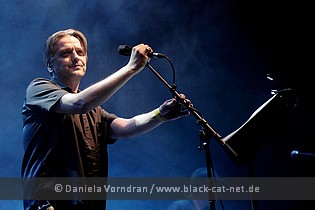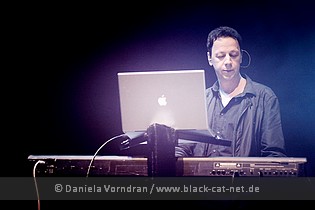 Of course, 'The Sparrows and the Nightingales' made it on the setlist. This song was the one that introduced HEPPNER/WOLFSHEIM in the gothic scene and probably everybody in the audience had some kind of memory with it. The concert ended with 'Die Flut' which was originally recorded with JOACHIM WITT. However, WITT was not missed during the song. Summarizing, there is nothing more to say than: great show, great songs, and an amazing voice. Once more, it was a special midnight performance at the WGT.

Rating
Music: 10
Performance: 9
Sound: 9
Light: 8
Total: 9 / 10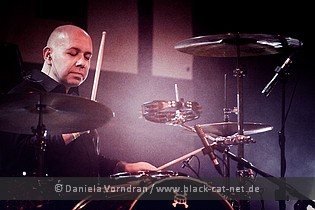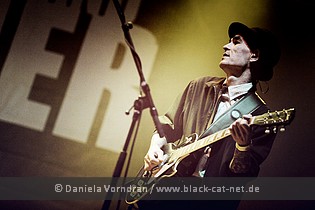 Pictures by Daniela Vorndran (Dr. Mark Benecke, The House of Usher, Mono Inc., Diary of Dreams, Peter Heppner -http://www.vorndranphotography.com / http://www.black-cat-net.de/ / www.myspace.com/vorndranphotography /www.facebook.com/blackcatnet) and Anne Kuhfuß (The House of Usher, Peter Heppner)