Written by Madlen Köhn Thursday, 22 March 2007 11:21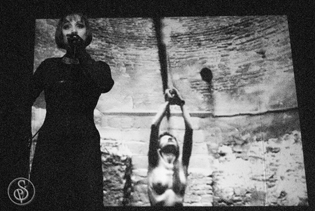 Universal D.O.G., Lahr, Germany
17th March 2007
Dark Dance Treffen 21: Dolls of Pain, Eisbrecher, Die Form, Neon Cage Experiment, Stahlfrequenz, Dive

The first Dark Dance Treffen 2007 was announced as a mostly electronic one. Except of EISBRECHER all bands were making electronic music. So we were not sure, whether this could be interesting for as much people as the other dates did. We arrived quiet early and the main floor wasn't already open. So we got our welcome drink and hugged some friends. Between the concerts we visited the "Art in black" photo exhibition. The photographer showed some of his best works in the café and even with a beamer projection at the entrance.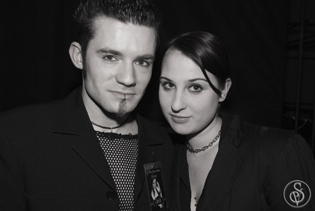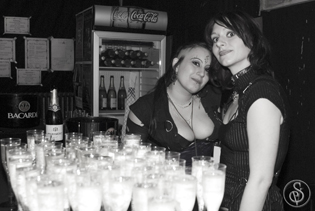 As usual there were different dance floors with nearly all styles of music, but we liked the Depeche Mode floor most. DJ Gillian is not only a very good and varied worker, his enthusiasm is so infectious. This time the market stalls got less, but the special area for eating and of course for the Met and Absinth was a highlight.


Dolls of Pain

The French band was formed in 2003 and released their first album in 2005. Their new album 'Slavehunter' is announced for the 9th April. The line-up is set with Laurent "Notre Guide" (vocals, lyrics), Machine (keyboards programming), Hyp7nO (samples, background voices, noises) and Philippe (sound engineer). http://www.dollsofpain.com/

Music
So they were the first band of the evening. We already knew this was going to be an electronic one. Their style is not easy to describe. It's all electronic, but mixing Industrial, EBM, some kind of Synth and Pop melodies. Laurent distorted his voice, something we never like.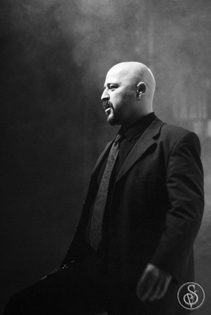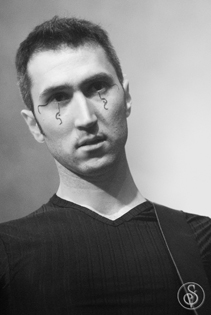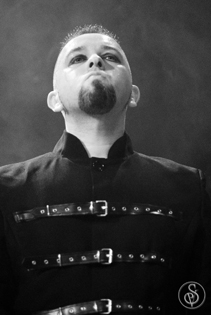 Performance
It was something like a typical "electro-performance". Laurent ran over the stage and the other musicians moved behind their instruments. Because of having a guitar live on stage this concert got something fresh in it. 

Rating
Music 5
Performance 5
Light 5
Sound 7
Total 5.3


Eisbrecher

In 2003, Alexx Wesselsky left MEGAHERZ and started his new work with Noel Pix as EISBRECHER. The debut album 'Eisbrecher' was released in 2004 and the second album 'Antikörper' in fall 2006. Actually, the band is set up with Alexx (vocals), Noel Pix (guitar, programming), Jürgen Plangger (guitar), Maximator (keyboards, programming), René (drums, percussion) and Martin Motnik (bass). Alexx is also known as a TV-host with his own show "Der Checker". http://www.eis-brecher.com/

Music
Right from the start they reminded us of RAMMSTEIN, although their melodies got more electronics in them. Fortunately the guitars always lead the songs and Alexx got a clear voice. Jürgen Plangger, who played the guitar, is also the singer of A_life[Divided]. He had a good stage presence.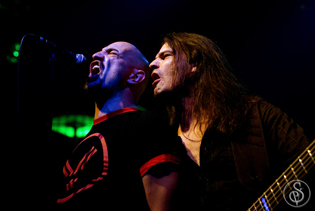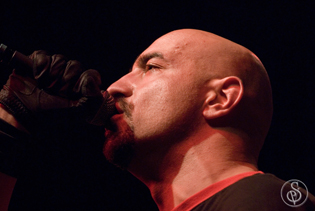 Performance
Alexx is truly an entertainer. Although it was sometimes a little bit too much acting and being a macho. All together it matched to the whole show though. Alexx seemed to be in a good mood. He talked a lot in-between the songs and even revealed his age (38). He told us about having such young musicians with him (no one over "fucking 20"). The audience liked their show a lot. They were many head bangers seen.

Rating
Music 8
Performance 8
Light 7
Sound 8
Total 7.9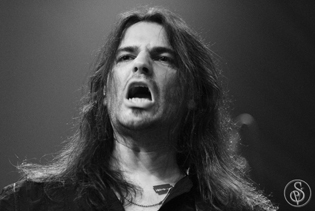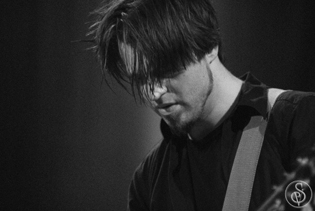 Die Form

The French band was formed in 1977 and until now they released more than thirty albums and singles. They are one of the basics in electronic and industrial music. Philippe Fichot is also a well-known photographer and he creates all artworks of the band. The band is especially known for their extravagant and strange stage performances. Even in the early years they used erotic themes and distracting pictures. http://www.dieform.net/

Music
So, this was our first concert of DIE FORM, which isn't unusual, because they didn't play in Germany for eight years. We already knew some songs before the concert, so we knew what kind of music to expect. Besides that it was obviously shown, that some of the visitors didn't know what this was going to be. Since 30 years (yes, THIRTY) they are making electronic music like nearly nobody else. It's always melodic, but contains strange sounds and side melodies. It's not always danceable, although they had some club hits. In our opinion most of their songs can be used for performance shows or something like that, but not for clubbing.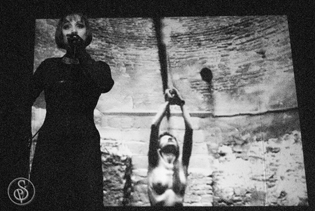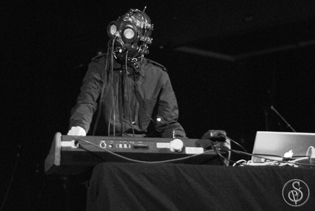 Performance
What shall we say! They are not only a band, but a performance project. Eliane P. used her very high and clear voice. Behind her there was a video projection with some "typical" pictures, if you know their artwork. They got also a performance dancer with them. At the beginning, she seemed to be caught in something like a spider net at the edge of the stage. This net got thrown away and after that she danced behind and besides Eliane P. Sometimes it was strange to look at her in her weird costume and making faces. Philippe wore the strangest costume – something like a big gas mask with huge buckles and tubes. Unfortunately there was so little light on stage that Eliane P. got only a little red spot above her.

Rating
Music 6
Performance 8
Light 2
Sound 7
Total 6.2


Neon Cage Experiment

In 2003 the musicians started a project called AW4. After the first concert they completed the line-up and re-named themselves into NEON CAGE EXPERIMENT. All musicians had already experience with other electronic projects and they knew each other from touring in the past. Their debut album 'Conscillations' was released in 2004 and the new one 'Material and methods' is announced for the next months. The current line-up is set with Laurent K. (vocals), Nicolas R. (piano, drum kit), Bruno L. and Yoann B. (programming). http://neon.cage.experiment.online.fr/

Music
Their electronic music is based on sounds, samples and some lyric fragments of Laurent. Their studio songs have their own atmosphere, which is created by the samples. Unfortunately this sound could not be transported to the stage here.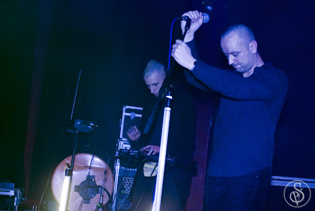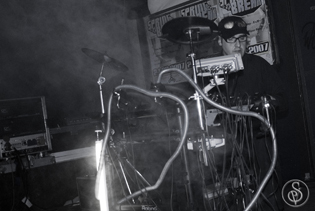 Performance
Due to technical problems Laurent seemed to be very angry and disappointed. It was obviously shown, that they weren't contented with the circumstances. The audience wasn't happy with that either. Sometimes it was hard to stand the sounds and the loudness.

Rating
Music 5
Performance 4
Light 2
Sound 2
Total 3.8


Stahlfrequenz

The duo Markus Houben & Klaus Richter from Cologne released their first album 'Erstschlag' in 2004 and the second one 'Coma Themes' in 2006. http://www.stahlfrequenz.de/

Music
That was hard! Their harsh, forcing beats made the ground shake, the glasses clink and the ears nearly bleed. They often reminded us of FEINFLUG, using similar samples and melodies. They also use this industrial and cold artwork.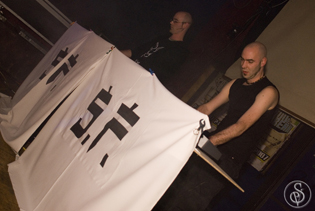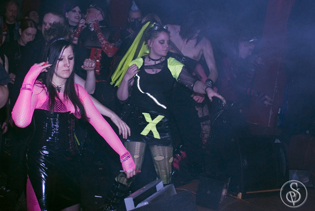 Performance
Sorry, but that wasn't a concert, that was nothing more than a DJ-set. They stood behind their machines and controlled the effects. In total opposition to their non-movement the audience nearly went mad. They danced, marched, stomped and moved. That was a pleasure, so the actors on stage became irrelevant.

Rating
Music 5
Performance 1
Light 1
Sound 6
Total 3.4
Dive
Dirk Ivens, head if DIVE, is also know from several other projects – THE KLINIK, SONAR or ABSOLUTE BODY CONTROL. The Belgian guy is some kind of institution in the electronic music scene and each of his projects has its special charm.
http://www.dirkivens.com/
Music
The one man project DIVE concentrates on minimalist electronic sounds for about 17 years now. The sounds are underlined with Dirk's chant more than dominated by it.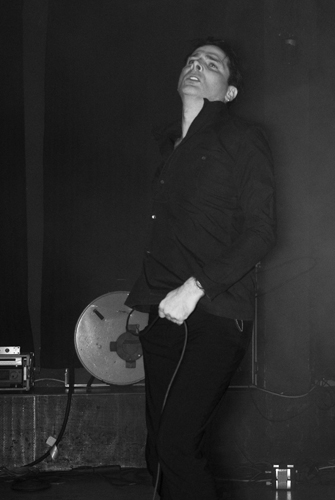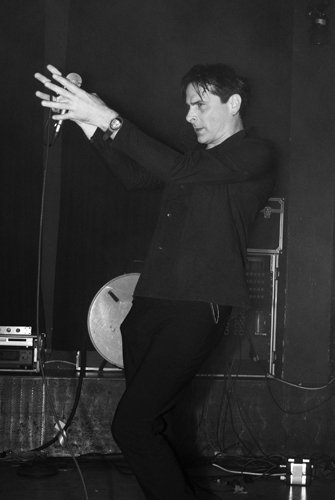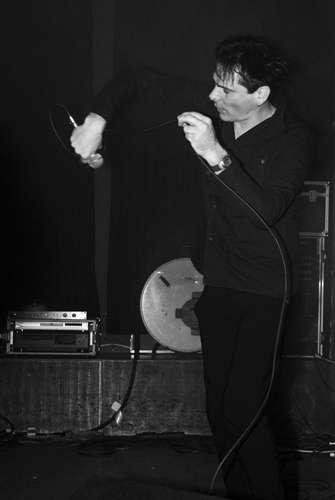 Performance
The performance of DIVE was surely the highlight for all dance maniacs in the "Maschinenraum". Sharp at 2:30the show started. This was surely a perfect show for all the fans, but for us it was simply much too dark. You had to search for Dirk Ivens on stage in-between single strobe flashes.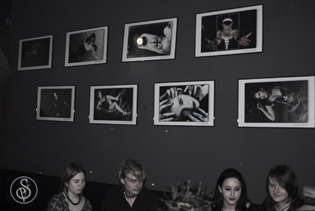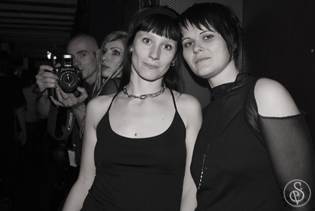 {jos_sb_discuss:18}