Written by D. Vorndran, Niggels, P. Smets, S. Huhn Thursday, 31 July 2008 17:58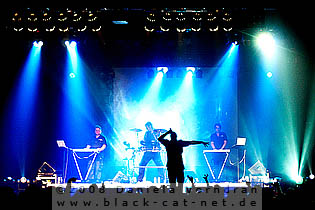 Expo, Waregem, Belgium
25th to 27th July 2008
Gothic Festival Day 1: Dolls of Pain, Psyche, Pressure Control, Elusive, Reaper, [:SITD:], 32Crash, The Crüxshadows, Fixmer/McCarthy, Clan of Xymox, Absolute Body Control, VNV Nation

"One Frieten, please"
"Met saus?"
"Ja, gerne. Sauce Americaine, s'il vous plaît. And salted."
"Here you are. Bon appetit!"
"Bedank U wel!"


Welcome to Belgium, the heart of Western Europe and the country with the most international festivals. Not just regarding the performing bands, but also in respect to the many different tongues you hear there. The Gothic Festival in Waregem is surely no exception here - and just as a side note, the situation described above truly happened at one of the catering stalls at the festival site.


On the weekend of the 25th to the 27th July many fans from France, the Netherlands, the UK, Germany, and (of course) Belgium and in individual cases also from more faraway places like Poland, Spain or even the USA came to the beautiful city in the Flemish part of Belgium. And they have good reasons to travel even long ways - a nice location, fair prices for catering, a very relaxed and open-minded atmosphere and last but not least a fantastic line-up plus the mentioned international flair. Last year, the Gothic Festival was the best festival of the year, and probably in quite some years, for the Reflections of Darkness team, so we simply had to embark on the journey to Waregem in 2008 too.
Dolls of Pain - [Club Stage - JU]

The band has been formed in February 2003 by Olivier (keyboards, synths) and Cedric (backing vocals, samples & noises) and soon the work on the first titles started. The singer Laurent and guitarist Stephane joined the band several months later and in 2005 they signed to the Swiss label Urgence Disk Record and released the first album 'Dec[a]dance' in 2005, followed by the second output 'Slavehunter' a good year later. Meanwhile they've played various concerts in Germany, Belgium. Switzerland etc.
http://www.dollsofpain.com/
/
http://www.myspace.com/dollsofpain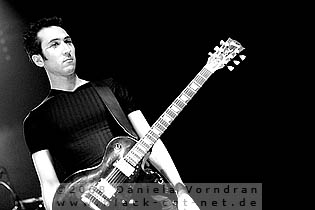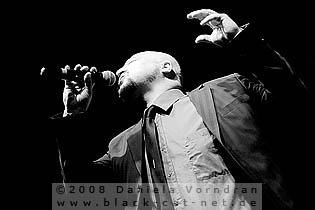 Music & Performance

Although PSYCHE was announced as the "special opening act", DOLLS OF PAIN came before them at the club stage of the Expo Hall in Waregem. It was 1 p.m. and at this early time not too many people had already turned up at the venue, although I would have expected even less. No idea why the Gothic Festival started that early, not everybody is able to take a day off from work (or university, school, whatever) and even if so many have long ways to travel and were still on the way, however, DOLLS OF PAIN entered the stage to perform their harsh Electro sound. Front man Laurent, wearing a suit with red shirt and black tie, didn't look like the typical cliché for a band from this genre, and having a guitarist in the line-up did add a special note sonically. But for the most part DOLLS OF PAIN do not sound too differently from the myriad of bands which make hard, heavily distorted "Hellectro". But I'm sure they will shape their own identity a little more in the course of their further career. In Waregem, they opened up the Gothic Festival as loud and ass-kicking as they could, and this quite successfully.
Rating

Music: 6
Performance: 7
Sound: 8
Light: 7
Total: 6.8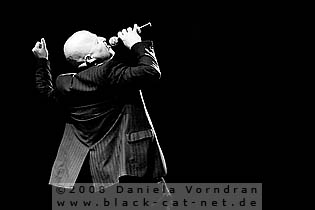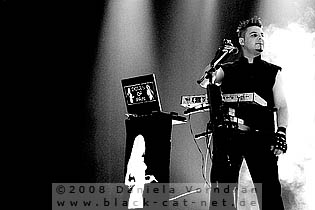 Psyche - [Main Stage - JU]

PSYCHE is one of those bands that hold a cult status even beyond the borders of independent music. Like all big names they also started very small with the brothers Darrin & Stephen Huss founding the band in 1982. However, first material wasn't released until 1985 with the now legendary self-produced debut 'Insomnia Theatre' only marking the start of a remarkable career that lasts for a quarter century now; a career that brought forth such evergreens as 'Unveiling The Secret' from the same-titled second album with which they achieved their European breakthrough and the unforgettable 'Misery' from the 1989 output 'The Influence' as well as countless other hits raising their popularity to remarkable heights. Darrin who is the only constant member since the foundation always was eager to experiment and so the sound was subjected to an unhesitant change, so the fans never could be sure what would follow next yet they knew that the essence of PSYCHE would never change and it hasn't until today.
http://www.psyche-hq.de/
/
http://www.myspace.com/psyche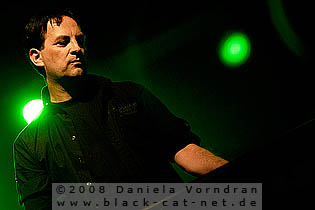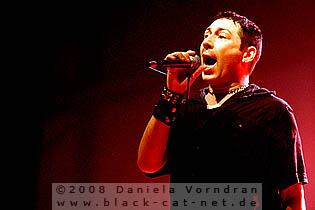 Music & Performance

"Scream as loud as you can!" commands PSYCHE mastermind Darrin Huss halfway through the set, and the little crowd in front of him was happy to comply with that. Darrin performed with yet another keyboarder - a certain Frank from Cologne/Germany - but he and his voice are the focus of PSYCHE anyway. Unfortunately Huss' voice struggled a bit during the first song but he found back to form rather quickly. Later into the gig his vocals were impressive as ever. A beautiful new version of the classic 'Unveiling the Secret', which also featured an acoustic guitar (albeit played by the laptop, hehe), was quite stunning in particular. But besides some PSYCHE classics we also got quite a number of cover versions - as Huss pointed out quite rightly PSYCHE have enough good songs on their own, but hey those cover versions are cool!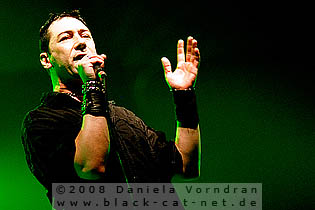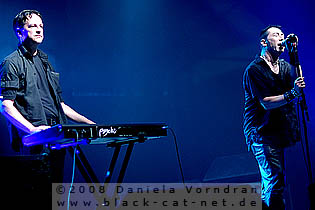 During JOY DIVISION's 'Disorder' (now available as a neat 7" vinyl) Huss freaked out and danced wild - quite apparently he absolutely loves this song - and 'Goodbye Horses' was a crowd pleaser as usual. Before PSYCHE left the stage they did yet another cover, and Huss told us the reason for the choice: "Let's face it, without this band I wouldn't be on stage now!" What followed was SOFT CELL's 'Sex Dwarf', and Huss' performance was sweaty, stomping and delirious. PSYCHE got is in the right festival mood with some great Electro Pop tunes of their own and some covers which everybody knows, or at least should know. I just hope that the promoters of all the festivals will realize that a band with such a history and which is still going strong deserve a better placement in the line-up. [Yes, take this as a broad hint that PSYCHE should be invited again to perform at the club stage later in the evening *g*].
Rating

Music: 8
Performance: 8
Sound: 8
Light: 6
Total: 7.7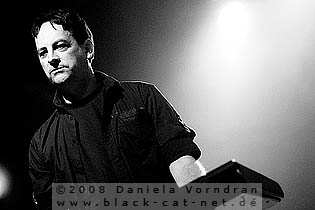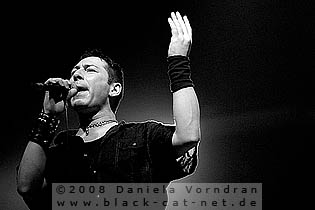 Pressure Control - [Club Stage - JU]

Gin Devo, also a co-founder of VOMITO NEGRO, created PRESSURE CONTROL in 2002 and after an intense studio period, he and his keyboarder Manie Gance decided to go public with the project and played their very first gig, where they attracted the attention of both; the organizers of the Belgian Independent Music Festival and Dirk Ivens; and it was the latter one, who eventually gave them a deal with his own label Daft Records, where they release their debut 'Vamp' in 2004. After keyboardist Manie suddenly died in 2005, the project was on hiatus for a while to return now stronger than ever and with new material in preparation. PRESSURE CONTROL is Gin Devo (vocals, programming, production) and Borg (backing vocals, live electronics & percussion).
http://www.myspace.com/pressurecontrol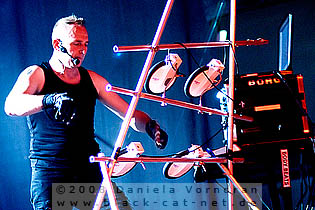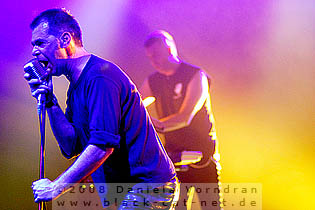 Music & Performance

I have to admit that I wasn't prepared for what was to come when PRESSURE CONTROL entered the club stage. The recollection that this project has something to do with VOMITO NEGRO was echoing in my mind but obviously I did not hear it ;-) because it took me absolutely by surprise to hear the 1989 track 'Baby Needs Crack' by the famous Belgian EBM pioneers as the second song of the show. Sometimes being a little forgetful delivers a big thrill. ;-) PRESSURE CONTROL played four VOMITO NEGRO songs in total during their gig, each and every one announced by the VM logo on the huge video screen behind them.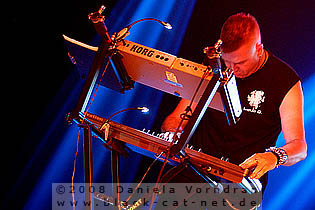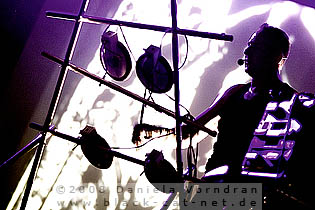 The friendly middle-aged gentleman at the mike turned into an energetic maniac in no time and his energy translated well onto the increasing crowd. No matter if the performed songs were PRESSURE CONTROL material or tracks of Gin Devo's former project (founded as early as 1983!), the music was persuasive and strong. Good EBM does not need exorbitant distortion, it sounds rough and dark anyway. Thanks for reminding me on this! PRESSURE CONTROL was an unexpected early highlight of the Gothic Festival, and I can't wait to see them again!
Rating

Music: 9
Performance: 9
Sound: 9
Light: 7
Total: 8.7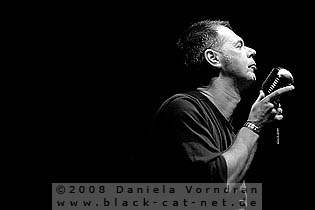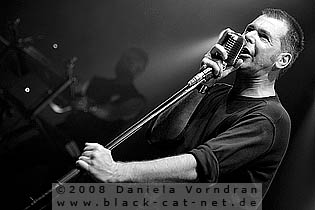 Elusive - [Main Stage - JU]

The Norwegian four piece left a distinct mark with their widely-praised debut album 'Destination Zero' even labelled as the best debut album since 1986 and it wasn't long until they played big shows in Norway and abroad as on the M'era Luna for instance. In 2005 the much anticipated second album 'The Great Silence' hit the shops and proved to be a big step forward in the evolution of the band. Two years the third album with the catchy title 'Locked Doors, Drinks And Funerals - Songs From The Desert' which included the song 'Destination Zero' initially intended to be the opening track of the first album, but would have destroyed the balance according to band member Tommy Olssen. ELUSIVE is Jan Kenneth Barkved (vocals), Tommy Olsson (guitars, programming), Kristian Gundersen (guitars) and Syntax Error (drums).
http://www.elusive.no/
/
http://www.myspace.com/elusiveno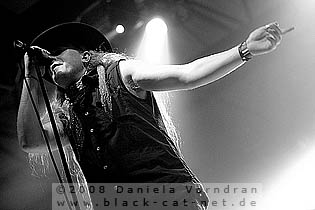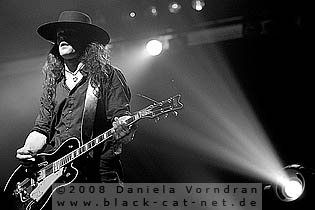 Music & Performance

Using a drum machine like the good old SISTERS OF MERCY, hiding their long hair under cowboy hats like the good old FIELDS OF THE NEPHILIM, the Norwegian four-piece ELUSIVE lined up at the edge of the main stage to bring us their version of Gothic Rock - with a big stress on *Rock* and being musically pretty evocative of just another hero of the 1980s - BILLY IDOL! At the bar you heard comments like "That's a Billy Idol cover, isn't it?" more than once but every time it was in fact an ELUSIVE original. Hm. Are our Norwegian friends really that fond of BILLY IDOL? However, they performed well but I cannot claim that I was too impressed.
Rating

Music: 5
Performance: 7
Sound: 8
Light: 7
Total: 6.4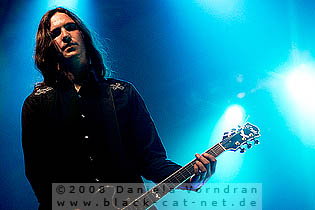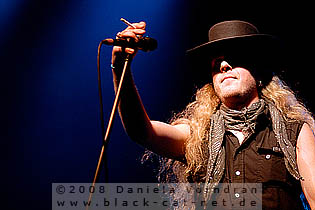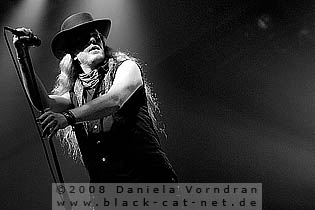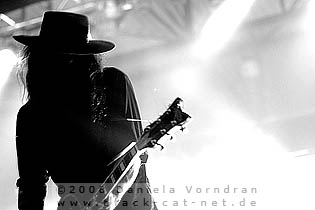 Reaper - [Club Stage - JU]

The project was founded by Vasi Vallis, known through NAMNAMBULU and the follow-up project FROZEN PLASMA as side project just for the sake of fun. The harsh industrial club music he produces with REAPER is on heavy rotation in the clubs. His latest release is called 'The Devil is Female' and hit the stores in November 2007.
http://www.reaper-music.de/
/
http://www.myspace.com/reapermusic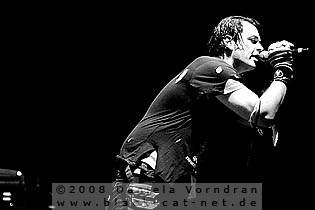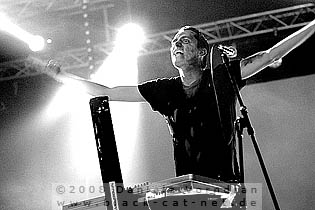 Music & Performance

A few weeks earlier, REAPER delivered one of the loudest gigs at the Blackfield Festival in Gelsenkirchen - in Waregem they started on a low volume, with the voice mixed in a bit too loud. But what was a disadvantage at the beginning turned out to be an advantage during the further course of the gig, when things were a bit more balanced sound-wise. Vasi Vallis' shouts sounded rough and he commanded the crowd quite well, and the stomping Techno beats of REAPER made sure that there was a lot of wild dancing in the audience.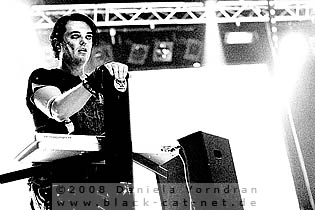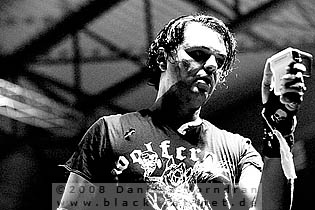 For all the Cybergoths with their black/neon clothes and dyed hair it was the first highlight of the day, and although I'm old enough to remember that Industrial music is something else than this I was entertained well enough by songs like 'Robuste Maschine' featuring Vasi and Gregor on keys, 'Twisted Trophy Hunter' or 'She is a devil and a whore'. In fact I enjoyed this gig more than REAPER's show at the Blackfield - it's club music after all, and seeing them indoors and not in bright sunlight surely enhances their show.
Rating

Music: 6
Performance: 7
Sound: 7
Light: 7
Total: 6.6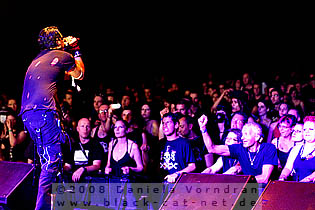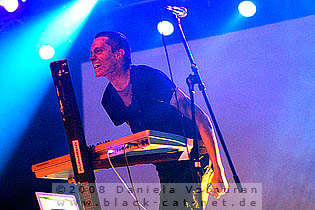 [:SITD:] - [Main Stage - PS]

In 2002, a new star arose on the firmament of the club landscape and its name was [:SITD:] which is short for "Shadows in the Dark" and a metaphorical expression for the music and lyrical content of the band. The band existed since 1996 though, but the big breakthrough came with the 'Snuff EP' with the hit track 'Snuff Machinery' which, from there on, couldn't be missed out on any DJ Playlist and is now a real classic. The first album 'Stronghold' continued the path of combining club orientated beats with hymnal melodies and dark vocals and was the most successful band album in 2003. With 'Coded Message 12', [:SITD:] released their second album showing the band's sound matured, containing several new club hits like the preceding single 'Richtfest' and the German-tongued 'Wegweiser'. The third album had to wait until 2007; aptly titled 'Bestie:Mensch' the album shed some light on the deepest abysms of the human soul, even more than that the band opened their sound to new influences such as the break beats on the instrumental track 'Floating'. [:SITD:] is Carsten Jacek (vocals and lyrics), Thomas "Tom" Lesczenski (keyboards, programming, sampling and backing vocals), Francesco "Frank" D'Angelo (keyboards and backing vocals).
http://www.sitd.de/
/
http://www.myspace.com/xsitdx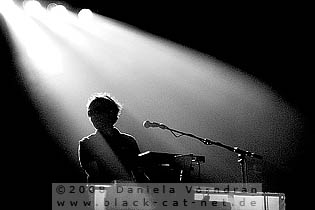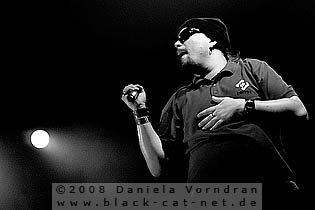 Music & Performance

Choosing for the basic "2 synths with a decal on a small platform to the left and right of the stage", [:SITD:] kind of limited the possibilities and dropped the expectations of what could be. Would everything be static with just front man Carsten from left to right and back or would some kind of "surprise" pop up from somewhere to provide some attractiveness? Well a good part of this attractiveness was provided by the music which was up to a level that you would expect from [:SITD:] in their genre that I would describe as "lets play it loud but not too loud". And just when it all got a bit monotone and, dare I say it, "boring" Tom stepped forward for the tracks 'Suffering in Solitude' and 'Wake Up' going back to the sound generating equipment on the left-hand side of the stage for 'Propaganda'.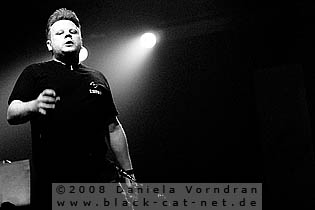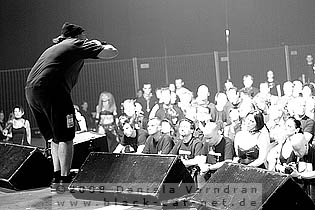 At the end the set gave me a "mixed bag" of feelings. Yes the sounds and music was spot-on but it all looked like a quick "lets get it over with" set so were all expectations fulfilled? Sadly no. But it almost came close.
Setlist

01. Intro / Stammheim
02. Lebensborn
03. Kreuzgang v2.0
04. Rose Coloured Skies
05. Suffering in Solitude
06. Wake Up
07. Propaganda
08. Laughingstock
09. Richtfest
10. Snuff Machinery
Rating

Music: 8
Performance: 6
Sound: 9
Light: 6
Total: 7.3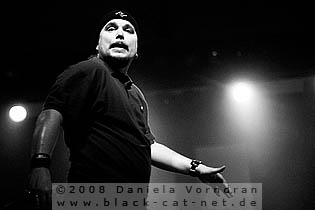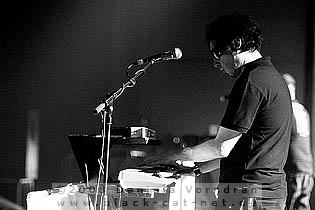 32Crash - [Club Stage - PS]

When you hear the name Jean-Luc de Meyer one instantly makes the connection to EBM pioneers FRONT 242, where he put his distinct vocals on the tracks. Over the long course of his career, de Meyer has been active in several other projects besides F242 i.e. CYBERTEC, C-TEC or COBALT 60. With 32 CRASH, he's focussing only on song writing and singing while his two colleagues Len Lemiere (IMPLANT) and Jan D'Hooghe (VIVE LA FETE, IMPLANT) are responsible for the musical accentuation. Following the release of the promising 'Humanity EP', the album 'Weird News from an Uncertain Future' was released in October 2007 on Belgian label Alfa Matrix.
http://www.32crash.com/
/
http://www.myspace.com/32crash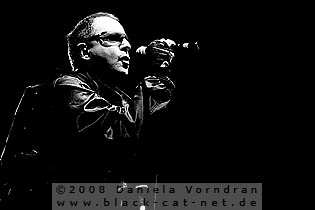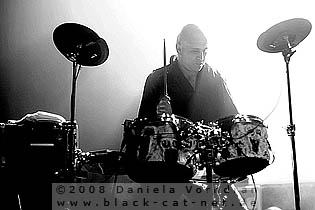 Music & Performance

Getting on stage in some kind of military pilot suit, Jean-Luc De Meyer started off the set with 'Merlin's Gun' in the typical low vocals and slow beats that give 32 CRASH their maybe not unique but certainly recognizable sound, going into covering most of the 'Weird news from an uncertain future' album. With Len Lemiere and Jan D'Hooghe forming a static but at the same time energetic pair in the background on electronics and basic drums the team was completed this time by one more keyboard player in the background. But yet, all this sound was accompanied for the event by a VJ setting up an accompanying stream of images on the screen in the background.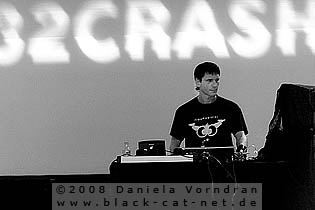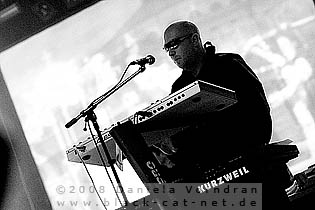 Shows that have these screens usually don't have that much of a light-show - as it can mess up the imagery - but not here. Yes it could have been better in adding that extra "wow" to the show but then looking at was there to work with on the club stage the entire colour palette and thus the entire show was pretty good.
Setlist

01. Merlin's Gun
02. Porcupine
03. Propaganda
04. Slow Crash
05. Dust and Drought
06. Plutonian Breeders
07. Party
08. Spacemen and Poets
09. Beware
10. Let Me Enjoy
11. Isomodia
Rating

Music: 9
Performance: 8
Sound: 9
Light: 6
Total: 8.3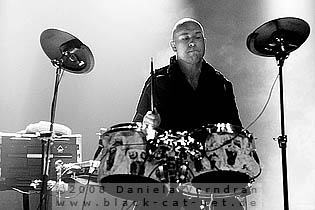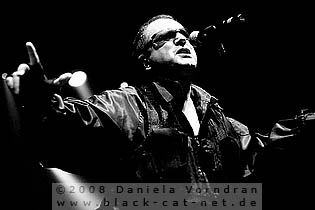 The Crüxshadows - [Main Stage - JU]

The band was originally formed in the early 1990s by Rogue, Sean Flannigan and Tim Curry in Florida. Soon afterwards, they came up with their first album '…night crawls in', a self-release under the 'Black Widow Music' label. It took three years for them to release their first CD release 'Telemetry of a Fallen Angel' in 1996. It was at that time, when Curry and Flannigan left the band. Rogue assembled a new line-up and recorded the two next albums from 1998-2000. With every of the following releases - and not less because of extensive touring throughout the years, they reached global popularity, adding to this surely was the performance of the charismatic front man rogue, who's barely standing still for a minute. Today, the band can look back in an impressive discography of several singles and EPs, as well as 8 albums with 'DreamCypher' being the latest one, released in 2007. THE CRÜXSHADOWS are Rogue (vocals, violin, music), Pyromantic (keys, synths, backing vocals), Valerie Gentile (guitars, backing vocals), David Wood (violins), Johann Moresco (violins), Jessica Lackey (lead dancer, backing vocals) and Sarah Kilgore (dancer, backing vocals).
http://www.cruxshadows.com/
/
http://www.myspace.com/cruxshadows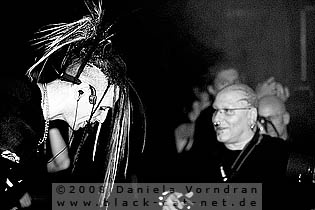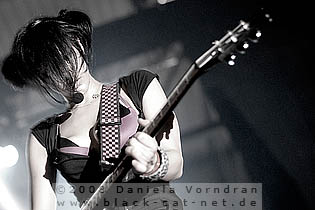 Music & Performance

THE CRÜXSHADOWS seem to be constantly on tour, so every avid concert and festival attendee might have seen Rogue and his band more than once. Their gig at the Gothic Festivals had all ingredients of a CRÜXSHADOWS show - Rogue starting the show in the audience, two "gogo" girls, violins, beats, a pose-striking guitarist, Rogue walking through the crowd again, etc. THE CRÜXSHADOWS have developed into a show band over the years, some kind of gothic musical, and after their gig in Waregem I am tempted to say that THE CRÜXSHADOWS are a mere show band by now. Granted, Rogue is one of the best front men around and when it comes to interaction with the audience there's hardly anyone who'd be fit to hold a candle to him. But we know all his little tricks by now. What was breathtaking when THE CRÜXSHADOWS toured Europe for the first time is now just nice to watch. And what ruined the gig in the end was that Rogue's voice was completely shot in Waregem. Perhaps the constant touring took its toll that night. It didn't help much that the violins were hardly audible sometimes, just like the guitar - but cynics might state that the cute female guitar player is rather eye candy than anything else, anyway. And that her persistent axe-posing all over the stage is pretty overacted as well.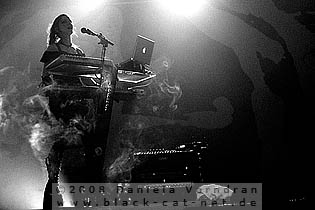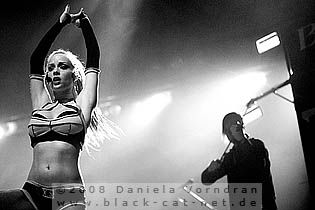 When everything is in its right place, a CRÜXSHADOWS performance can be a great and entertaining show. At the Gothic Festival, unfortunately hardly anything was in its right place for Rogue and his ensemble. Maybe it's about time to spend more time in the studio to advance the sound of THE CRÜXSHADOWS - because by now we know all their typical musical tweaks and catchy hooks as well. At least the songs they usually perform at a gig have started to sound generic, what's left is their elaborate show but although I hate to say it I witnessed in Waregem THE CRÜXSHADOW's show falling to pieces. What a shame! Perhaps less gruelling touring and working more on the music itself will make sure that THE CRÜXSHADOWS return to their old form. This particular gig was rather a disappointment, I'm afraid.
Rating

Music: 5
Performance: 4
Sound: 6
Light: 8
Total: 5.3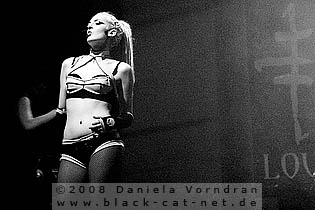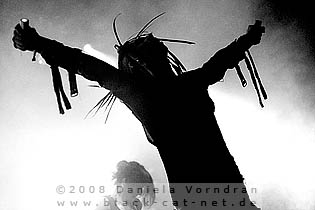 Fixmer/McCarthy - [Club Stage - JU]

When two creative minds unite, only good can come of it; in this case the result actually was kind of explosive. Thereby the whole thing started out more than inconspicuous, when Terence Fixmer a world famous Techno artist and in the business for ten years was asked by Mute Records to remix NITZER EBB in 2002 and so he came into contact with Douglas McCarthy, the legendary shouter of NITZER EBB. During the same year they decided to join forces and work started on a first release eventually becoming the first album 'Between The Devil' released in 2004 and what can you say, that thing crashed in like a bomb. Of course connections were drawn to NITZER EBB but the project had developed its own distinct sound, disabusing all the sceptics and receiving rave reviews for the debut. In 2008, the duo returned and proved that it wasn't willing to rest on its laurels. 'Into the Night' is the name of the second instalment and delivers a matured sound, more melody and with the ballad 'Tonight I Sleep' the probably biggest surprise of all.
http://www.fixmermccarthy.com/
/
http://www.myspace.com/fixmermccarthy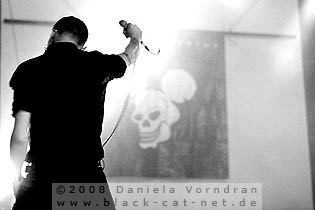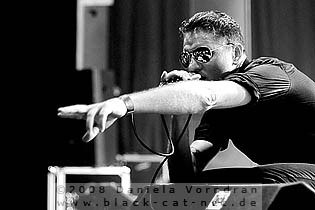 Music & Performance

The last time Douglas McCarthy was on a stage of a Belgian festival (as a guest appearance at DIE KRUPPS' gig at the BIM fest) he almost fell from the stage. This time he postponed indulging strong liquor to the after show party and presented the crowd in Waregem a performance of all the great qualities he is so well-known for. Easily one of the most energetic and passionate front men of the scene, and this guy has been doing this for almost 25 years now! Terence Fixmer also learned from past mistakes but in his case it has less to do with Belgian beer and the apt use of strong liquors. When the project FIXMER/MCCARTHY took off, Fixmer sometimes failed to create the right build-ups and his rough sequences went nowhere and were just that - rough. Maybe that was because McCarthy simply shouted over a couple of cool sounding but not very structured soundscapes.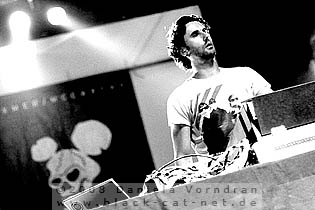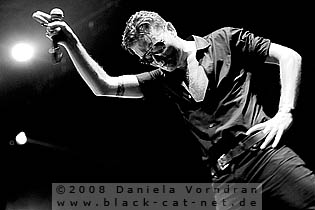 Since their first performances with the 'Between the Devil…' the two performers have been growing to a true team, and introducing song structures and melodies to their more recent material really brought FIXMER/MCCARTHY on a new level. And during the first part of their show at the Gothic Festival we got a fine selection of the new FIXMER/MCCARTHY tracks. Perhaps some hardcore Electro heads find these tracks a bit too poppy, I for one am very pleased about the direction of the new material. And also the old tracks just right! Douglas McCarthy, who is currently also working an a new album with his main band NITZER EBB, ran over the stage like an maniac and got people in heavy dancing mood. "You want it, you got it!" - yeah, this was a pretty strong gig with stomping Electro beats and edgy Pop tunes and a great vocalist. Everything sounded just right, everyone in front of the stage just got wild.
Rating

Music: 8
Performance: 9
Sound: 9
Light: 7
Total: 8.2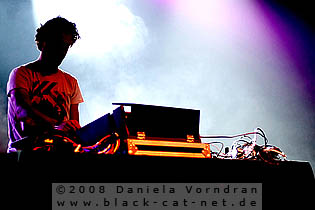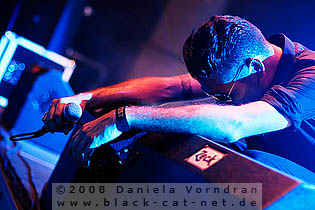 Clan of Xymox - [Main Stage - JU]

There are bands, who seem to exist for an eternity and who seem to be timeless. Well, CLAN OF XYMOX surely doesn't exist for an eternity now, but they're one of the veteran bands of the scene, founded in the early 1980s by Ronny Moorings and Anke Wolbert and over the years they became one of the most important representatives of the Dark Wave genre, though their music never stayed inside the boundaries of that genre. Ok, maybe with their earliest work like the self-titled debut and the follow-up 'Medusa' they did, but in their later career, they combined their traditional sound with dance rhythms and techno elements or changed to more Rock orientated songs like on their comeback in 1997. For 2008 this band plans to release a new album, whose name hasn't been revealed yet. CLAN OF XYMOX is Ronny Moorings (vocals, instruments), Mojca Zugna (bass), Rui Ramos (drums), Denise Dijkstra (keyboard) and Paul Whittlesea (guitar).
http://www.clanofxymox.com/
/
www.myspace.com/clanofxymox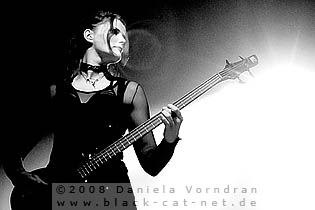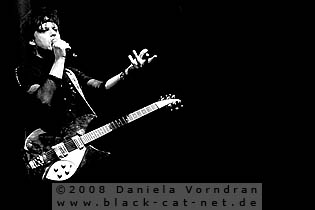 Music & Performance

After the great FIXMER/MCCARTHY gig at the club stage things continued equally great at the main stage. But instead of sharp Electro beats and shouts it was music of a different kind now, CLAN OF XYMOX are rather dark and melancholic but nevertheless they have a soft spot for hooks and great melodies and their songs are hymn-like and danceable enough for those who simply do not want to stop moving. Their gig one week before at the Amphi festival was already excellent and CLAN OF XYMOX's performance at the Gothic Festival proved that Ronny Moorings & Co. are simply in great form.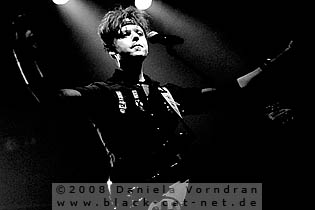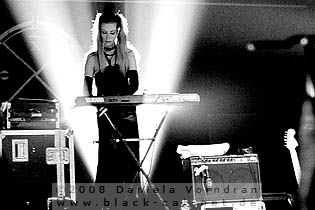 In Waregem they met a very appreciative audience, quite willing to get carried away by the luring music. The more recent songs sounded great and were well received but it was of course the classics like 'Louise', 'This World' or the epic 'Jasmine & Rose' which got the best response. CLAN OF XYMOX - it's almost scary how good they are live on stage at the moment! Truly a highlight of the Friday night at the Gothic Festival.
Rating

Music: 9
Performance: 10
Sound: 9
Light: 8
Total: 9.2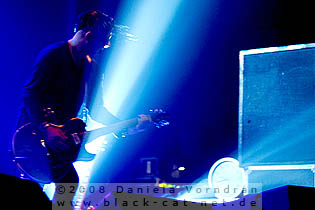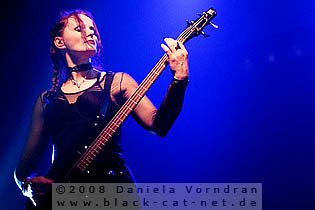 Absolute Body Control - [Club Stage - JU]

When you just mention the name Dirk Ivens, the one thing that comes to most people's minds is THE KLINIK, but before he became a member of that legendary electronic music project there was ABSOLUTE BODY CONTROL which he founded in early 1980 joined by Mark de Jonghe and Veerle de Schepper. Mark soon left the band after the release of a track on the 'Blitzpop 1' compilation and their first 7" single 'Is there an exit?' in 1981 and was replaced by Eric van Wonterghem who would remain Dirk's musical fellow for many years to follow. ABC appeared on several compilations and tapes before they decided to continue the project as a duo. In 1984 both Dirk and Eric became members of THE KLINIK; the latter one left already after the second album and formed INSEKT.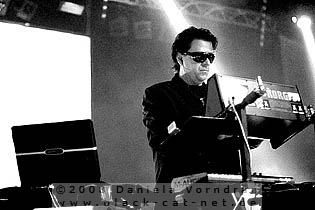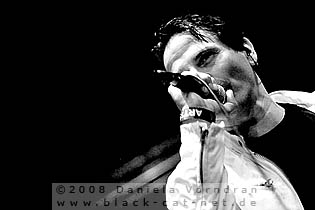 Their last tape 'Tracks' released in 1989 contained all their compilation contributions. The first and only CD 'Eat this' was released in 1993 because of the lasting public interest. After a long time of absence, they played some festival shows in Belgium and Sweden. An album called 'Wind (re)Wind' containing re-recorded tracks and a brand-new single 'Never seen' has been released on 21st March. ABSOLUTE BODY CONTROL is Dirk Ivens and Eric van Wonterghem.
http://www.dirkivens.com/
/
http://www.myspace.com/absolutebodycontrolbelgium
Music & Performance

Seeing ABSOLUTE BODY CONTROL live in their home country Belgium is something special, and the number of people at the club stage waiting for their gig showed that they have quite a good following there. It is a bit ironic; when ABSOLUTE BODY CONTROL started their music was hardly noticed by the public, besides a fistful of people who were searching for new groundbreaking music of the young scene of electronic music. Today, ABSOLUTE BODY CONTROL are a cult band and more successful than ever.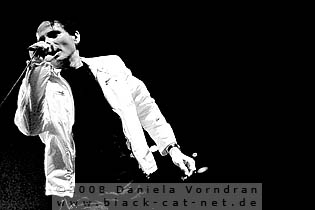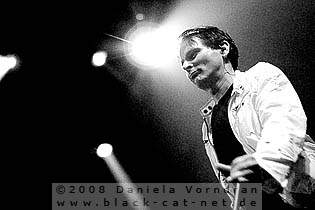 Young guys in ABC-shirts make clear, that ABSOLUTE BODY CONTROL managed to make on impact on the entire scene and do not just appeal too older guys who listen to this kind of music since the 1980s. ABSOLUTE BODY CONTROL started their performance with the poppier tracks, and perhaps it's the less experimental and more in-yer-face approach (compared to THE KLINIK, e.g.) that ABSOLUTE BODY CONTROL enjoy such an unexpected success in the 28th year of the band's existence. Later in the set ABSOLUTE BODY CONTROL performed more and more of the harder-edged and more danceable stuff, like the grooving 'Automatic', and from the front to the back every one danced like crazy. Last but not least because Dirk Ivens is an experienced and very charismatic front man - who could stand still when this man stands on stage and great electro sounds blast through the PA? I couldn't, and this gig was yet another highlight of the weekend for me.
Rating

Music: 9
Performance: 9
Sound: 9
Light: 7
Total: 8.7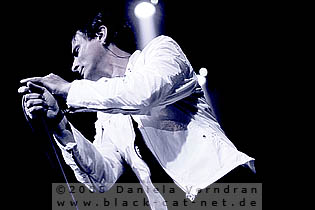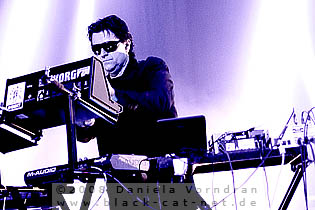 VNV Nation - [Main Stage - PS]
Founded in 1999 as the solo project of Ronan Harris debuting with the album 'Advance & Follow' (Now a rarity) in 1995, the project was joining the ranks of the big names after supporting Swedish COVENANT and releasing their second album 'Praise the Fallen' in 1998 and the following 'Solitary EP'. In late 1999 VNV NATION signs to the newly founded label Dependent Records and releasing their follow-up 'Empires' under that moniker including songs like 'Darkangel' and 'Standing' still being heavily played in clubs all over the world.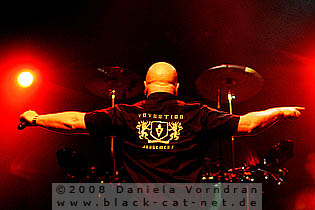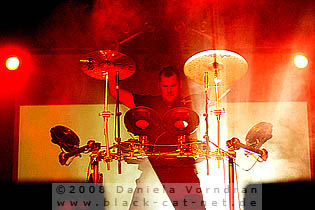 The successor 'Future Perfect' was a pretty mixed up story. Old fans who were used to the EBM-ish sounds complained about the growing amount of Trance and pop elements, nonetheless it became a huge success for VNV NATION and with 'Beloved' contained an unforgettable hymn. On 'Matter & Form' (2005), new influences from various sources have been processed moving away from the trance sound to a more organic feeling. In 2007 it was time for the new strike 'Judgement' released on their own label Anachron Sounds. VNV NATION is Ronan Harris and Marc Jackson. The duo was extended on stage by Tom fro [:SITD:] and Vasi from REAPER.
http://www.myspace.com/vnvnation
/
http://www.vnvnation.com/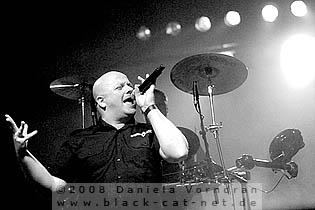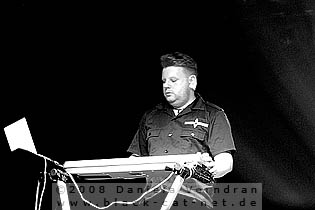 Music & Performance

VNV Nation usually promises a big party with some big expectations - so could they deliver in Waregem as well? Well I could make this a very short review with: Yes! Great show! Great music! But let's try to get some more text in here. The majority of the set was constructed out of the more danceable tracks with a nice and welcome slow moment with 'Illusion' about in the middle of the set - as requested by many thru the website. And yes, the people loved it, the band loved it and thanked Waregem with a long set of encores. A special note as well for the nice way Ronan Harris handled a girl taping the entire concert with a camera - urging her not to look at everything thru the small screen but to enjoy the moment - as she was standing next to me I can confirm that she finally did. Mission accomplished.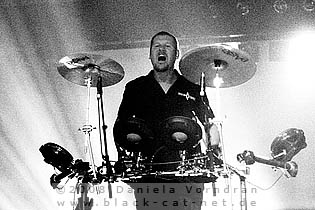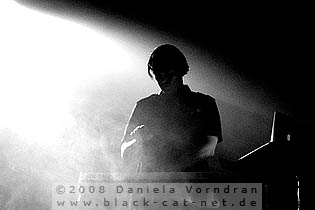 Setlist

01. The Farthest Star
02. Chrome
03. Nemesis
04. Carbon
05. Epicenter
06. Testament
07. Illusion
08. Legion
09. Honour 2003
10. Perpetual
---
11. Darkangel
12. Standing
---
13. Beloved
14. Electronaut
Rating

Music: 8
Performance: 10
Sound: 9
Light: 9
Total: 9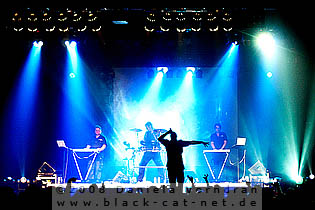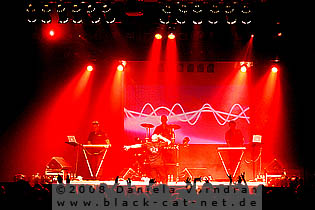 Written by Daniela Vorndran [DV] and overall editor, Sebastian Huhn all band intros, J. "Niggels" Uhlenbruch [JU] and Peter Smets [PS]
All pictures by Daniela Vorndran (
http://www.vorndranphotography.com/
/
http://www.black-cat-net.de/
/
www.myspace.com/vorndranphotography
{jos_sb_discuss:18}