Written by Roos Glastra Sunday, 26 October 2008 21:24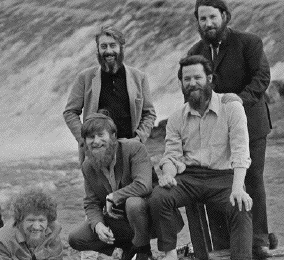 WTC Expo, Leeuwarden, The Netherlands
5th of October 2008
Celtic Folk Festival with:
The Dubliners, Beggars Row, Scrum, Irish Stew, Rolling Home, Gurbe Douwstra
For the first time there was a Celtic Folk Festival in the WTC Expo in Leeuwarden. Their headliner was a guarantee for many visitors of course. The average age was quite high, but so was the age of the main band of the evening. It was a pity that the seated area of the venue was in the front. So if you had a non seated ticket you stood some 20 meters off the stage. It seems to me that it was a bit boring for the bands as well to see only sitting people.
Gurbe Douwstra

This Frisian singer songwriter performed inbetween other bands. He was the troubadour of the evening. Douwstra played Frisian songs, which were hard to understand for anyone from another part of the country. The parts I did understand were humorous. He got to play about 4 songs spread over the evening. It was nice to have a local performer of course but it did not add to the Celtic feel of the evening.
Rolling Home

Rolling Home is a choir that sings both folk and sailor songs. They have been singing for 9 years now and have performed throughout the Netherlands and even in other countries. This evening they were the opener of the festival.
Music & performance
Rolling Home might be a good choir, they also might sing some folk songs. But they are not Celtic enough to perform at this festival. Their pronunciation of the English language is rather bad. There were only a few microphones placed at the front of the choir, only the singers in the front were reinforced. They clapped along to their songs but the audience didn't feel like joining in.

Rating
Music: 6
Performance: 4
Sound: 4
Light: 6
Total: 5 / 10
Irish Stew

Their biography sounds like a recipe and with such a band name that is no surprise. They have been playing Irish music for 30 years now. They have performed in many countries. Irish Stew was even the headliner of the Celtic Folk Night in Frankfurt.
Music & performance
Musically Irish Stew was definitely a great thing to hear. Finnaly a truly Celtic sound. These four musicians were flown in from Vlieland because there were trouble with the boat. I am glad they did. Their performance was great to hear but to look at it was somewhat boring. Four musicians in a row, and nothing happened. Maybe if you could get closer to the stage there was more to see but that wasn't possible in this venue.
Rating
Music: 7
Performance: 5
Sound: 6
Light: 6
Total: 6 / 10
Scrum

This Dutch power folk rock formation showed their 'soft' side tonight. They treated us to a first time ever acoustic performance. They made all those people who had seated tickets feel very sorry because in the back… everybody started to dance! Scrum has only been performing for 4 years now, let's hope they keep on playing and… consider yourself scrummed!
Music & performance
Their vocalist told us he was a bit nervous because this was the first time they gave an acoustic performance. From the first note they rocked the house. Up beat, danceable folk music. They have a very warm sound. A great lightshow made the performance come to live even more. Each song has it's own story such as 'Throw Me a Penny' about a man playing in bars for music. The fans missed the heavier sound but this show was definitely appreciated by all. They write almost all their songs themselves. During some songs there was even a guest bagpipe player, always great to see and hear of course. All in all a wonderful performance.
Rating
Music: 8
Performance: 8
Sound: 7
Light: 8
Total: 8 / 10
Beggars Row
All the way from Schotland, Beggars Row. They performed in Denmark the night before so they had quite a journey. Their first performance was in 1997 so they have been around for over 10 years now. Their line-up has changed many times. The first foreign act of the night now consists of 5 members.
Music & performance
Beggars Row provides a wide variety of instruments and sounds. Their performance was precise, a solid show. On their keyboard there was a Scottish flag and all of the men wore kilts. That they are from Schotland is very clear. Musically as well, their songs are true folk. At the end of the show they even played the Frisian anthem and flags of Schotland and Friesland were waved on the stage.
Rating
Music: 8
Performance: 7
Sound: 7
Light: 7
Total: 7 / 10
The Dubliners
As Barney McKenna himself it is too late to stop now! They just keep on going and visit our country almost every year. They still keep changing their line-up so it never grows old. They do however and it is great to see that they still have so much fun on stage, The Dubliners love their music and that keeps them going.
Music & performance
This is not a band that moves a lot on stage. Mostly the men stand behind their microphone or sit on a chair. Their stories, poetry and music are moving however. They perform songs both in English and Gaelic. Often the audience sings allong to the refrains. The audience all know the songs and that is what makes it a fun show. The energy level is low, this time the people with a seated ticket were lucky. At the end of the show however 'Whiskey in the Jar' gets the whole venue on their feet and singing. Their grand finale was 'The Wild Rover'. For this song the guys from Scrum came back and joined them, everybody was singing and clapping along. After this they played us their most requested song 'Molly Malone'. The show ended with them playing the Frisian anthem and (most of) the audience singing loudly.
Rating
Music: 9
Performance: 7
Sound: 7
Light: 7
Total: 8 / 10
Due to a technical problem pictures were not possible. Our apologies for this.
{jos_sb_discuss:18}