Written by Karolina Moszkowicz, Carsten Leopold Saturday, 04 August 2007 21:52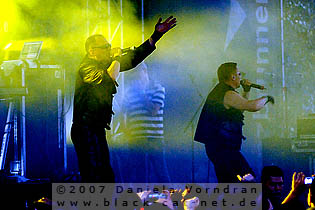 Tanzbrunnen, Cologne, Germany
21st to 22nd July 2007
Amphi Festival Day 1: Obscenity Trial, Xotox, Diorama, Trial, Eisbrecher, P.A.L., Imatem, Sonar, Funker Vogt, Spetsnaz, Unheilig, Winterkälte, ASP, Feindflug, Front242

On 21st and 22nd July the third "Amphi Festival - the Orkus Open Air" took place in Cologne again at the wonderful location "Tanzbrunnen" situated near the waterside of the river Rhine which flows through Cologne. The line-up of the festival with more than 30 bands promised a lot of pleasure with different kinds of the dark music and the weather report promised the best for the weekend – all in all perfect conditions for a successful festival-weekend. This year, about 9.000 people each day made it to Cologne what means that it was even more filled than in the previous year.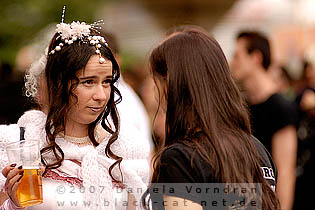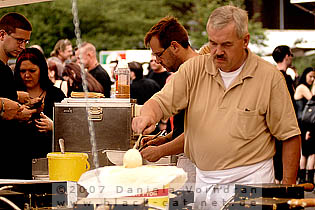 We stroke out on Saturday morning to enjoy the "Amphi Festival 2007". When we arrived around 12, the doors were already open and because the first band was set for 13:00, we had some minutes to explore the area and look at the booths with food, drinks, clothes and some more before the anchorman "Honey", known as the singer of WELLE:ERDBALL, announced the opener OBSCENITY TRIAL.
Obscenity Trial - Main Stage (Carsten Leopold)

OBSCENITY TRIAL was formed in 1993, but parted ways in 1998. Six years later in 2004, OBSCENITY TRIAL was revived by Oliver Wand. The music of OBSCENITY TRIAL is easy listening and danceable Synth Pop. The current release called 'Daydream' and was released by Infected Records in April this year. OBSCENITY TRIAL are Oliver Wand (vocals, lyrics, song writing, programming), Frank Hass (live keyboards, backing vocals), Dirk Riegner (live keyboards, backing vocals) and Jürgen Reinert (live drums).
http://www.otrial.de
/
http://www.myspace.com/obscenitytrial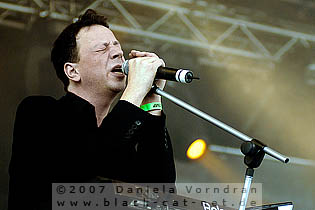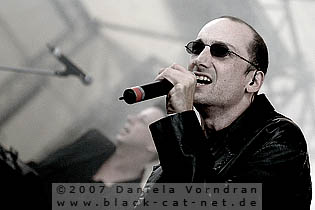 Music & Performance

With blue sky, sunshine and about 25°C, OBSCENITY TRIAL entered the stage to open the festival. The show started with a little technical glitch - the microphone of Oliver still was switched off, but quickly he noticed that and switched it on. At the second song, just as Dirk wanted to start with his background vocals, his microphone was switched off too. After it the show went on trouble free, only at the end of the show the MD-Player had a problem and shortened the last song. In spite of these little hiccups it was a successful show, much better than the shows of them I've seen before.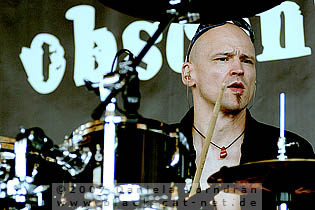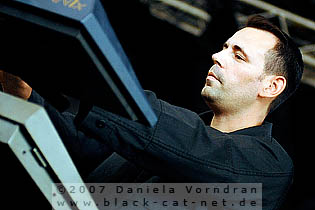 Due to the current line up with real drums and two keyboards on stage the performance got more power and the whole show took effect livelier and more powerful - really a good development that the band went through during the last year. The setlist consisted of eight tracks, taken from the album 'Here and Now' and the EP 'Daydream' which was released in April this year. The audience - quite a number of people for the early time - quickly was infected by the danceable rhythm of the music and had a lot of fun and enjoyed the band. I'm sure OBSCENITY TRIAL gathered some more fans after this gig.
Setlist

01. Intro
02. World
03. All That's Left
04. Daydream
05. Desire
06. 7:30
07. Seven Nation Army
08. Here and Now
09. Book of Love
Rating

Music: 8
Performance: 8
Sound: 9
Light: daylight
Total: 8.2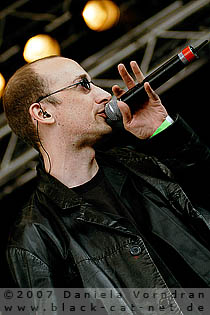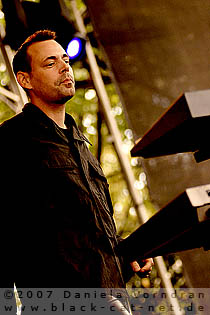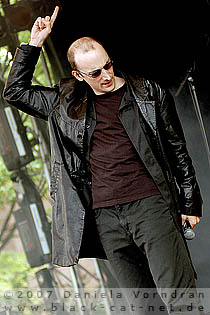 Xotox - Theater Stage (Karolina Moszkowicz)

Simultaneously with the concerts at the main stage there was a presentation of industrial projects in the 'theatre'. It was called 'Industrial Special' and it gathered both: those, EBM, electro artists such as SPETSNAZ or FEINDFLUG and those serving highly noisy, harsh, irregular sounds such as P.A.L and SONAR.
The concert day in the theatre started with XOTOX. The band was formed in 1998 by Andreas Davids. Having released such albums as 'Lichtlos', 'Die Unruhe' or '[PSI]', the project set new, extremely harsh path for the industrial artists to follow.
http://www.xotox.info/
/
www.myspace.com/xotox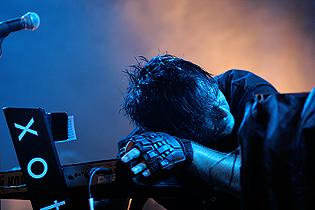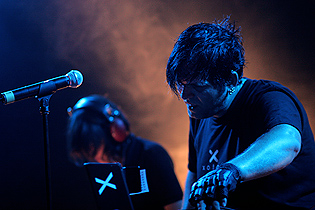 Music & Performance

During the concert at Amphi Festival the artists presented both their already popular pieces such as 'Lichtlos', 'Mechanische Unruhe' 'Industrial madness', 'Eisenkiller' and the songs of the forthcoming album as well: 'Winterblut', 'Ewig', 'In den zehn Morgen' and 'Verlust'. Musically, XOTOX stand for noisy, harsh and yet extremely rhythmical and catchy pieces that base on irregular structures. As to the show itself - we witnessed the musicians hidden in huge amounts of smoke, standing on the scene brightened by strobe and laser lights. All in all, it was a rather musical than visual feats; still the destructive soundscape XOTOX create is a quality in itself.
Setlist

01. Verlust
02. Lichtlos
03. Ewig
04. Mechanische Unruhe
05. In den zehn Morgen
06. Industrial madness
07. Eisenkiller
08. Winterblut 2: Eiszeit
Rating

Music: 8
Performance: 4
Light: 5
Sound: 6
Total: 6.1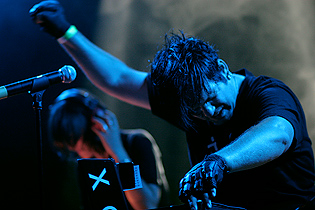 Diorama - Main Stage (Carsten Leopold)
BLOODPIT unfortunately had to cancel the show on short notice and so the day on the main stage went on with DIORAMA and all bands had a few minutes more to play.
DIORAMA was founded between 1994 and 1996 by Torben Wendt. It didn't take long before his long-time friend and previous band member Felix Marc joined in as co-producer and keyboard player. Bass player Bernard le Sigue and guitarist Sash Fiddler were fellow students of Torben and Felix who gradually grew into the line up over experimental music sessions and boozed through nights. And finally, drummer Marquess became a member of the Diorama tribe.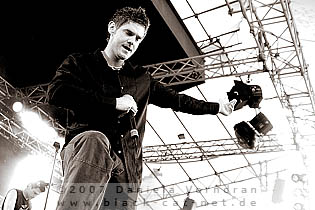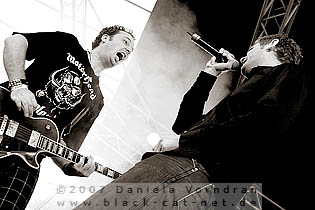 Unfortunately Bernard left the band a while ago. The last album was released in March 2007 and is called 'A Different Life'. It presented a totally new side of the band. DIORAMA are Torben Wendt (words and music, vocals, keys, percussion), Felix Marc (co-production, keys, vocals), Sash Fiddler (guitars) and Marquess (drums).
http://www.diorama-music.com/
/
http://www.myspace.com/dioramamusic
Music & Performance

The music of DIORAMA was a special kind of electro pop: bursting with energy, carrying away and danceable, melancholic and beautiful. It's difficult to describe, you need to listen to it yourself. If you are able to get involved in the lyrics and music you will discover the whole beauty of the songs.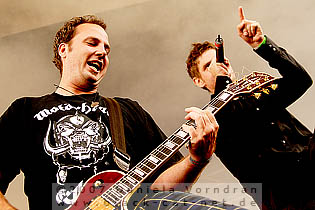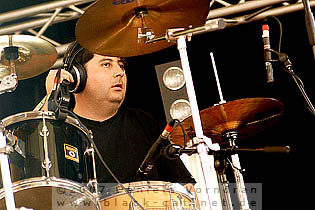 The setlist included eight songs and started with 'Erase Me' from the latest single release after the intro and right away the spirit went over to the audience which was infected by the charismatic, powerful, expressive and emotional performance. Especially Torben seemed to have more power and was expressing more anger than before. The people were singing and dancing along all the time and the show finished too early with 'Why'. One of the highlights for a lot of long-time fans was the song 'Belle?' that was played live for the second time ever after the band had played it for the first time in Beograd some weeks ago. I'm sure that this band too has some more fans after this explosive gig.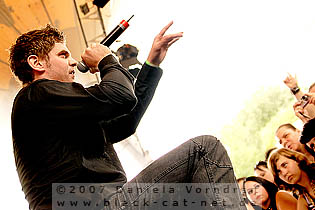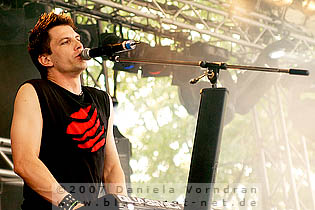 Setlist
01. Intro
02. Erase Me
03. Synthesize Me
04. Pulse of Live
05. Belle?
06. Advance
07. The Girls
08. Kein Mord
09. Why
Rating
Music: 9
Performance: 8
Sound: 9
Light: daylight
Total: 8.7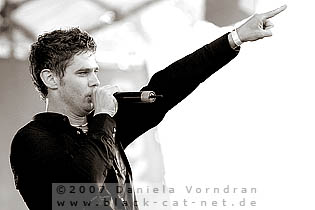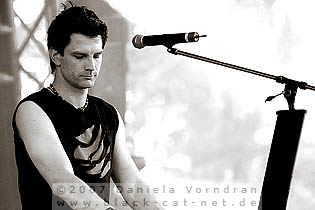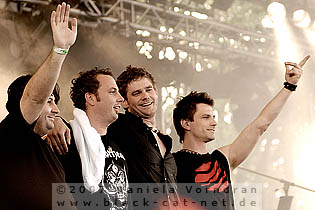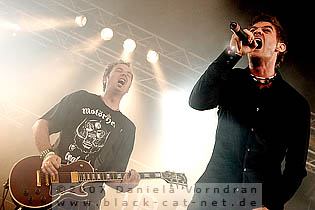 Trial - Theater Stage (Karolina Moszkowicz)

Formed in 1991 by Torsten Schröder and Erick Miotke, TRIAL stand for extremely danceable and powerful music and ingenious live performances. So far they've released four albums plus one 'Zero Feelings' being a re-release on album of the same title of 1992. The upcoming album is called 'No Fate'.
http://www.trial-force.de/
Music & Performance

TRIAL seemed to unleash quite a number of rhythmical sounds during their concert: having one stable pounding rhythm in the background and the variety of other EMB-like ones hitting from the front line, the musicians managed to create an entertaining, catchy, but not monotonous music. Vocal line, a bit gloomy, harsh, featuring somewhat 'threatening' tone suited perfectly to the dark, ravishing sounds. Torsten Schröder, dancing at the stage (at times it made me think of Dave Gahan's way of moving :) ) and mimicking was scoping attention of the listeners during the whole show. The lights were rather dim which highlighted a grim character of the presented music.
Rating

Music: 7
Performance: 6
Light: 5
Sound: 7
Total: 6.4
Eisbrecher - Main Stage (Carsten Leopold)


The next scheduled band on the main stage originally was IMATEM, but they were delayed due to a traffic jam on the highway and the following band EISBRECHER changed their slot with them so that every band had the chance to present their show to the audience.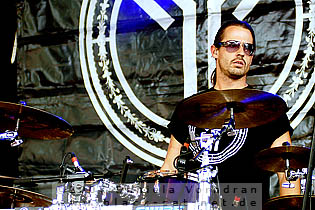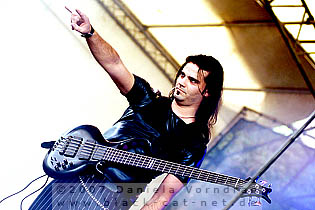 EISBRECHER is a German Electronic-Metal band that consists primarily of Alexx Wesselsky (vocals) and Noel Pix (lead guitar, programming), with live support of Felix Primc (guitar), Miguel Benhke (bass), René (drums) and Maximator (keyboards, programming). Their style belongs to the so called "Neue Deutsche Härte" (New German Hardness) sub-genre. After leaving MEGAHERZ due to creative differences in 2003, Alexx Wesselsky got together with Noel Pix, who composed the synths and did the programming for the MEGAHERZ albums 'Himmelfahrt' and 'Kopfschuss'.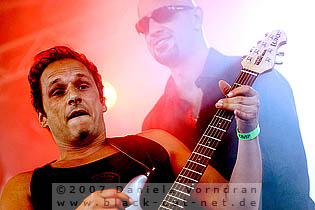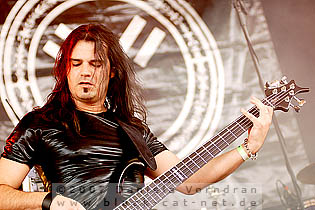 EISBRECHER is the brainchild of the two combining their musical ideas, concepts, and the like. The band's name in translation from German means "Icebreaker". The band's lyrics and slogans often include terms of ice and sailing, such as 'Ahoi' (Ahoy) and 'Es wird kalt' (It's getting cold). The band's front man, Alexx Wesselsky, often wears sailors and military clothing in performances. While the self-titled debut album 'Eisbrecher' has more of an electronic sound, its successive and current release, 'Antikörper', has a far heavier, metallic style. However, the band remains true to its roots, and the similarity between albums is not entirely unrecognisable, ensuring the group's identity remains firmly attached to the industrial metal genre. In a recent interview, Wesselsky said that they would prepare their third album for release by early 2008.
http://www.eis-brecher.com/
/
http://www.myspace.com/eisbrecher1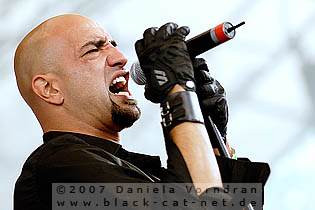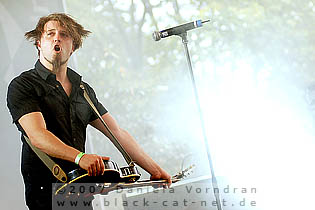 Music & Performance

EISBRECHER entered the stage, the singer dressed in a kind of maritime uniform and with a whiskey-bottle in his hand, and begun their gig quite powerful with 'Kein Mitleid'. The set included nine songs, taken from both available albums 'Eisbrecher' and 'Antikörper' as well as older MEGAHERZ songs, like their hit 'Miststück'. Between the songs, Alexx did some jokes and talked a little with the audience. At the beginning of 'Mein Blut' he imitated RAMMSTEIN (another well-known German band) - he recited the first lines of their song 'Heirate Mich'. The last song and highlight of the show 'Miststück' included a part of CLAWFINGER. Quickly the audience was infected by the powerful and dynamic performance and a great deal were singing and dancing along. At the last song 'Miststück' definitely the crowd was warmed and satisfied. Altogether they did a good job and rocked the crowd.
Setlist

01. Intro
02. Kein Mitleid
03. Willkommen im Nichts
04. Antikörper
05. Phosphor
06. Leider
07. Vergissmeinnicht
08. Ohne Dich
09. Mein Blut
10. Miststück
Rating
Music: 8
Performance: 8
Sound: 8
Light: daylight
Total: 8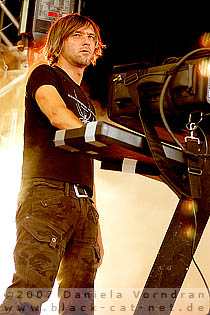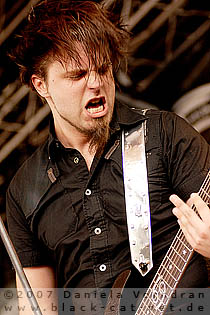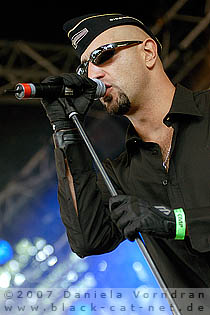 P.A.L. - Theater Stage (Karolina Moszkowicz)

Christian Pallentin - P.A.L - is an artist experimenting with noise and ambient music since 1993. He also had his share in creating sounds of 'Hybryds and Andxesion'.
http://www.ant-zen.com/pal
/
http://www.myspace.com/therealpal
Music & Performance

His music is what might be called "a crushing cogwheel" as despite that fact that his gigs are rather frugal in the sphere of performance (just a musician operating the whole machinery, visualizations from time to time, dim light and smoke), the sounds he creates are incredibly hypnotic, surprising and loaded with fantastic power. By means of samples, irregular structures and highly processed sounds he achieves a quality that overwhelms and though it may seem impossible - entertains as well.
Setlist

01. Jobs
02. Agitation
03. Erosion
04. Metrum
05. Final Solution
06. Gelöbnis
07. I set my dog on fire
08. k-schwarz
09. t.a.e.
10. 4 hours
Rating

Music: 10
Performance: 5
Light: 5
Sound: 7
Total: 7.3
Imatem - Main Stage (Carsten Leopold)


After the change over now IMATEM was next on the main stage. IMATEM, a new musical project by Peter Spilles - known as the singer of the famous band PROJECT PITCHFORK, fuses together the experiences and the energy of some inspiring musicians and vocal artists of the German gothic scene. IMATEM is a journey, and its destination is still unknown. The current release is called 'Home' and was released in June 2007.
http://www.pitchfork.de/news/2007/0.html#7
/
www.myspace.com/projectpitchfork
/
http://www.myspace.com/imatem
(Fan Site!)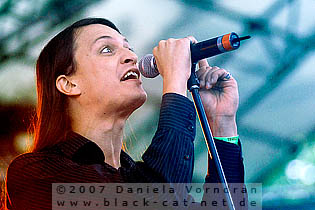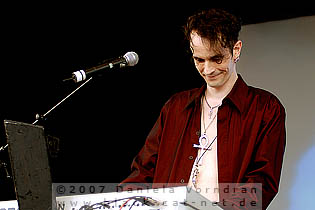 Music & Performance

After the first song Peter Spilles introduced himself and thanked EISBRECHER for changing the place in the schedule before the show went on. The set consisted of eight songs, a part of vocals were played from tape, another part was sung by Peter Spilles himself and for some songs he welcomed guests on stage. First Peter was standing behind his keyboards, but during the second song he entered the foreground of the stage and sung the vocals while the synthesizer did work automatically. The vocals of the song 'Seelenbrennen' were performed by Falk Lenn who was called "German greatest song writer at the moment" by Peter; 'Manchmal' was sung by Lacasa del Cid and for the song 'Hold You' Der Graf (singer of
UNHEILIG) entered the stage.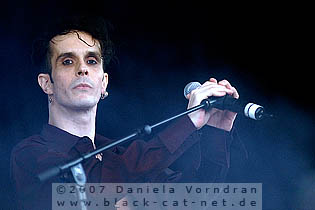 Due to the different singers and vocals from tape the show seemed a little bit disrupted and inhomogeneous. The part of Lacasa del Cid seemed a little bit arrogant to me. I think the highlight of the show for the biggest part of the audience was 'Hold You' because of the fact that UNHEILIG did play too on this day and a lot of fans of the band were already present. Anyway, after about 40 minutes the show of IMATEM finished and the fans of FUNKER VOGT occupied the first rows.
Setlist

01. Remote Truth
02. Holy TV
03. Seelenbrennen (feat. Falk Lenn)
04. Metami
05. Manchmal (feat. Lacasa del Cid)
06. Ganz Nah
07. Hold You (feat. Der Graf)
08. Elegy of Angels
Rating

Music: 7
Performance: 7
Sound: 8
Light: daylight
Total: 7.2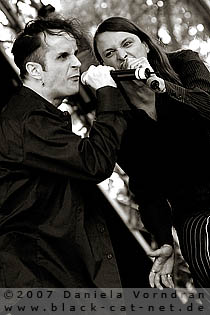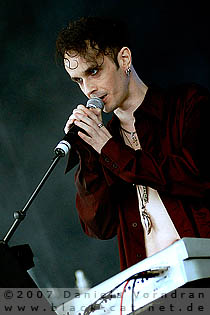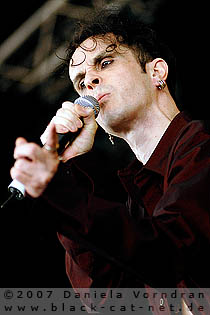 Sonar - Theater Stage (Karolina Moszkowicz)

SONAR is a duo of gentlemen: Dirk Ivens and Eric van Wonterghem. These two musicians are highly recognizable not only by means of SONAR, but also other projects they take part in, namely: Dirk in DIVE, THE KLINIK, ABSOLUTE BODY CONTROL; Eric in MONOLITH, INSEKT and ABSOLUTE BODY CONTROL too.
http://www.dirkivens.com/
/
www.myspace.com/dirkivens
Music

The music of SONAR, called rhythm-industrial, features irregular, noisy sounds disciplined by strong, pounding beats that add to the depth of the whole soundscape. It's as if a game of "questions and answers" played by two musicians - they unravel two music threads to form one strong fabric that turns out to be both noisy and catchy.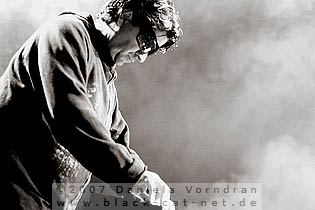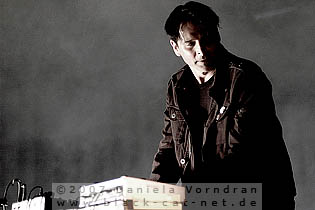 Performance

Dirk and Eric were posed opposite each other which made impression of some sort of dialogue or "a battle" where creative process of the both is contradicted, fighting with one another. In fact the music they make intertwined perfectly and what we were given was a bedazzling melody line coming from the stage. The artists played on the scene which was wreathed in smoke, cut by bright, changeable lights; Dirk let himself go on his side of the stage: dancing and chatting with audience from time to time which definitely encouraged the audience to have fun even more. That was a highly energetic gig stimulating adrenaline production to a large extent!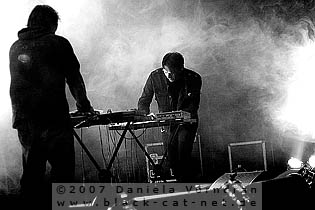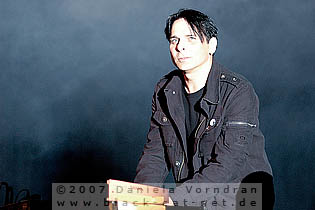 Setlist

01. Hostage
02. Consume
03. Leave me be
04. Bad man
05. Alien overdrive
06. Tehoma
07. Aval
08. Got the message
---
09. One mile away
Rating

Music: 8
Performance: 5
Light: 5
Sound: 7
Total: 6.5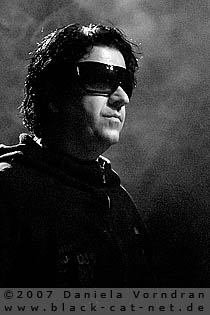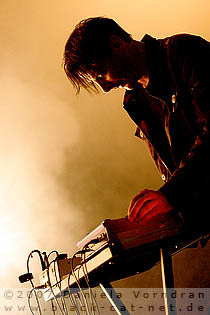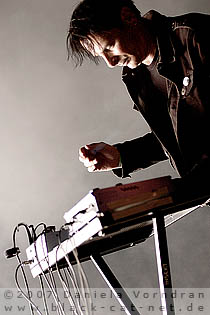 Funker Vogt - Main Stage (Carsten Leopold)

Next band on the main stage were FUNKER VOGT. The band was founded in 1995 by band members Gerrit (Route X), Thomas and Jens Kästel. FUNKER VOGT was originally a side project to Gerrit's main project (at the time) RAVENOUS. Well, things didn't work out too well for RAVENOUS and FUNKER VOGT quickly became front stage for Gerrit and the rest of the group. All the band members are from a town called Hameln in Germany. In English, the band name means "radio operator" (Funker) Vogt (one of the band's friend's last name).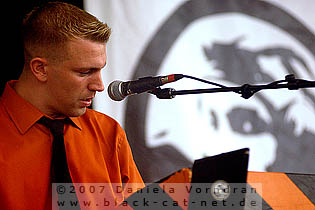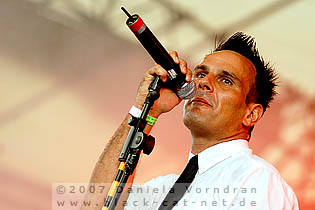 The majority of the songs of FUNKER VOGT revolve around war and some involve politics and others deal with world problems. Although the band sings much about war, they are almost militantly opposed to it. FUNKER VOGT produced four full albums before introducing a fourth member to the band Björn Böttcher (who now also manages the band with Kai). More recently the band also brought Frank Schweigert on board. The current album called is 'Aviator' and was released in April 2007. FUNKER VOGT are: Gerrit Thomas (composition, production, backing vocals, keyboards) and Jens Kästel (lead vocals); live they were supported by Björn Böttcher (keyboards) and Frank Schweigert (guitar).
http://www.funkervogt.de/
/
http://www.myspace.com/funkervogt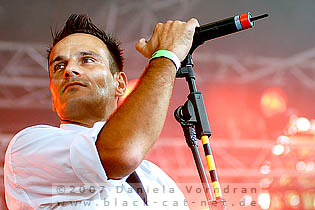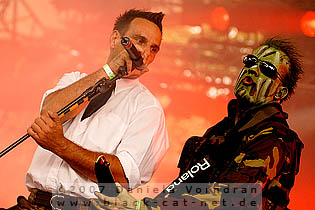 Music & Performance

As usual the guys of FUNKER VOGT entered the stage dressed in various military fashioned clothes and partial raggery painted. The music of FUNKER VOGT was powerful, pushing and danceable EBM. They, especially Jens, animated the audience and people in front of the stage followed them willingly. Band and audience were in a good mood and the available 40 minutes of playing time went by quickly. The complete setlist unfortunately is not available, only a few songs were noted.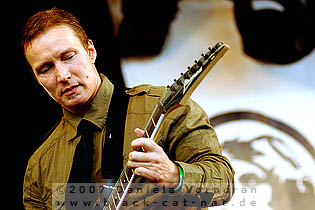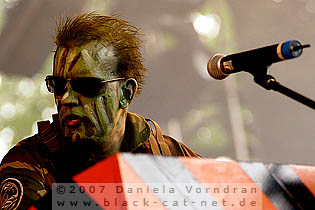 Setlist (incomplete)

City Of Darkness
Gunman
Thanatophobia
Fallen Hero
Killing Fields
Maschine Zeit
Child soldier
Rating

Music: 7
Performance: 8
Sound: 8
Light: daylight
Total: 7.5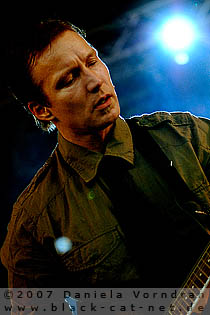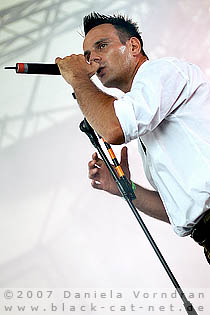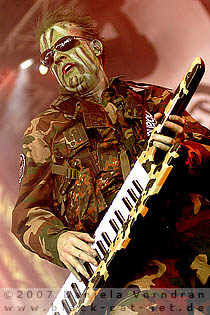 Spetsnaz - Theater Stage (Karolina Moszkowicz)

Swedish project SPETSNAZ was formed by Pontus Stålberg and Stefan Nilsson in Örebro in 2001. Taking inspiration from such bands DAF, FRONT242, DIE KRIPPS and NITZER EBB, SPETSNAZ managed to create their own, specific EBM sound, perfectly recognizable to anyone fond of danceable rhythms. Their albums 'Grand design' and 'Totalitär' provide huge amounts of fine, energetic music.
http://www.spetsnaz.se/
/
www.myspace.com/spetsnazebm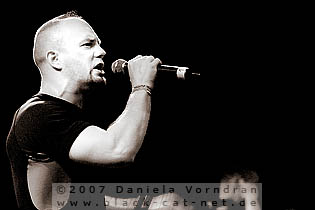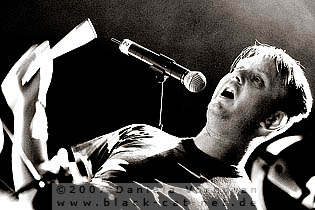 Music

The masters of smashing EBM sounds seem to be in their utmost form. As expected we were given a fair dose of rhythmical, catchy sounds; 'Apathy', 'Grand Design' or 'On the Edge' made people move in spite of the enormous crowd that was gathered in the 'theatre' during SPETSNAZ show. Fast pace, strong beat and overwhelming rhythm of the music are a guarantee of dance floor riots. So it was this time as well: people moving vividly made the atmosphere of the whole gig simply wonderful!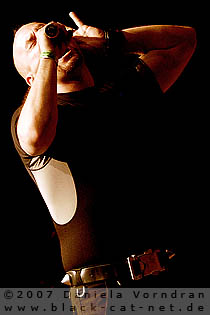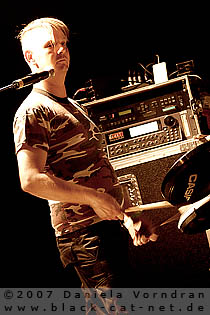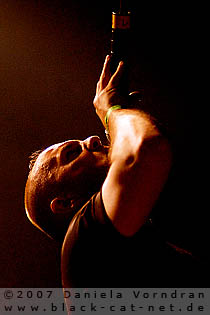 Performance

The roles of both gentlemen are clearly set: Stefan looks after the machines and keeps them in the right order whereas Pontus is a leader and trickster of the show: he dances, sings, screams, talks to the audience and generally speaking provides all the 'entertainment'. Looking at him running all over the stage is really stimulating and encourages to have fun and to keep on dancing. Well, Pontus complained that "he's too old for that shit", but I don't think anyone believed him. Great, energetic show!
Rating

Music: 10
Performance: 7
Light: 5
Sound: 7
Total: 7.9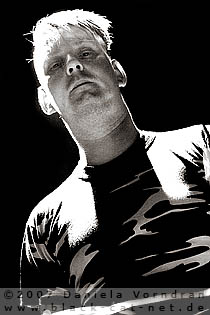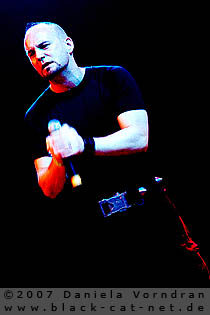 Unheilig - Main Stage (Carsten Leopold)


After FUNKER VOGT had finished, the Electro fans vacated the first rows and the fans of UNHEILIG took their place UNHEILIG played at every Amphi-Festival so far and every time they had found a good resonance by the audience. UNHEILIG (Unholy) is a band with a firm place in Germany's musical history and its roots in Electro-Rock. The band combines German lyrics with the distinctive bass voice of singer Der Graf. The current album 'Moderne Zeiten' (modern times) was released in January 2006, an EP 'Astronaut' and the MCD 'Ich Will Leben' followed in 2006. The appearance and charisma of Der Graf give a special touch to the live performance of UNHEILIG which is a solo project of Der Graf. On stage he's supported by Licky and Henning.
http://www.unheilig.com/
/
http://www.myspace.com/unheilig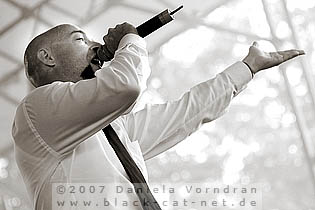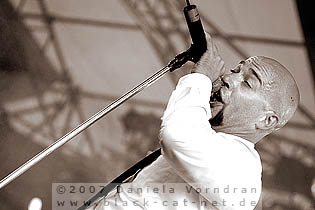 Music & Performance

It was the same procedure like last year, a lot of altar candles were standing all over the stage and the big clock in the background displayed 5 to 12. Der Graf, who entered this stage again at this day two hours after his guest appearance during the IMATEM gig was welcomed with open arms by his fans. During the following 40 minutes he presented a diversified set - voted by the fans who could vote for the setlist since April at the band's homepage. The set consisted of lots of well-known faster songs: ballads like 'Astronaut' or 'Mein Stern' as well as dance-floor tracks like 'Maschine'. Der Graf impressed one more time with his special charismatic style and the audience quickly was infected and people were singing and dancing along all the time. At the end of the set they request an encore and they got one more song: 'Auf zum Mond'.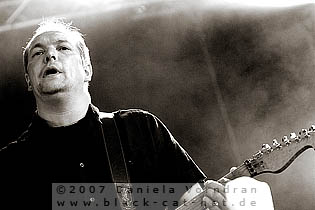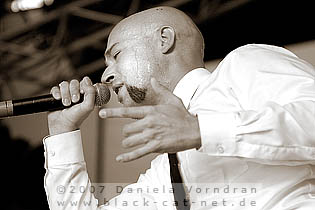 Setlist

01. Sieh in mein Gesicht
02. Astronaut
03. Tanz mit dem Feuer
04. Schutzengel
05. Sage Ja
06. Maschine
07. Freiheit
08. Mein Stern
---
09. Auf Zum Mond
Rating

Music: 7
Performance: 8
Sound: 9
Light: daylight
Total: 7.7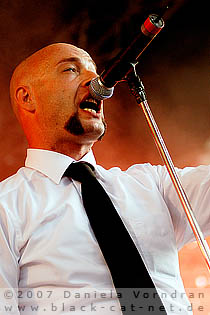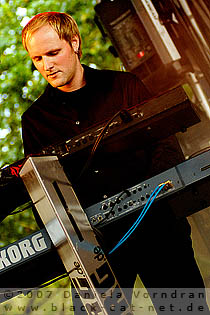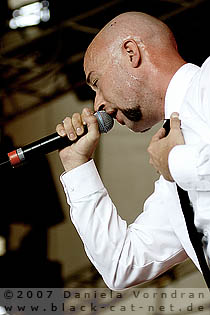 Winterkälte - Theater Stage (Karolina Moszkowicz)

Formed in 1991, WINTERKÄLTE make progressive electronic sounds best classified as Rhythm'n'Noise . Already their first debut LP 'Structures of Destruction' secured them a definite position among other industrial projects.
http://www.winterkalte.net/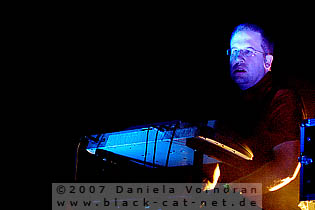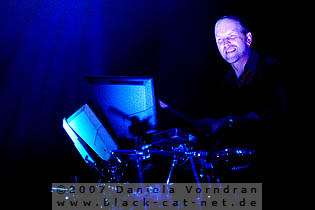 Music

Shocking, changeable melody flowing irregularly through the thicket of matted sounds is what WINTERKÄLTE offer to their listeners. Harsh, astute and at the same time rhythmically moving melody is a kind of remedy for monotony and languorous sonic journeys. Moreover, raw, metallic, harsh sounds combined with trance, hypnotic elements constitute an entity which in spite of all the aggression and violence that forms its core, still consists of some rhythmical elements that let the people enjoy its danceable quality. All in all, it's unfriendly music of the machines which, however, appeals to minds fond of irregularity and destructive sonic effects.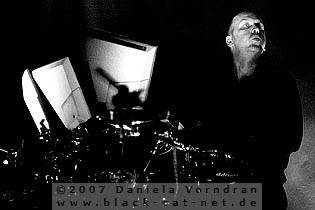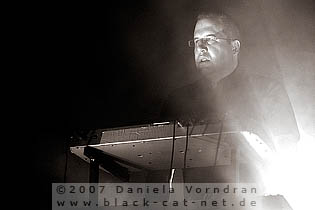 Performance

Performance part, as often happens in case of industrial projects, was limited to the light and smoke enriching the sonic effect while the musicians, standing on two platforms, were providing their sounds. Frugal as might be, the visual aspect of WINTERKÄLTE gig inscribes itself in the tradition of those shows that let the music play the first part and let the performance aside.
Rating

Music: 7
Performance: 4
Light: 4
Sound: 7
Total: 5.7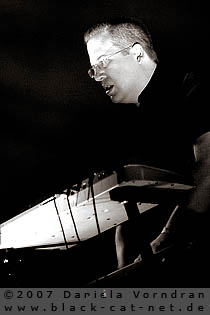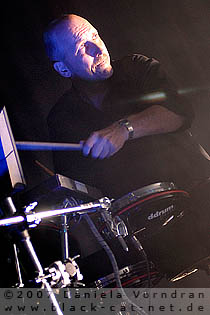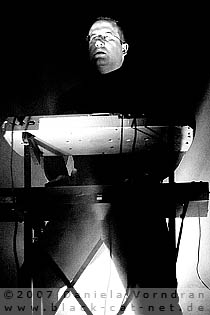 ASP - Main Stage (Carsten Leopold)

After the change over another famous German gothic act ASP has been welcomed on the main stage. During the last years, ASP evolved from a sleeper to a crowd puller. ASP is a German Gothic band from Frankfurt / Main. The band was formed in 1999 and is named after its lead singer Asp (short for Alexander Spreng). The current album is called 'Requiembryo' and was released in April this year. ASP on stage are Asp (mastermind, songwriter and singer), Matthias Ambré (producer, guitar player, backing vocal), Tossi (bass, backing vocal) and Oliver Himmighoffen (live drummer).
http://www.thetalesofasp.com/
/
www.myspace.com/thetalesofasp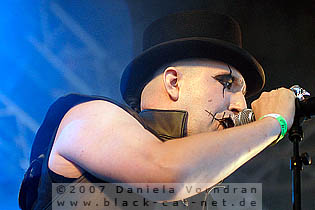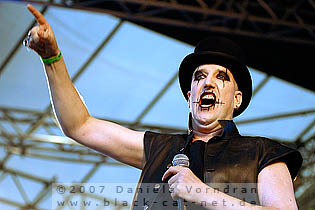 Music & Performance

The set started with 'Sing Child' and right from the start the crowd was enthralled. ASP incited them anymore and the whole crowd was screaming, jumping, dancing and hailing. The setlist included a lot of older hits like 'Werben', 'Ich will Brennen' or 'She Wore Shadow' completed by beautiful ballads like 'Und wir tanzten' as well as songs taken from the current album 'Requiembryo'. Not everyone liked this kind of music, but a great deal of the gothic fans did and the other people used the time during the UNHEILIG and ASP shows to eat and drink something and came back later to enjoy the headliner. Mentionable too is a great guitar solo of Matze during 'Werben'. Altogether it was one more time an exciting performance and the crowd was satisfied.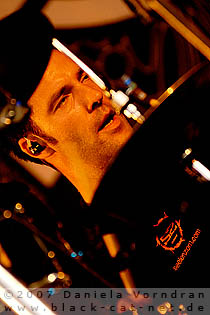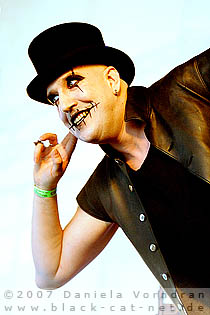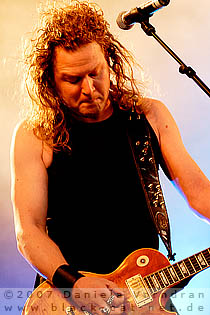 Setlist

01. Sing Child
02. How Far Would You Go
03. Ich bin ein wahrer Satan
04. Duett
05. Nie mehr
06. She Wore Shadow
07. Werben
08. Ich will Brennen
09. Und wir Tanzten
---
10. Schwarzes Blut
Rating

Music: 8
Performance: 9
Sound: 9
Light: daylight
Total: 8.5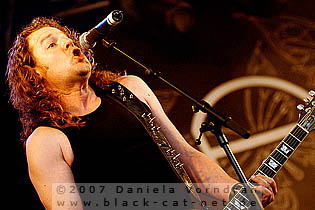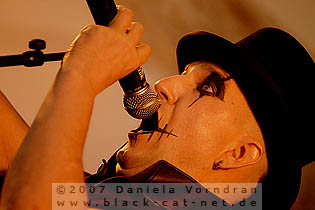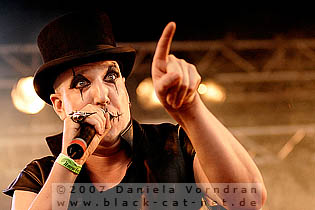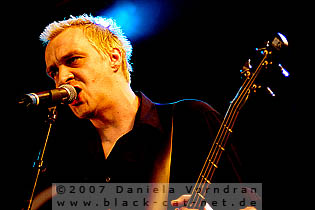 Feindflug - Theater Stage (Karolina Moszkowicz)

The project FEINDFLUG was founded between the years 1995 and 1996 by Banane and Felix. In 1997, the first CD 'Feindflug' was released, the other such as 'I. / St. G. 3', 'Im Visier', 'Hirnschlacht', 'Volk und Armee' followed in subsequent years. In 2006, the project released the first DVD entitled '...hinter feindlichen Linien' (= '...behind enemy lines').
http://www.feindflug.info/
/
www.myspace.com/feindflug

Music

FEINDFLUG are famous for aggressive, violent music productions featuring much of military references consisting of catchy, danceable and harsh elements which altogether create an individual note of artistic expression. With such songs as 'Bluthandwerk', 'Stukas im Visier', 'Roter Schnee' and 'Truppenschau' they provide the sound which is both sonically destructive and invigorating and which makes the people react enthusiastically every time. That's at least what I was able to see - crowds of people dancing in a mad dance in the centre of the 'theatre', singing, scanning, waving their hands and asking for more.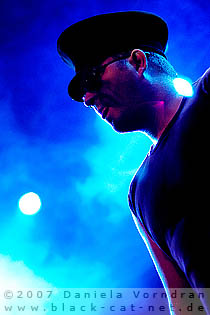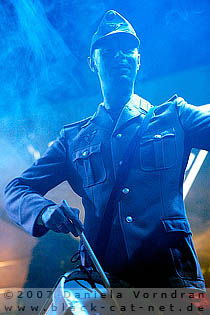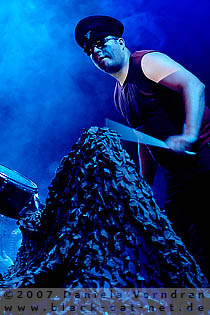 Performance
Net, uniforms, electric chair, brutal visualizations, guns, sunglasses and all the 'military' paraphernalia are what one may expect during the show by FEINDFLUG. All these props perfectly correspond to the stylistics of the music the band produces and yet, as far as some sort of 'action' is concerned the Amphi show was rather static. No 'scenes' played, no actions whatsoever and the minimal contact with the audience - just the overwhelming, ravishing sound. I don't think that's a huge disadvantage though: the richness of props which filled the scene and the music itself were enough for the people who were more occupied by dancing and enjoying themselves rather than in standing and watching the 'show' the band might have provided. They seemed completely overwhelmed by the music and its unquestionable power which proves the concert of FEINDFLUG met their expectations.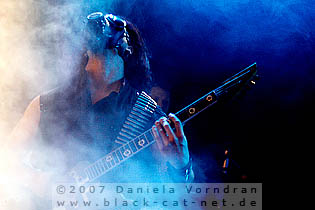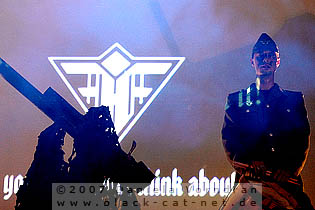 Setlist

01. Intro
02. Roter Schnee
03. Albtraum
04. Gulag
05. Ignorant
06. Bluthandwerk
07. AK 47
08. Machtwechsel
09. Kalte Unschuld
10. Glaubenskrieg
11. Neue Sieger
---
12. Truppenschau
13. Stukas (in parts)
Rating

Music: 8
Performance: 6
Light: 5
Sound: 7
Total: 6.8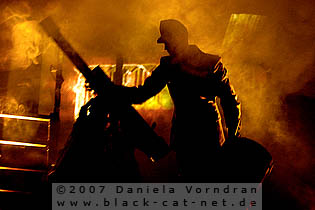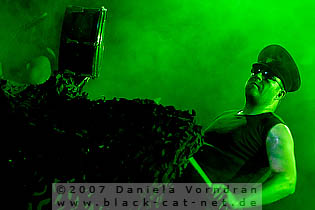 Front 242 - Main Stage (Carsten Leopold)

After ASP the day was over for the Goths and the Electros came back to stage to enjoy the headliner FRONT 242, a pioneering Belgian electronic music group that came into prominence during the 1980s. During their most active period (effectively ending in 1993 with the albums '06:21:03:11 UP EVIL' and '05:22:09:12 OFF') they influenced many industrial and electronic artists. The term electronic body music (EBM) was initially coined to describe their music. FRONT 242 are Jean-Luc De Meyer (vocals), Daniel Bressanutti (keyboards, programming, live mixing), Patrick Codenys (keyboards, programming, samplers) and Richard Jonckheere, often credited as Richard 23 (percussion, vocals).
http://www.front242.com/
/
http://www.myspace.com/front242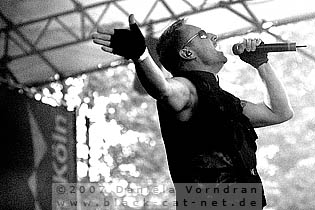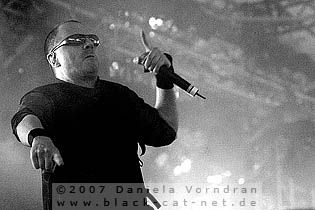 Music & Performance

The music of FRONT 242 was real EBM for adults - loud, hard, powerful and danceable too. In front of imaginative background-projections the guys performed a convincing electro set, the both front men sang alone, alternately and together at the several songs and the whole performance was very powerful and pushing. But not only the men in front were jumping and dancing; also the crowd did too and the temper was at the best until 10 o'clock. Unfortunately at the end of the show the temper reversed because the crowd was angry about the short set. What did happen? During the change over, there were some technical problems ending in setting up a new cable from stage to the FOH in a hurry what caused a delay of 15 minutes to the new set starting time, and so, the gig started at 5 past 9. Because of governmental constraints the music on the main stage had to be turned off totally at 10 o'clock, hence after about 50 minutes FRONT 242 had finish their show.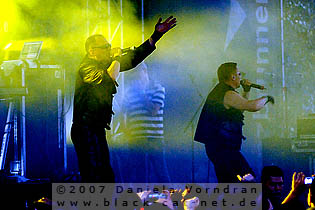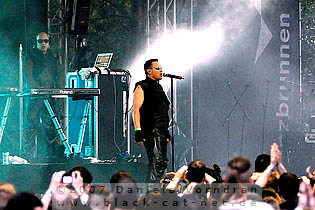 The crowd didn't accept this and was hooting angrily, the band wanted play an encore but they were not allowed to. Unfortunately the organizer didn't explain this to the crowd wherefore the evening finished unsatisfying for many people - a painful end for a good show, what a shame!
Setlist

01. Funkahdafi
02. Body to Body
03. Religion
04. Welcome to Paradise
05. Commando Mix
06. Until Death us (Do Part)
07. Moldavia
08. Happiness
09. Together
10. Take One
11. Headhunter
Rating

Music: 8
Performance: 9
Sound: 9
Light: 7
Total: 8.3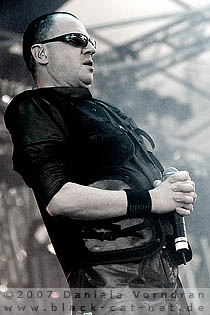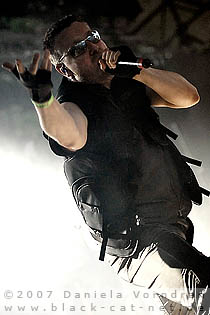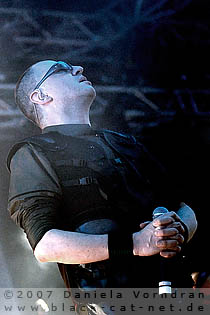 All pictures by Daniela Vorndran (
http://www.vorndranphotography.com/
/
http://www.black-cat-net.de/
/
www.myspace.com/vorndranphotography
) except XOTOX by Sandro Griesbach (
http://www.darkmoments.de/
)
{jos_sb_discuss:18}