Written by Daria Szegeda & Viola Noir Thursday, 05 December 2013 12:11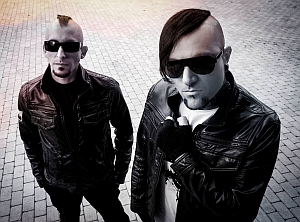 Interview with

Javi Ssagittar (voice, lyrics) from Terrolokaust

In December TERROLOKAUST will be playing for the first time in Russia. Our Partners have asked me to help with promotion. So I have used this possibility to make an Interview with Javi to tell funs a little bit more about history, music, and ideas behind all that band does.


Written by Fee Wundersee Thursday, 05 December 2013 11:49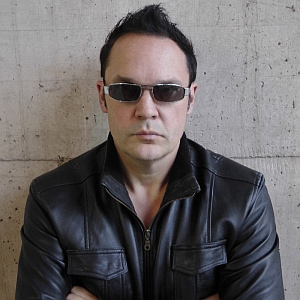 Interview with

Wonderboy (aka Tom Wunder, OVM01 - Voice, Synths, Drums) from LOVE?

The first time I met Wonderboy was in 2009 at a DEPECHE MODE concert. We were both waiting really close to the stage and started talking about the band, my clothes, my devotion to Martin Gore and the fact that me and my best friend needed someone to hold up our banner to the band when Mr Gore will appear on stage. Well, needless to say that Wonderboy did. At that point I had no clue he was a great musician, had an own band and a really pretty girl to produce music with him. Now his band LOVE? released their second album, which is a great mixture of 80s, synth pop feelings and a really fresh beat to dance to. Reflections of Darkness talked to him about the album 'Electronically Yours' and learned about talking calculators and the colour of his underwear.


Written by Daria Szegeda Tuesday, 22 October 2013 11:03



Interview with

Vincent Vega (vocals, guitars, synthesizers, drum machines) from Hate Inc.

First time I have listened to this band a few years ago, during selecting a line-up for CyberFront Festival, found them good, unusual, powerful, young and aggressive. I was very happy to meet the guys in Kiev and we had a great time together. And now after a few years I have met Vincent again, this time in Rome. Many things have changed in this time, and it was too much to discuss, especially when a new album is released.


Written by Iryna Kalenska & Daria Szegeda Wednesday, 16 October 2013 15:44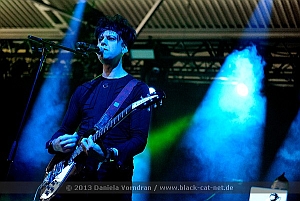 Interview with

Ronny Moorings (vocals) from Clan of Xymox

CLAN OF XYMOX is one of oldest Gothic bands that have started their music way back in the 80s. But after so many years the band still creates wonderful music and conquers new countries and new listeners. This year CLAN OF XYMOX has the first time visited Ukraine and played on festival Deti Nochi (Children of the night) in Kiev. A week before the festival we got possibility to speak with Ronny about new plans and expectation from this trip.


Written by Iryna Kalenska, Daria Szegeda & Daniela Vorndran Tuesday, 15 October 2013 07:25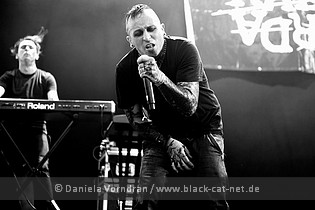 Interview with

Erk Aicrag of Rabia Sorda

The side project of the HOCICO front man Erk Aicrag had its latest release in 2012 with a new single/ EP, 'Eye M The Blacksheep'. There is no new album out right now, but the band played a few festivals this summer. During their show at Deti Nochi (Children on the Night) festival in Kiev we had the chance for a short interview with Erk Aicrag.