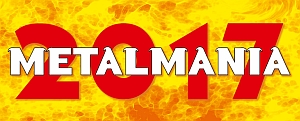 Spodek, Katowice, Poland
22nd April 2017
Metalmania Festival 2017 with Samael, Moonspell, Coroner, Sodom, Entombed A.D., Vader, Furia, Arcturus, and many more

Metal fans have been waiting for this news for years! After a 9-year hiatus, the biggest indoor metal festival in Eastern Europe, Metalmania, comes back to life! The 23rd edition of this iconic festival will be held on April, 22nd 2017 in Spodek Hall, Katowice (Poland).
Metalmania Festival was held annually from 1986 till 2008, the last edition took place at Spodek Hall in Katowice on March, 8th 2008, with MEGADETH, THE DILLINGER ESCAPE PLAN, OVERKILL and SATYRICON on the bill! Now this legendary music event is proudly back to 2017 festivals lists, and it will be one of the most important musical events of 2017, a real treat for metal maniacs worldwide! Metalmania remains true to its formula - one day, two stages, several bands from all around the world and thousands of fans! That's what Metalmania Festival is all about!
SAMAEL, one of the most innovative bands on the metal scene, is characterized by its own unique style. They expand the boundaries of genres and set new standards in metal music. This year, SAMAEL celebrates its 30th anniversary. The band will prepare a very special set for Metalmania Festival. We will hear iconic songs from their early albums such as 'Worship Him' (1991), 'Blood Ritual' (1992), 'Ceremony of Opposites' (1994) or 'Passage' (1996), as well as compositions from the new album which is planned for release in 2017!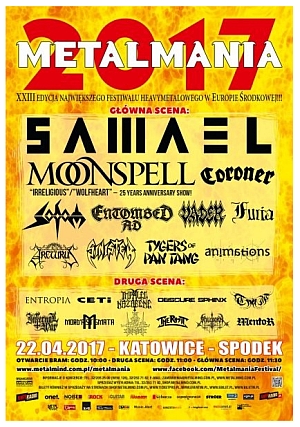 MOONSPELL, one of the most recognizable metal bands from Portugal, is also on the bill. Formed in 1992, the band quickly gained cult status. The show in Poland will mark the 25th anniversary of their career. Fans will have a chance to hear songs from such great albums as 'Wolfheart' (1995) and 'Irreligious' (1996). VADER is a cult status band, one of the forerunners of death metal in Poland. Their eleventh studio album, entitled 'The Empire', was released in November 2016. It will be their seventh appearance at Metalmania Festival! Peter, the band's leader, comments:
"Metalmania returns. I am very happy that I am able to perform again for the best metal crowd in the world! I promise we will have something special for you. See you in Katowice."

Roman Kostrzewski, legendary musician, best known from the Polish heavy metal band KAT, will be a special guest of the festival! Kostrzewski will appear in Spodek to sign his biography, 'Roman Kostrzewski. Głos z ciemności', as well as CDs from his discography. Both book and CDs will be available at the merch stand.
Additional attractions include

- Exhibition of black and white portraits of the biggest names of rock/ metal scene (Ozzy Osbourne, Lemmy Kilmister, Mick Jagger, David Bowie, Johny Cash, Eddie Vedder an more), made from the old LPs by Agnieszka Krysiuk
- Merch stands from the most interesting independent labels such as Pagan Records, Arachnophobia Records, Old Temple or Unquiet Records
- Metal Mind Productions' merch stand with CDs/DVDs plus merch of the bands performing at the festival
- Rock-Files' merch stand
- Rock'n'Roll Tattoo and Piercing's stand
and more!
Line-up

Doors open: 10.00
Second stage: 11.00
Main stage: 11.30
Main stage: Tygers of Pan Tang, Sinister, Impaled Nazarene, Arcturus, Furia, Vader, Entombed A.D., Sodom, Coroner, Moonspell, Samael
Second stage: Mentor, Stillborn, Thermit, Animations, In Twilight's Embrace, Mord'A'Stigmata, Infernal War, Thaw, Obscure Sphinx, CETI, Entropia
Tickets

FAN ticket – 666 PLN (only at shop.metalmind.com.pl)
VIP - 355 PLN
Red seats H, J - 260 PLN
Red seats & blue seats (rows I-X) - 195 PLN
Blue seats (rows XI and up) - 160 PLN
Standing floor - 170 PLN
For tickets go to:
shop.metalmind.com.pl
,
www.ticketpro.pl
,
www.eventim.pl
,
www.ebilet.pl
,
www.biletin.pl
,
www.ticketportal.pl
More info

www.metalmind.com.pl/metalmania
www.facebook.com/MetalmaniaFestival