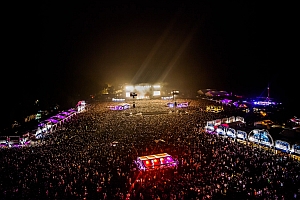 Sick of winter? Same here. Springtime is about to begin, but why don't we get ourselves into the right mood summer already? Let's ring this year's summer festival season in! Once again FKP Scorpio have come up with an exciting mix of music events: The party gets started at the Hurricane Festival starting on June 23rd in Scheeßel, Germany. The multi-facetted A Summer's Tale will be taking place at the Lüneburger Heide from August 2nd till 5th. The dark scene will get together again on August 12th at the magical M'era Luna at the airport in Hildesheim. The Chiemsee Summer invites folks to join in their four-day-celebration starting on August 16th. And, finally, you can rock out at the Highfield festival at the Störmthaler Sea from August 18th till 20th.
Hurricane Festival

This year, it's for the 21st time that the Hurricane will be taking place at the Eichenring in Scheeßel, Germany. Over the past years, the festival has presented internationally successful artists, popular German acts, and a large number of newcomers, some of whom are now headliners themselves. Since 1999, the same line-up has hit the stage at the "twin festival" Southside in the South of the Republic. Every year over 130.000 visitors from all over Europe meet at the Hurricane and Southside Festivals.
Additional Festival Info

Date: 23rd – 25th June 2017
Place: Eichenring, Scheeßel, Germany
Line-up: Green Day, Linkin Park, Casper, Blink-182, Die Antwoord, Imagine Dragons, Axwell Λ Ingrosso, Fritz Kalkbrenner, Alt-J, Mando Diao, A Day To Remember, Royal Blood, Rancid, Clueso, Flogging Molly, Editors, SDP, Wolfmother, Halsey, Jennifer Rostock, Frank Turner & The Sleeping Souls |Jimmy Eat World, Gogol Bordello, Bilderbuch, Lorde, Milky Chance, Kontra K, Passenger, Boy, 257ers, Future Islands, Danko Jones, Maximo Park, Xavier Rudd, Die Orsons, Joris, Nathaniel Rateliff & The Night Sweats, Haftbefehl, Callejon, SSIO, Antilopen Gang, Archive, Of Mice & Men, You Me at Six, Gloria, Frittenbude, OK Kid, Seasick Steve, Baroness, Irie Révoltés, Heisskalt, Me First And The Gimme Gimmes, Die Kassierer, Kodaline, Kensington, LP, Neonschwarz, SXTN, Disco Ensemble, Montreal, Red Fang, The King Blues, Moose Blood, Nothing But Thieves, The Smith Street Band, Ho99o9, Skinny Lister, Highly Suspect, Counterfeit, Erik Cohen, Alex Mofa Gang, Tall Heights, K.Flay, Pictures
White-Stage Line-Up 2017: Boys Noize, Digitalism Live, Modestep DJ Set, Alle Farben, RL Grime, Gestört aber GeiL, Rampue, Drunken Masters
After movie 2016: https://youtu.be/Dizk4G4CG98
Hurricane-Resort: http://www.hurricane.de/de/wohnen/hurricane-resort/
Fees:
http://www.hurricane.de/de/tickets/tickets-2017/
Ticket-hotline: +49(0)1806 - 853 653
More Info: http://www.hurricane.de
Tickets:
Hurricane
/
Southside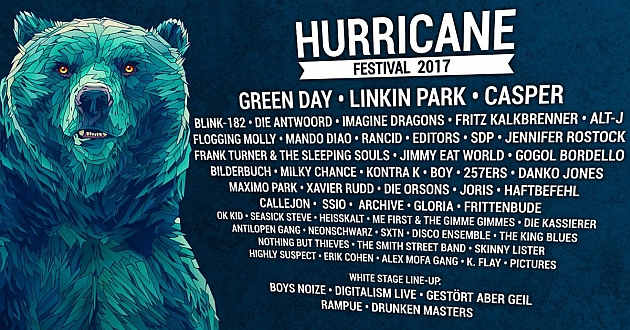 A Summer's Tale Festival

A Summer's Tale will take place in Luhmühlen (near Hamburg) for the third time this year. From August 2nd till 5th it will be a celebration going beyond the framework of a pure music festival. Think of it as a short holiday! In addition to concerts and DJ sets, the A Summer's Tale will offer many other cultural highlights: movie screens, stages for readings and much more are going to transform the festival area into a cross-cultural microcosm for culture in all its facets. Moreover, there are active and creative workshops such as D.I.Y. and yoga sessions, canoe trips, excursions to the green surroundings, and many more activities for the entire family. A Summer's Tale is also characterized by pleasure and comfort. The culinary offer presents high quality dishes and when it comes to housing, the festival is tailored to individual preferences. Relaxation zones and retreats as well as the respectful handling of the nature all around are firmly anchored in the festival's concept.
Additional Festival Info

Date: 2nd – 5th August 2017
Place: Luhmühlen, Germany
Line-up:
Concerts: Pixies, PJ Harvey, Feist, Franz Ferdinand, Element of Crime, Birdy, Conor Oberst, Stereo MC's, The Notwist, Bear's Den, The Common Linnets, Judith Holofernes, Cigarettes After Sex, Von Brücken, Electric Swing Circus, Blaudzun, Rhonda, Dan Croll, Tash Sultana, A Tale of Golden Keys
Readings: Heinz Strunk, Rocko Schamoni, Jasmin Ramadan, Stevan Paul, Zeit für Zorn
Films: Schrotten! + Talk with M. Zähle, Shortfilm Sessions, Pt. 1: Nördlich der Normalität, Shortfilm Sessions, Pt. 2: Dark Tales
Performances & Speeches: Poetry Slam, Don Clarke, The Swan Arnsberg Show, Diary Slam, Hamburger Kneipenchor, Wälder im Wandel, Insects To Feed The World
Family: Pelemele; Randale; Elmar, der bunte Elefant; Acroyoga Family Fun; Zwergstadt; Kindertanz; Children's tent
Perspectives & Portraits: Couchsurfing in Russland; Die Honigfrau; Eine Frau, Ein Bike, Ein Pferd; Highlining; Winzeranekdoten
Workshops & Activities: Speak Up!, Cajon Workshop, Roll It! Frische Sommerrollen, Sweet Honey, Wine Workshop, Zero Waste Workshop, Der Dranbleib-Faktor, Vinyasa Yoga, NIA, Functional Movement, Playtime!, Filz Workshop, hike through the forest, Herbal Hike, Canoeing, Activity Area
After movie 2016: https://youtu.be/9LE7K4PPzNs
Fees: Day-tickets from 74€
Ticket-hotline: +49(0)1806- 853 653
More Info: http://www.asummerstale.de
Tickets:
A Summer's Tale

M'era Luna Festival

Black but unbelievably colourful: Since 2000, the M'era Luna festival at the airfield Hildesheim-Drispenstedt is the meeting spot of the black scene from all over Europe. Every year well over 40 bands make sure that the 25,000 guests experience an unforgettable weekend. Of course, music from genres such as goth rock, electro, medieval rock or metal are in the focal point – but most of the extravagantly dressed guests conceive the always sold-out festival as more of a family meeting. And there really is more than music to discover – be it a medieval market, a fashion show, lectures or black disco nights. Additionally, guests may delve into a wide range of different foods that far surpass the usual festival fair. In addition to fried classics, the food court offers savoury and sweet dishes from all over the world.
Additional Festival Info

Date: 12th – 13th August 2017
Place: Airport Drispenstedt, Hildesheim, Germany
Line-up: Korn, And One, ASP, Blutengel, Subway To Sally, Schandmaul, Project Pitchfork, White Lies, Mono Inc., Covenant, The Crüxshadows, De/Vision, Mesh, DAF, KMFDM, Front Line Assembly, Leæther Strip, Megaherz, Solar Fake, Feuerschwanz, Ashbury Heights, Haujobb, Faderhead, Darkhaus, Tyske Ludder, Unzucht, Ost+Front, Versengold, Namnambulu, Edent weint im Grab, Absurd Minds, .com/kill, She Past Away, Ambassador21, Schwarzer Engel, The Arch, Leichtmatrose, Johnny Deathshadow, Dear Strange
After movie 2016: https://youtu.be/xsOR9LVBYHM
Newcomer Contest: http://www.meraluna.de/de/infos/news/ein-neuer-funke-m-era-luna-newcomer-contest-2017/
Fees: Combi-ticket for 99€
Ticket-hotline: +49(0)1806 - 853 653
More Info: http://www.meraluna.de/
Tickets:
M'era Luna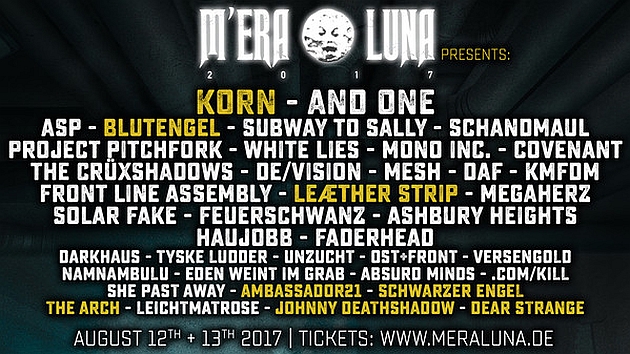 Highfield Festival

After twelve successful years in Thuringia the biggest indie rock festival in eastern Germany has been held in Saxony since 2010. The festival grounds are located on the peninsula of Magdeborn on the shores of the Störmthal lake in the municipality of Großpösna next to Leipzig. The area offers plenty of space for three days of live concerts of national and international acclaim. The camping area is equally spacious and can accommodate all 35,000 Highfield fans – and more. People who like to camp a little more comfortably may take advantage of one of many lodging possibilities offering a superior camping experience. Of course, all guests can relax if they want to – thanks to the Störmthal lake that also offers adrenalin rushes: The possibilities range from banana boats and tube riding to kiting, paddle boards and beach volleyball. The festival's very own radio station Beck's Camp FM broadcasts live from the festival – and is available online all year round.
Additional Festival Info

Date: 18th – 20th August 2017
Place: Störmthaler See, Großpösna, Germany
Line-up: Placebo, Billy Talent, Casper, The Offspring, Biffy Clyro, Beginner, Kraftklub, Alligatoah, Clueso, SDP, 257ers, Bosse, Thees Uhlmann & Band, Donots, Irie Révoltés, Feine Sahne Fischfilet, Frittenbude, RAF Camora & Bonez MC, SSIO, Antilopen Gang, Zebrahead, Mad Caddies, Turbostaat, OK Kid, Heisskalt, Montreal, Rogers, Neonschwarz, SXTN, Tonbandgerät, The Lytics
After movie 2016: https://youtu.be/11nbFksy_Yc
Fees: Combi-ticket for 139€
Ticket-hotline: +49(0)1806 - 853 653
More Info: http://www.highfield.de/
Tickets:
Highfield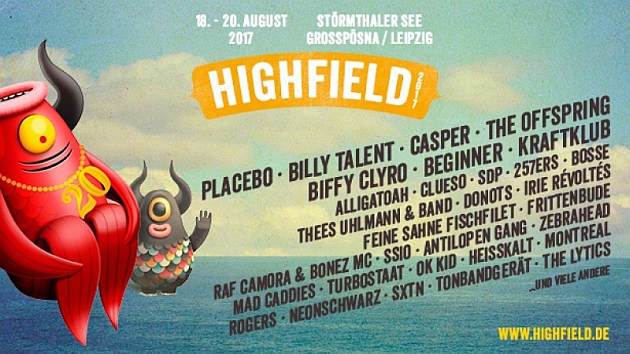 Chiemsee Summer Festival

Summer, sunshine, the Chiemsee lake right in front of your nose and the mountains close behind you – this is what Chiemsee Summer is all about. Four days of party, love, coolness and freedom: Hip hop, rock and electro fuse into the most genius music variety in Germany. But the festival in Übersee offers a lot more than music and party: The closeness to the Chiemsee enables visitors to enjoy sunny pastimes at the beach as well as a lot of exciting activities such as several water sports. A shuttle service makes sure that the short transit to the longest beach in southern Germany is as effortless as possible. You can hear the soundtrack to all this on Beck's Camp FM, the festival's very own radio station that is also available as a web stream throughout the year. For guests expecting more comfort, the festival also offers a wide array of camping and lodging possibilities. This summer will be unforgettable!
Additional Festival Info

Date: 16th – 19th August 2017
Place: Übersee/Chiemsee, Germany
Line-up: Casper, Billy Talent, The Offspring, Biffy Clyro, Beginner, Scooter, Clueso, SDP, Wanda, Jennifer Rostock, 257ers, Kontra K, Royal Republic, SSIO, Irie Révoltés, Frittenbude, Zebrahead, OK Kid, Ohrbooten, Turbostaat, Antilopen Gang, Heisskalt, Mad Caddies, Django 3000, Fiva x JRBB, SXTN, Schmutzki, Neonschwarz, Drunken Masters, Tonbandgerät, The Lytics, The Tips, Heischneida
After movie 2016: https://youtu.be/rss3M1z2jDo
Fees: Super-Ticket (without camping) 129€
Ticket-hotline: +49(0)1806 - 853 753
More Info: http://www.chiemsee-summer.de/
Tickets:
Chiemsee Summer