Written by Ruth Mampuys Friday, 09 September 2011 08:55



Tochka Club, Moscow, Russia
15th October 2011
Diary of Dreams, Necro Facility, Cryo

One of the major bands of the world Darkwave scene DIARY OF DREAMS will visit Russia within the support tour of their tenth album 'Ego:X'. The new creation should open another chapter of the "diary" started in 1994. 'Ego:X' is a music and poetic journey through life where a listener follows transformation of the main character. It's like a breathtaking story of depths of the human soul. DIARY OF DREAMS worked out even the smallest details of the album which features such artists as Amelia Brightman from GREGORIAN and Martin Kessler who usually dubs the voices of Nicolas Cage and Vin Diesel in German. The concept of the album will be fully reflected through the live shows of the band.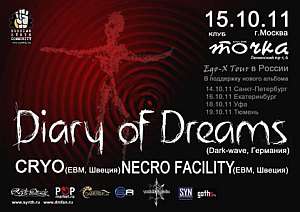 The special guest of the evening will be Swedish EBM bands CRYO and NECRO FACILITY. CRYO is a young electronic project which managed to prove that modern industrial music seems to be on the decline and offered the audience something fresh and interesting, another round of cold EBM. In 2007 it was voted "Newcomer of the Year" at Scandinavian Alternative Music Awards (SAMA). NECRO FACILITY became well-known after the release of COVENANT's single 'Lightbringer', exactly because NECRO FACILITY wrote that hit. With the new release entitled 'Wintermute' the band took its place among other projects on the alternative electronic scene of the Old World.

So on the 15th of October you'll get a chance to enjoy three different and impressive performances. Don't miss it!

Diary of Dreams will also play
14.10 – St. Petersburg, Zal Ozhidania
16.10 – Yekaterinburg, Tele-Club
18.10 – Ufa, Rock Café
19.10 – Tumen, tba

Additional Concert Info
Starts: 7 p.m.
More Info: www.synth.ru