Written by Daniela Vorndran Wednesday, 11 April 2012 15:14



Amphitheater, Gelsenkirchen, Germany
23rd & 24th June 2012
Blackfield Festival 2012: In Extremo, VNV Nation, Saltatio Mortis, Combichrist, Hocico, Oomph!, Deathstars, Dreadful shadows, Agonoize, End of Green, Welle:Erdball, Faun, Grendel, Funker Vogt, Eric Fish, She Wants Revenge and many more…

The Blackfield Festival taking place annually in Gelsenkirtchen's Amphitheatre celebrates its 5th birthday! The festival has advanced to one of the dark scene's highly acclaimed festivals, continuously striving to give its fans the best of the said music spectrum. For this year's edition, there will be a second stage as well.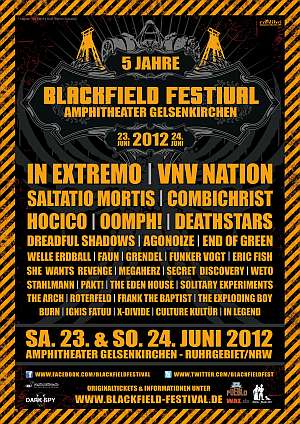 For the anniversary festival, there's a greatly assembled line-up awaiting you like for instance VNV NATION surely burning down the theatre once more with their powerful show. For the medieval fans there'll be i.e. IN EXTREMO and SALTATIO MORTIS for the attendees to dwell in ancient times paired with modern rock. COMBICHRIST are confirmed as well to deliver finally the show that was not possible last edition due to technical reasons.

Apart from the musical part, the Blackfield Festival has always been a place of meeting and if you feel like it shopping and this year's edition will make no exception. At the festival there's again a vast amount of shopping booths and a wide assortment of food and beverages to satisfy every taste. Additionally you'll get a perfect location with the Amphitheater in Gelsenkirchen where you'll be sure to enjoy good music with friendly people. The surrounding program contains also autograph sessions and warm-up parties prior to the festival.


Running Order
Saturday 23rd June 2012 - Main Stage
X-Divide
The Exploding Boy
Pakt
She Wants Revenge
Grendel
End Of Green
Dreadful Shadows
Hocico
Oomph!
VNV Nation

Saturday 23rd June 2012 - Tent
Frank The Baptist
In Legend
Weto
Roterfeld
The Eden House
Deathstars

Sunday 24th June 2012 - Main Stage
Culture Kultür
Stahlmann
Solitary Experiments
Megaherz
Funker Vogt
Welle:Erdball
Agonoize
Saltatio Mortis
Combichrist
In Extremo

Sunday 24th June 2012 - Tent
Burn
Ignis Fatuu
Eric Fish
The Arch
Faun
Secret Discovery

Tickets

Original hard tickets are available exclusively at the Blackfield Festival Shop for the following conditions:

2-Days Festival ticket: 54.50 EUR
2-Days Festival ticket incl. Camping: 66.50 EUR
1-Day ticket: 44.50 EUR
+ shipping and processing fees

Also you can get original tickets http://www.blackfield-festival-shop.de/ and computer tickets at Eventim