Written by Daniela Vorndran Friday, 13 April 2012 09:01



Markthalle & Statdpark, Hamburg, Germany
13th & 14th July 2012
Nordstern Festival 2012: Apoptygma Berzerk, Project Pitchfork, Mesh, Northern Lite, Solitary Experiments, The Exploding Boy, Dive, Nachtmahr, Haujobb, [:SITD:] and several more…

in 2011, Hamburg got a new festival, the Nordstern festival. The first day was an indoor event at Markthalle while the second day was help open air. Quite successful, the festival will take place for the second time this year. The concept is the same, just at Markthalle, there will be two stages instead of only one. With 18 bands on 2 days and in 2 two venues, a Kick Off - and an Aftershow Party, the Nordstern festival team is going to offer you a superb program in beautiful Hamburg.



Line Up: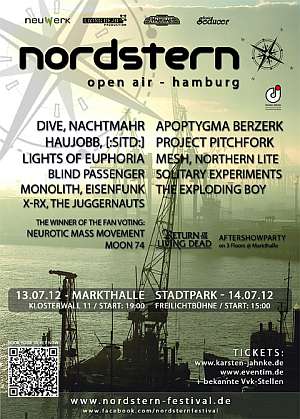 Markthalle (Big Hall), Friday
DIVE
NACHTMAHR
HAUJOBB
:SITD:
BLIND PASSENGER
JUGGERNAUTS

Markthalle (Marx), Friday
EISENFUNK
LIGHTS OF EUPHORIA
MONOLITH
X-RX
NEUROTIC MASS MOVEMENT (Winner of the Newcomer Wettbewerb)
MOON.74 (Winner of the Newcomer Wettbewerb)

Stadtpark, Saturday
APOPTYGMA BERZERK
PROJECT PITCHFORK
MESH
NORTHERN LITE
SOLITARY EXPERIMENTS
THE EXPLODING BOY!


Tickets

2 days ticket
Tickets for Markthalle, Stadtpark & the Aftershow Party on 14 July (limited to 1000 tickets!!!): Those of you who want to buy such tickets should not wait too long. Stock is already low. Buy your tickets at Eventim (€ 51,90 including all fees).

Day ticket Stadtpark
Day tickets for Stadtpark and Afteshow Party at the Markthalle on Saturday at Eventim (€ 39,90 including all fees).

All tickets also allow you to use public transport in Hamburg (HVV) free of charge.


Locations

Markthalle - Hamburg
Event centre at the main train station! "Alternative culture in an alternative venue" - that's how Dr. Christina Weiss, Hamburg's Commissioner for Culture, fittingly described the motto of the Markthalle at the venue's 20th anniversary in 1997. Since 1977 the Markthalle has been a centre for a wide range of popular culture. The venue's central location, its excellent technical equipment, great infrastructure and a comprehensive program attract artists of all genres. Although pop concerts are considered the venue's main focus, other cultural events such as operas, musicals and ballets, children and youth theatres, cinema festivals and even reptile exhibitions have been presented here. No matter if party, pop concert or product presentation - the four halls of the Markthalle - Großer Saal, MarX, Kunstraum and Foyer -offer a great variety to realise all kinds of different concepts and ideas.

Stadtpark - Hamburg
The open-air stage of Hamburg's Stadtpark attracts 100,000 - 150,000 visitors each year with events and concerts featuring renowned artists. The arena holds about 4,000 people and the season runs from May to September. In 2010, 29 concerts took place there. The area is walled off by a 3-metre hedge so the stage is not visible from the outside. In April 2009 three new containers were put on the venue. In the entrance hall at Platanenallee you can find the box office, a kiosk, and restrooms. Furthermore there are two more brand-new and modern sanitary areas which are also accessible from the outside during the concerts. The new building at Saarlandstraße also offers restrooms for disabled visitors and the lawn has been completely renewed in the whole venue.


News and information concerning the festival can also be found at: www.nordsternfestival.de & www.facebook.de/nordsternfestival