Written by Thomas Winter Tuesday, 17 April 2012 15:48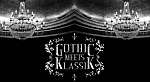 Haus Auensee & Gewandhaus, Leipzig, Germany
10 & 11 November 2012
VNV Nation, Blutengel, Staubkind, Rabia Sorda, Chrom, Dust Child

On November 10th and 11th, 2012, a very special event will be staged in Leipzig that has never been attempted in this form in the scene. Renowned scene acts will be playing two special concerts on two consecutive days in two venues in the city. The first day will be a regular Gothic festival extravaganza at Haus Auensee which will see the bands perform their regular sets in their regular line ups.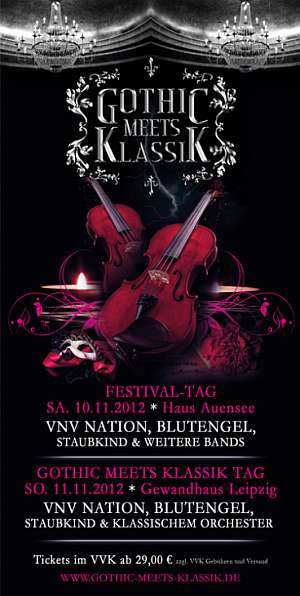 Day two will see the same bands performing exclusive concerts at the Gewandhaus, in a way that you have never seen them before: all groups will play exclusive neo-classical rearrangements of their songs with a full symphony orchestra. With BLUTENGEL & VNV NATION, we were able to win over two of the most renowned and successful bands from the German scene for this extraordinary project. Other acts are still in the works. Tickets will go on sale from soon and we recommend that you grab yours early, as the overall contingent for the festival will be limited. BLUTENGEL like you have never heard them before! A one of a kind experience!

Festival Day
Tickets: available at http://www.mawi-concert.de/gothic-meets-klassik-konzertkarten_d7228.html for 39.90 €
Bands : VNV Nation, Blutengel, Staubkind, Rabia Sorda, Chrom
Date: 10th November 2012
Start: 8 pm
Venue: Leipzig, Haus Auensee

Gothic Meets Klassik Day
Tickets: Already SOLD OUT!
Bands : VNV Nation, Blutengel, Staubkind, Dust Child and symphony orchestra
Date: 11th November 2012
Start: 7 pm
Venue: Leipzig, Gewandhaus

More info is available at http://www.gothic-meets-klassik.de/index.php