Written by Erika Knepper Monday, 23 April 2012 15:36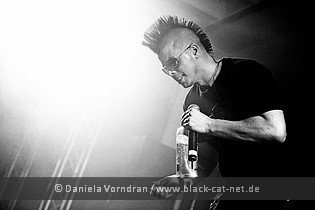 Theaterfabrik, Munich, Germany
4th May 2012
Faderhead & Dolls of Pain

FADERHEAD is the pseudonym of the German singer and music producer Sami Mark Yahya. His already very successful debut album 'FH1' was released in 2006. In the same year, he supported bands like COMBICHRIST, DIARY OF DREAMS or also SITD on tour. His musical style is a mixture of Electro pop, minimalist House music and hard Aggrotech elements. In 2011 he went on US tour.


This year, on 30th March his new album 'The World of Faderhead' was released. On this record, he received song-technically support from Daniel Myer. On 4th May 2012 we can experience FADERHEAD together with the French Dark Electro band DOLLS OF PAIN at an exclusive concert in the Theaterfabrik in Munich.

Additional Concert Info
Doors: 5:00 PM
Starts: 5:45 PM
Ticket fee: 25.45 EUR + Charges (Presale)
Tickets can be bought online at Eventim
More Information at http://www.faderhead.com