Written by Daniela Vorndran Tuesday, 24 April 2012 15:19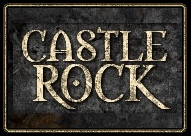 Schloß Broich, Mülheim, Germany
6th & 7th July 2012
Castle Rock Festival 2012: ASPs von Zaubererbrüdern, Mono Inc., Gothminister, Tanzwut and many more…

Mülheim's Castle Rock festival, meanwhile advanced to cult status, enters its 13th year in 2012 and also in the new year will come up with a top line-up leaving nothing to be desired for fans of darkly romantic rock music and brachial sounds. Both days offer more guitar based bands this year. And something special: ASPs von Zaubererbrüdern. The headlining act for this year's Castle Rock festival will play their first and as far as 2012 goes only live show.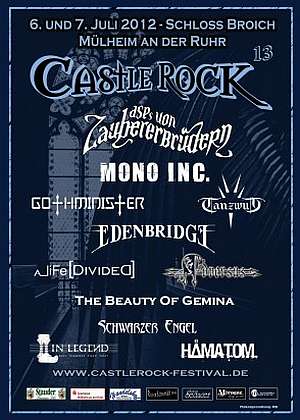 Running-Order

Friday, 6th July 2012
20.45 - 22.15 Mono Inc.
19.30 - 20.25 Tanzwut
18.30 - 19.10 The Beauty Of Gemina
17.30 - 18.10 Schwarzer Engel
Doors Open: 17:00

Saturday, 7th July 2012
20.30 - 22.15 ASPs von Zaubererbrüdern
18.55 - 20.00 Gothminister
17.30 - 18.30 Edenbridge
16.20 - 17.05 A Life Divided
15.10 - 15.55 Adversus
14.05 - 14.45 In Legend
13.00 - 13.40 Hämatom
Doors Open: 12:15


Tickets

Festival Ticket (Both Days: 42 EUR + Pre-Selling Fees
1-Day Ticket (Friday: 22 EUR + Pre-Selling Fees
1-Day Ticket (Saturday): 28 EUR + Pre-Selling Fees
Tickets are available online at www.ticket69.de, www.headlineconcerts.de or www.extratix.de

Further Info is available at: http://www.muelheim-ruhr.de/cms/n_e_w_s1.html