Written by Nadine Ginzel Wednesday, 25 July 2012 11:55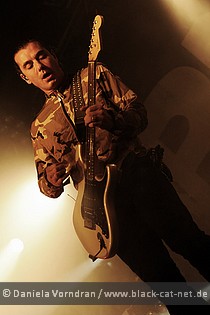 Huxleys Neue Welt, Berlin, Germany
14th August 2012
Bush & Young Guns

BUSH was formed in 1992 in London and was one of the most important protagonist of the British rock scene. Inspired by bands like PEARL JAM or SOUNDGARDEN they created a new powerful sound mixed from grunge and melancholy. Gavin Rossdale (vocals, guitar), Chris Traynor (guitar), Corey Britz (bass) and Robin Goodridge (drums) toured last year already. Who missed them has the chance to see them performing old and new songs from the current album 'The Sea of Memories', which was released in September 2011- After a 10 years break! In Berlin they will play at Huxleys Neue Welt, together with YOUNG GUNS. (https://www.facebook.com/younggunsuk).


Additional Concert Info
Doors open: 7:00 PM
Starts: 8:00 PM
Ticket fee: 37.15 EUR
Tickets can be bought online at Eventim

Other dates in Germany
10 Aug 2012 Open Flair Festival, Eschwege, Germany
11 Aug 2012 Taubertal, Rothenburg, Germany
13 Aug 2012 Gross Freiheit, Hamburg, Germany
23 Aug 2012 Gibson, Frankfurt, Germany
01 Sept 2012 Zelt Festival Ruhr, Bochum, Germany
More dates and Information at http://bushofficial.com